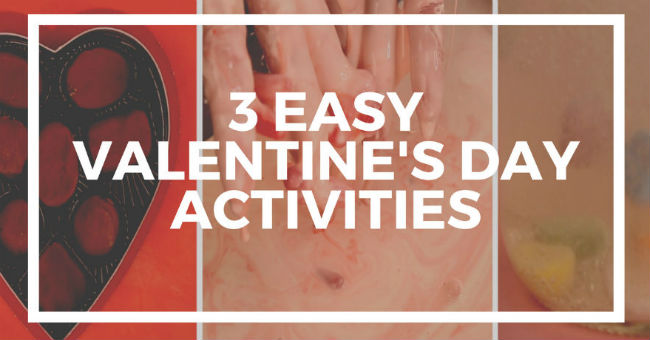 Valentine's Day is quickly approaching, and with it comes a variety of learning opportunities for children. While Valentine's Day is a great holiday for teaching children about the importance of love and kindness, it can also be used to engage children in learning shapes and colors, exploring textures, and developing fine motor skills. Here are a few of our favorite Valentine's Day activities for children that can be used inside and outside of the classroom.
1
Chocolate Play Dough
Chocolate play dough is a delicious-smelling spin on a classic activity. The dough can be molded into the shape of candies and hearts for Valentine's Day fun. Play dough is a great tool for developing fine motor skills through molding and shaping the dough. It is simple to make and can provide hours of entertainment!
Ingredients:
2 1/2 Cups of All-Purpose Flour
1 Cup of Salt
1/2 Cup of Cocoa
2 Tablespoons of Cream of Tartar
2 Tablespoons of Vegetable Oil
2 Cups of Hot Water
What to Do:
Mix all dry ingredients together.
Add vegetable oil.
Add very hot water and mix well. (If at this stage the dough is still really sticky and not forming a ball, add some more flour and mix with your hand.)
When the dough has cooled, knead it for 2-5 minutes until no longer sticky. (If the dough is still sticky, you will need more flour. If it is too dry, add some water.)
Note: Play dough consistency can vary depending on the brand of flour.
2
Cinnamon Oobleck
Cinnamon Oobleck is an exciting sensory experience that encourages the development of fine motor skills and teaches children about states of matter. The spicy and warm cinnamon scent makes this Oobleck a perfect Valentine's Day activity!
Ingredients & Materials:
Cornstarch
Water
Cinnamon Candies
Cookie Sheet
Bowl
Spoon
What to Do:
Mix cornstarch and water in a 2:1 ratio to make Oobleck. We recommend starting with 1 cup of cornstarch and ½ cup of water and adjusting as needed.
Pour mixture onto a cookie sheet or pie plate.
Place cinnamon candies into bowls.
Pour the candies into the Oobleck (any sort of hard candy or small objects work well as additional add-ins), add a pair of tweezers for grabbing objects, and play!
3
Dancing Conversation Hearts
Dancing Conversation Hearts is a fun, interactive activity for children 4 years and up with adult supervision. Watch the hearts dance, jump, and move through the carbonated water. Students will gain focus and attention to detail as they conduct this experiment.
Ingredients & Materials:
4 Alka Seltzer Tablets
1 Cup of Sparkling Water (regular tap water works too)
A Box of Conversation Hearts
A Glass
What to Do:
Take 4 Alka Seltzer tablets and place them in the bottom of the glass.
Carefully pick out a handful of your favorite conversation hearts, and lay them on top of the tablets.
Using both hands, grab the sparkling water and slowly pour about 1 cup into the glass.
Watch the conversation hearts dance in the bubbles!