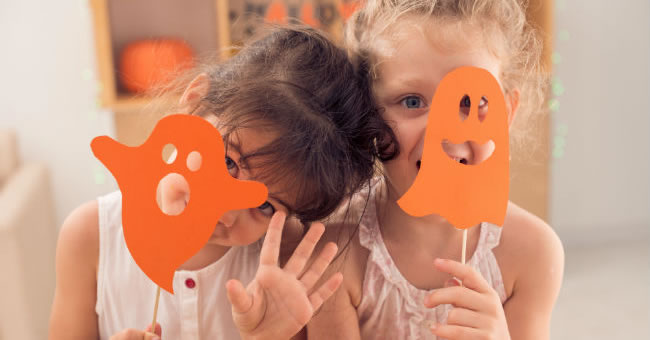 How do you celebrate Halloween in your classroom? Halloween is an exciting time of year when children dress up, eat spooky treats, and celebrate with their classmates! From Halloween parties and pumpkin decorating, to candy and costumes, Halloween offers lots of opportunities for fun and community building. But, it also brings plenty of opportunities for classroom chaos. Even though Halloween is a fun treat for children in many classrooms, to some teachers, it's an overwhelming time where they could use a helping hand managing their classrooms and preparing their students for Halloween activities and events.
How exactly do you manage your classroom during Halloween? Explore these Halloween hacks to make your classroom's Halloween celebrations all treats and no tricks!
Make it Educational
How do you find the educational value in Halloween? To many, there is no educational value in a holiday that's "only about eating candy." However, Halloween is a wonderful chance to promote family engagement and community in the classroom, practice intentional teaching (planning activities with a specific purpose), and integrate rich, multicultural learning opportunities into Halloween lesson plans.
Check out these Halloween-inspired lesson plan ideas that will help keep your classroom on track:
Go Beyond Arts and Crafts
Take Halloween arts and crafts activities a step further by visiting a local pumpkin patch! Children will have the chance to learn more about how pumpkins are grown and harvested as they pick out their own pumpkin to decorate. This is also the perfect opportunity for children to learn about their local communities and the community helpers in them, like farmers. Integrate STEAM learning into your lesson for a fun and budget-friendly field trip alternative. Before decorating pumpkins, have children make scientific observations about their pumpkins such as its size, color, and shape. Using this data, you can create a fun Halloween-themed graph!
Halloween Around the World
Halloween has a rich history and is celebrated around the world in a number of countries! Incorporate diversity and multicultural learning into your Halloween lessons by discussing Halloween traditions around the world with your students. Explore the Mexican tradition of honoring deceased loved ones on Día de los Muertos (the Day of the Dead), investigate Halloween's origins in Ireland, or ask students to share their own Halloween traditions with their classmates. Halloween is the perfect chance to learn about unique cultural traditions and celebrations!
Make it Healthy
Candy! That's the first thing that pops into many children's minds when they think of Halloween. While candy is a special treat and a fun part of Halloween, candy isn't a food that children should eat every day. Find a healthy balance between sweet Halloween treats and healthy snacks by encouraging children to have fun with their food! Trade cupcakes and candy in for oranges decorated as jack-o-lantern faces or crisp fall apples perfect for Halloween snacking.
Make it Mindful
Because children are excited about Halloween celebrations, many may unknowingly cause classroom distractions and even have trouble focusing on activities due to their excess energy as they eagerly wait for Halloween fun. This is the perfect time to introduce mindfulness to children, teaching them healthy and positive ways to process and express their excitement without causing classroom distractions. Mindfulness can be practiced at any time of the year, not just Halloween, and allows children a way to keep calm and focused on learning during exciting or stressful times of the school year. Mindfulness is for teachers, too!
Incorporate these mindfulness strategies into your classroom and join your students as they reflect, relax, and regroup!
Have Quiet Time
Leading up to Halloween, when children may be the most distracted, take time out of the school day to dim the classroom lights and play calming music. For younger children, this could be incorporated into naptime, but for older children, it's a chance to encourage quiet reflection. Dimming the classroom lights or allowing natural light to filter through the classroom, and playing calming fall nature sounds or peaceful music, creates a tranquil environment for students that lets them focus on their own feelings, take a break from the Halloween excitement, and gather their thoughts for learning.
Write in a Journal
Journals are the perfect place for children to collect their thoughts and share their feelings! Encourage older children to think about why they're excited about Halloween and what they're looking forward to the most. Giving children a positive way to record and share their excitement with you and their classmates can cut down on classroom disruptions and increase focus throughout the day.
Incorporate Physical Activity
When children have lots of energy and get fidgety, take a few minutes out of your day to incorporate mindful physical activity like a short walk or a few child-friendly yoga poses. Mindful exercises can help children work out their excess energy and refocus on learning.