The Farm Washing Animal Activity is a simple, fun, and engaging sensory play activity for students of all ages. Using a sensory bin, have students play with plastic farm animals, covering them in play dirt. Cleanup is a breeze as students can use brushes, sponges, and their hands to gently wash the animals in warm, soapy water.
How does Farm Animal Washing allow students to engage in sensory play?
This activity has students engage with their sense of touch while developing and improving fine motor skills. Children will work directly with their hands to cover the animals in dirt and then scrub them clean! Have students run their hands through the dirt and water to experience the difference in sensations each substance provides.
Why is it important to include sensory play in the classroom?
Sensory play is a great interactive method for developing students' fine motor skills and group play. The classroom is an ideal space to encourage personal growth in students, and sensory play is a perfect platform for promoting physical and emotional development. Sensory play stimulates multiple senses and encourages brain development in young children.
Download our FREE printable below!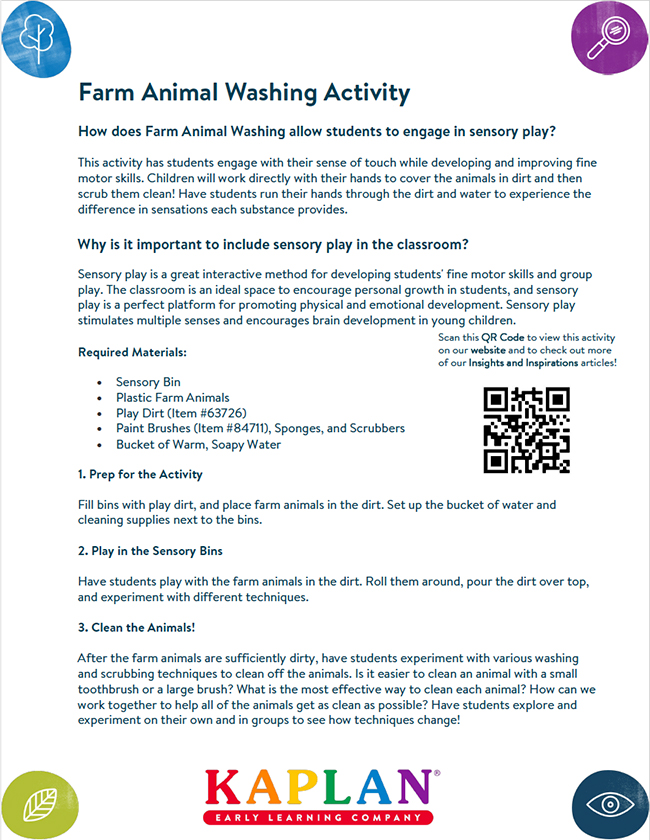 Required Materials:
Sensory Bin
Paint Brushes, Sponges, and Scrubbers
Bucket of Warm, Soapy Water
1
Prep for the Activity
Fill bins with play dirt, and place farm animals in the dirt. Set up the bucket of water and cleaning supplies next to the bins.
2
Play in the Sensory Bins
Have students play with the farm animals in the dirt. Roll them around, pour the dirt over top, and experiment with different techniques.
3
Clean the Animals!
After the farm animals are sufficiently dirty, have students experiment with various washing and scrubbing techniques to clean off the animals. Is it easier to clean an animal with a small toothbrush or a large brush? What is the most effective way to clean each animal? How can we work together to help all of the animals get as clean as possible? Have students explore and experiment on their own and in groups to see how techniques change!
Consider incorporating the Farm Animal Washing Activity into your lesson plans about animals to provide multisensory learning experiences. You can also use the activity to celebrate National Farm Animal Day each year on April 10th.
Be sure to browse our list of sensory-related products, resources, and professional development.