When used appropriately, technology plays an integral role in early childhood education. Educators can use technology to enhance classroom lessons with multisensory experiences that allow children to explore their curiosities while engaging in activities that promote cognitive, motor, and social/emotional development.

For more than 10 years, Kaplan has been leading the way in early childhood technology solutions. We understand the importance of helping children use technology in safe, fun, and developmentally appropriate ways. Which is what led us to develop an innovative technology system that promotes auditory, visual, and kinaesthetic learning.

The Kaplan-exclusive Illumination Station is an interactive sand table that combines augmented reality with hands-on exploration. The Illumination Station comes with 10 sand activities and 50 floor activities to captivate children as they learn through play. In this article, you will meet two early childhood professionals who use the Illumination Station in their classrooms and facilities. They will share their personal experiences integrating the games and activities into their lesson plans and how this innovative technology is changing the way children learn, play, and grow.
Engaging the Senses at Oceanway Elementary
Katie Tanner is a teacher in the Pre-K Varying Exceptionalities (Pre-K VE) classroom at Oceanway Elementary School in Jacksonville, Florida.

The children in Katie's preschool classroom all have an Individualized Education Program (IEP) for developmental delays and/or other diagnoses, such as Autism Spectrum Disorder (ASD). She says that her students are active learners and struggle with traditional "pencil and paper" educational experiences. Knowing this, Katie must employ new techniques and resources to teach her students.

"I like incorporating sensory bins in my classroom because my students learn best with hands-on activities," Katie says. "The only downside to traditional sensory bins is that my students get bored really fast when using them."

The use of sensory-oriented activities in the classroom was a great first step when trying to meet the educational needs of all the students in her class. Yet, Katie needed a way to thoroughly engage her students in these activities because she knows this is the best way for her students to retain information as they learn.

"All children learn best when they immerse themselves in an activity and engage in hands-on fun," Katie says. "The Illumination Station provides a better way of learning because my students can get the same benefit of a sensory bin, but they stay engaged with the activities for longer periods of time."
Activities That Promote Kinaesthetic Learning in the Classroom
The Illumination Station was delivered to Katie's classroom in September of 2022. It was an instant hit with her students. Even today, her students get excited whenever she mentions that the "sensory table" will be a center rotation for the day. She says, "Everyone looks around to see who will be the first one to use it!".

The children in Katie's class have sensory integration at various levels. A projector positioned above the sand table uses augmented reality to transfer colorful shapes and realistic objects onto the sand below. It also emits realistic sounds, like a lion's roar, to fully engage the senses during play. Katie says her students enjoy digging in the sand to create new shapes and objects, like an erupting volcano.

The Illumination Station prevents activity burnout, which often happens when the children are using traditional sensory bins in the classroom. With more than 10 sand activities to choose from, boredom is no longer a concern of Katie's.

"The children love the interactive aspects of the Illumination Station," says Katie, "Whenever I switch games on the projector, the children feel as though they're starting a new activity and I've noticed an improvement in how long they engage with sensory activities now."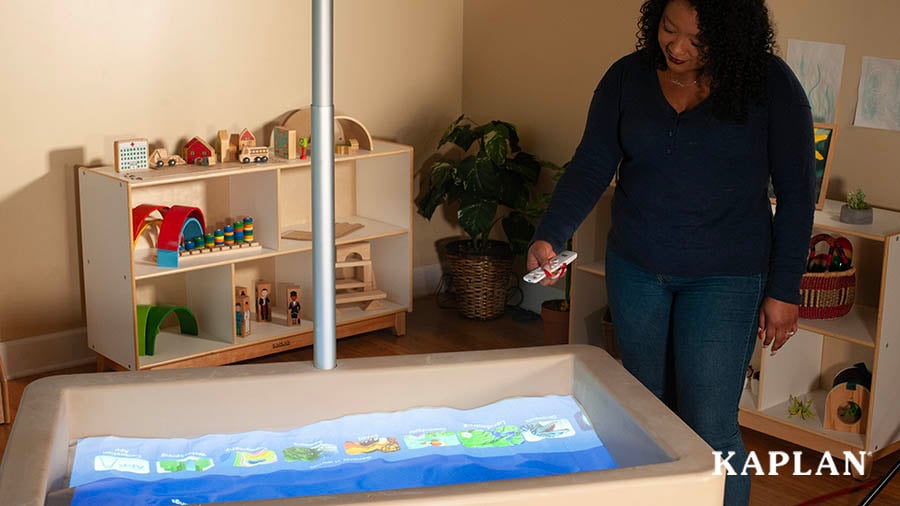 Activities That Easily Integrate Into Weekly Lesson Plans
One of Katie's favorite aspects of the Illumination Station is that it allows her to create engaging activities that fit her weekly themes and lesson plans. The pre-programmed projector games teach her students about sea creatures, safari animals, and dinosaurs. She also introduces items like farm animals and other objects to add variety to the way her students play.

"The Illumination Station is fun, and I can easily integrate my weekly lessons with the pre-programmed activities," Katie says. "If I add farm animals or something else to the sand, my students think it's a new activity and are once again engaged in the lesson."
Innovative Technology With the Added Benefit of Gross Motor Development
When children come into Katie's classroom, she says they are very tech-oriented. One benefit of the Illumination Station is that it allows children to get up and move while they are engaging with technology. Instead of sitting around with a tablet in their hand or a screen in front of their face.

Some of Katie's students are averse to the feeling of sand and choose not to interact when the Illumination Station is in sand mode. By rotating the projector and switching the game options to floor mode, Katie provides additional opportunities for educational play. Now all of her students can stomp, step, and swipe their feet to interact with the floor games and each other.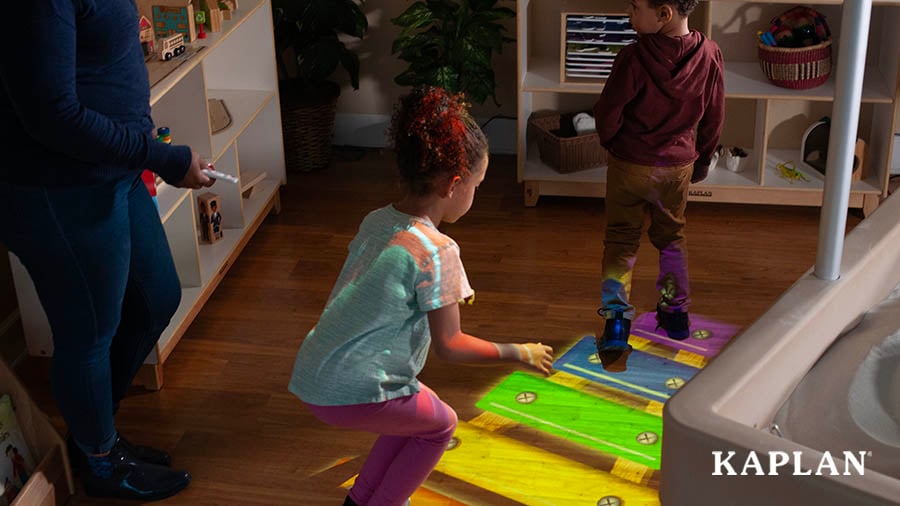 "It's a great tool! I love utilizing it, and I'm very lucky to have the Illumination Station in my classroom!"
Katie Tanner, Pre-K VE teacher at Oceanway Elementary School
Enhancing Family Interactions at a Non-Profit Childcare Center
Sarah Dupuis is the director of Sunrise Children's Center in Amherst, New Hampshire.

Sunrise Children's Center is a non-profit center that utilizes a developmental approach to educating children ages six weeks to 10 years old. They believe that all children grow at their own pace and learn best by doing.

Before Sarah became director, her center had recently refurbished all of the classrooms. They were able to use grant money provided by their state to purchase new furniture, chairs, and tech gadgets. One goal the previous director had for their center was to advance technology beyond the tablets and computers currently in use, and she felt the Illumination Station could do just that.
A Focal Point That Creates Positive Family Interactions With Children
The layout of Sunrise Children's Center consists of two wings, each connected to different classrooms. Sarah says that she likes to move the Illumination Station between the two wings, often positioning the interactive sand table in the main corridors of the wings so that parents and children can play with it during drop-off and pick-up times.

"I love watching the parents interact with their children during this critical time of day," says Sarah.

Sarah likes to joke that children "get caught in the sand trap" when they see the Illumination Station positioned on their wing. She told a story of one child who likes to make his father "coffee" every morning during school drop-off. The child's father pretends to drink the coffee, and they both laugh and seem to enjoy their time together in those moments.

By positioning the Illumination Station in the main corridors of her center, Sarah provides numerous opportunities for children to have positive interactions with their family members and caregivers.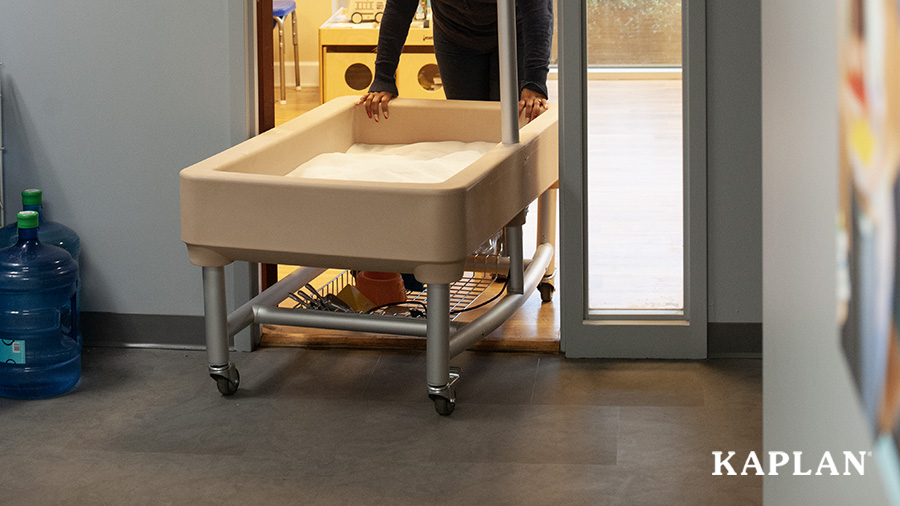 Introducing Manipulatives During Sand Play Increases Child Engagement
When Sarah and the teachers at Sunrise Children's Center use the Illumination Station, they also like to incorporate manipulatives that match their theme for the week/month. "During the Easter holiday, I like to include eggs and basket filling in the sand to make it more engaging," says Sarah.

She finds that the Illumination Station, with its interactive games and sand, holds a child's interest for longer periods than traditional sensory tables.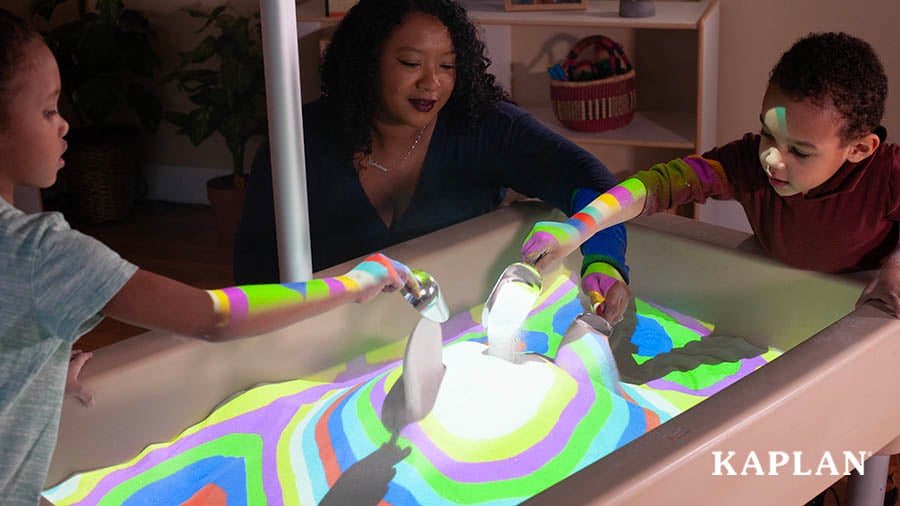 "The Illumination Station is a great learning tool. It's engaging, and it makes a great addition to the technology we already have in our center."
Sarah Dupuis, Director of Sunrise Children's Center
How Can I Bring the Illumination Station Into My Program/Classroom?
Now that you know how other early childhood professionals are using the Illumination Station to help children learn, play, and grow, you might be curious about how it would work for you. Our Kaplan representatives would be happy to schedule a private demonstration so you can witness for yourself all that the Illumination Station has to offer the children in your care.

To learn more about the Illumination Station or to request a demo, click here.