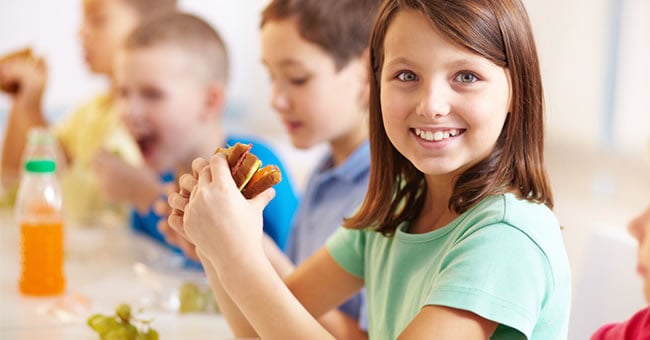 According to the CDC, 17.7% of 6- to 11-year-olds were obese in 2011-2012. One of the best ways we can help that number decrease is by teaching elementary students about nutrition. Most elementary-age students are beginning to make their own food choices at school and at home, which is why it's important to expand their knowledge about nutrition and give them the skills they need to make healthy choices. Here are a few helpful tips and reminders for elementary educators on teaching students about nutrition:
Discuss nutrition guidelines with students. Talk with children about MyPlate guidelines and discuss how they can make sure they're eating correct portion sizes. Encourage children to make healthy nutrition choices–ask them to give examples of healthy food choices they've made recently.
Teach children about different food groups and introduce them to international foods. Understanding different food groups, especially those featured on MyPlate, can help children identify recommended daily amounts, eat healthy meals, and have a varied diet. Introducing them to international foods is a great way to encourage children to try something new while also teaching them about popular foods in other cultures.
Help students learn how food affects the human body. You can take your nutrition lessons one step further by teaching children how food affects the human body. Understanding why certain foods are bad and others are good or why some people are allergic to certain foods and require special diets will emphasize the importance of making healthy nutrition choices now and in the future.
Emphasize the importance of physical activity. Elementary students need to understand that nutrition and physical activity go hand in hand. Encourage them to be physically active for at least 30 minutes a day, and try to give them opportunities to play outside or on the playground at school when possible. You should also be mindful of ways you can bring physical activity into your regular lessons; movement increases student engagement and helps build kinesthetic connections to the content.
Be a good role model for students. Show children that you think nutrition and physical activity are important by eating healthy snacks and lunches at school and by choosing to walk or do a physical activity with students during recess. Talking about new foods or recipes you're trying at home is also a good way to encourage children to eat a variety of foods.
Incorporate nutrition into lesson plans and writing activities. There are a variety of ways you can incorporate nutrition into your lesson plans. Learning to read food labels, teaching children about nutrients, playing a nutrition game, or completing activity sheets are just a few examples of activities you can include. If you give your students a daily writing prompt, try giving them a few nutrition-related prompts each month. Asking them about their favorite meal, having them write a short story about fruits and vegetables, or having them write a persuasive essay encouraging healthier school lunches would all be good prompts to use.
Have children grow their own fruits and vegetables in a school garden. Whether you have a big school garden or a small classroom garden, giving children the opportunity to grow their own fruits and vegetables while learning about nutrition is a great hands-on experience for elementary students. There are a variety of gardening materials and supplies, such as EarthBox, that you can use to create and maintain a school/classroom garden.
Include a healthy recipe in your monthly communication to parents. Including a healthy recipe that children and their families can make together at home in your monthly communication to parents encourages family engagement and stresses the importance of nutrition. Tweeting, texting, or emailing parents a link to a nutrition resource, online nutrition game, or nutrition article would also be a great way to encourage families to make smart food choices.