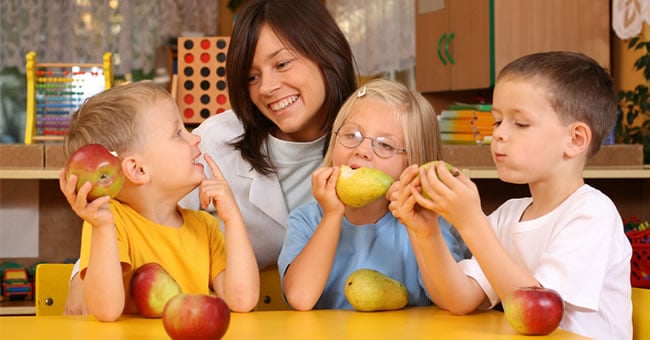 A variety of factors (many of which cannot be controlled) affect children's learning and their growth and development, but one of the factors you can control as an educator is the type of classroom environment you provide for students. Creating a healthy classroom environment can have a positive impact on student learning and on the relationships you have with your students. As Pamela Evanshen and Janet Faulk explain in A Room to Learn, "Children in a teacher's care deserve an environment that not only is supportive of their learning, but also is well-maintained, safe, and meets their basic needs."
So, how do you create a healthy classroom environment? Evanshen and Faulk cite that three of the most important factors are (1) whether a classroom is well-maintained, with attention to cleanliness and safety; (2) whether a classroom has adequate lighting, including natural and varied sources; and (3) whether a classroom provides nourishment for children, including access to water and healthy snacks. All of these factors contribute to the overall look and feel of a classroom, which ultimately impacts how safe and cared for children feel in the learning environment. To help you create, develop, and maintain a healthy learning environment in your classroom, here are a few of the tips shared in A Room to Learn:
Make sure you pay attention to basic safety issues. For example, you can use flexible tubing to keep electrical cords out of children's reach. It's also important to keep cords away from work areas and walkways.
Create a welcoming, safe entrance to the room by making sure doorways are free of furniture and clutter. Remember, there should always be clear access to the doorway.
Incorporate live plants in your classroom to serve as natural air filters. Artificial plants often attract dirt and germs and are usually difficult to clean.
Don't keep window shades and blinds closed all of the time. Use sheer curtains to filter strong light while still allowing natural light into the room.
Use window treatments that are neutral in color, because bold colors and patterns are often a distraction and detract from the natural light coming through the windows.
Make sure you don't place computers under or near a window–it could cause a glare on the computer screen and distract children from learning.
Provide a basket of healthy snacks (fruits, vegetables, sunflower seeds, raisins, etc.) and encourage responsible snacking throughout the day. You can also schedule snack times into morning and/or afternoon routines.
Provide children with frequent access to water, but be sure to plan for children to need regular bathroom breaks for a few weeks until they understand that they don't need to drink more water than necessary.
Make sure you are aware of students' food allergies and medical conditions if you offer children snacks in the classroom.
Be sure to read A Room to Learn and our other Insights and Inspirations articles about classroom setup for additional information about creating the best learning environments possible.