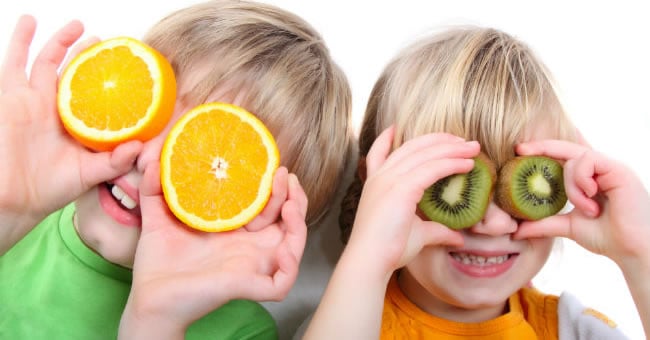 Teaching children about nutrition and helping them make healthy food and beverage choices promotes important life skills early on. Nutrition education is a great way to prevent childhood obesity and help children stay healthy as they grow up. These healthy lifestyle tips can also be incorporated into classroom activities.
Here are five fun ways you can teach the children in your care about nutrition:
1. Play The Veggie Game
Adapted from an activity featured in The Budding Chef, The Veggie Game is a great way to teach preschoolers about vegetables while introducing them to foods they may not normally eat.
Materials:
A tray
Carrots
Broccoli
Brussels sprouts
Green peppers
A head of lettuce
Onion
Zucchini
Directions:
Place the vegetables on a tray
Introduce each vegetable to children and talk about each one.
Read the riddles below, and see if children can guess which vegetable matches the riddle.
After children solve each riddle, pass the vegetable around for children to touch and smell.
Riddles:
I am long and orange, and you can eat me raw or cooked.
I can be yellow, red, white, or green. Sometimes I can be very hot. People often put me on their hamburgers.
I am crunchy and green. I often have little strings on me. Sometimes, children enjoy eating me with peanut butter.
I look like a group of little trees with stems and green leaves. I am very good for you.
You can cook me in many different ways; I can be mashed, fried, or baked. I can be red, white, brown, or even purple, and I have little eyes on my skin.
I look like a green cabbage, I am full of Vitamin C, and I am very cute and small.
I am sometimes green, sometimes red, and sometimes yellow. But I almost always have a bell shape.
I am long and green. Inside, I am a whitish color. Some cooks use me in breads or cakes and as a vegetable for dinner.
I am green and round. People use my leaves for salads and sandwiches.
Answers: 1. Carrot | 2. Onion | 3. Celery | 4. Broccoli | 5. Potato | 6. Brussels Sprout | 7. Pepper | 8. Zucchini |9. Lettuce
2. Play Healthy Foods Bingo
For students in kindergarten through fifth grade, the Healthy Foods Bingo game is a great way for children to learn about correct portion sizes look like. Simple make your own bingo cards using the USDA's MyPlate and read out the correct portion size of the food you call out.
3. Discuss Nutrition with Bilingual Photo Food Cards
Using Bilingual Photo Food Cards in the classroom is the perfect way to discuss nutrition with students. Not only will they learn important healthy food habits, but the cards will teach them another language (cards labeled in Spanish and English) and introduce them to a number of food groups.
4. Use MyPlate to Make A Meal
With the MyPlate Felt Set, have children make their favorite meals using the included food pieces. When they're finished making their ideal meal, go over the nutrition value of it and healthier alternatives.