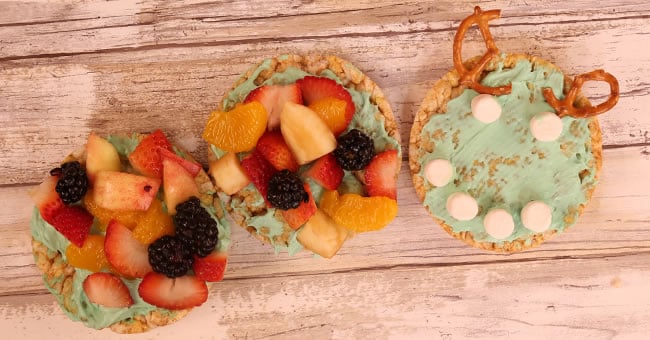 Every year on March 20th, children, parents, and educators celebrate the anniversary of Eric Carle's modern classic, The Very Hungry Caterpillar. This annual celebration is a wonderful opportunity for teachers and parents to integrate themed activities while encouraging early literacy skills. In honor of The Very Hungry Caterpillar Day, consider celebrating everyone's favorite caterpillar by including this tasty and nutritious themed snack activity!
What Is The Very Hungry Caterpillar Day Snack?
The Very Hungry Caterpillar Day Snack activity encourages hands-on learning about health and nutrition while trying new foods. Teaching children about nutrition is important because it helps combat childhood obesity and increases their overall health and well-being. As children craft their own snack creations, they will be able to build, explore, and play independently within a group.
Download our FREE printable below!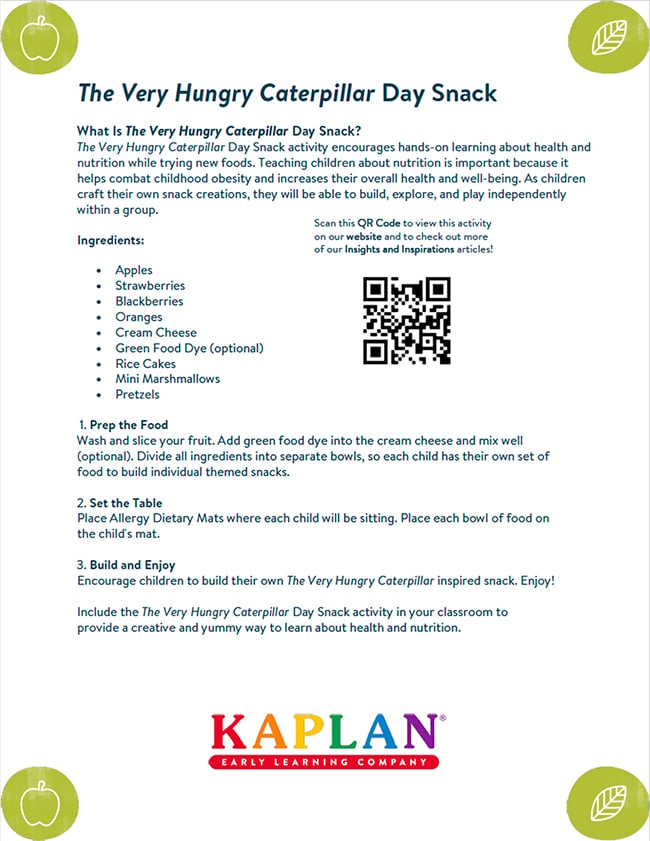 Ingredients:
Apples
Strawberries
Blackberries
Oranges
Cream Cheese
Green Food Dye (optional)
Rice Cakes
Mini Marshmallows
Pretzels
1
Prep the Food
Wash and slice your fruit. Add green food dye into the cream cheese and mix well (optional). Divide all ingredients into separate bowls, so each child has their own set of food to build individual themed snacks.
2
Set the Table
Place Allergy Dietary Mats where each child will be sitting. Place each bowl of food on the child's mat.
3
Build and Enjoy
Encourage children to build their own The Very Hungry Caterpillar inspired snack. Enjoy!
Include the The Very Hungry Caterpillar Day Snack activity in your classroom to provide a creative and yummy way to learn about health and nutrition.
Be sure to browse our list of health and nutrition products, resources, and related professional development.