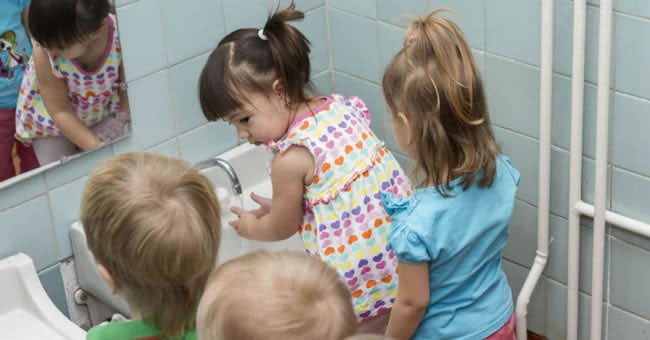 Keeping germs at bay is an important part of wellness during all times of the year! Now, more than ever, practicing healthy habits to prevent the spread of germs is essential to helping our communities during the COVID-19 pandemic. Stopping the spread of germs isn't hard, especially with these easy tips for 5 Ways to Stop the Spread of Germs in homes and classrooms!
1. Remind children (and adults) of the 20-second rule.
Hand washing is one of the best ways to prevent germs in the classroom. However, it's important that both adults and children know how to properly wash their hands for it to truly have any effect. According to the CDC, after you wet and lather your hands, you should scrub your hands for at least 20 seconds before rinsing and drying them.
So, how do you help children learn to scrub their hands for 20 seconds? Try the Intellitec Wash and Brush Timer ! This special timer gives children visual cues for how long they're supposed to wash their hands or brush their teeth. Another idea is to have children quietly hum the "Happy Birthday" song twice. Using posters that can promote proper hand washing and including books or puzzles about healthy habits can also help children learn how to wash their hands.
2. Add touch-free soap dispensers and faucets.
Having to use your hands to get soap or turn off the faucet can make hand washing difficult, which is why adding touch-free dispensers and faucets in your home or school's bathrooms can play a major role in preventing germs for kids. If some of the children in your care are too short to reach the sink, they may be inadvertently touching the sink (and picking up more germs) as they try to wash their hands. Try adding a step or stool to help children reach the sink easier.
3. Use mats that are easy to clean and help prevent germs from spreading.
If the children in your care use mats for naps, playtime, or reading time, make sure the mats are easy to clean and sanitize. Some mats, such as Germ Guard™ Folding Rest Mats, also have sealed seams that help prevent germs and bacteria from traveling within the mats.
4. Talk with families about related school policies.
Does your school or center have policies or guidelines for when children need to stay home if they're sick? Make sure the parents of your students know these policies going into cold and flu season. Ensuring that children are not around children or adults who are sick at school is also good germ prevention for kids. Any visitors that come to the school should also wash their hands before interacting with students.
5. Have hand sanitizer on standby.
Be sure to have some bottles of hand sanitizer available for you and/or your students to use when hands are not visibly dirty. Hand sanitizer is not recommended for children younger than two years old. Remember to keep the bottles out of reach of young children.