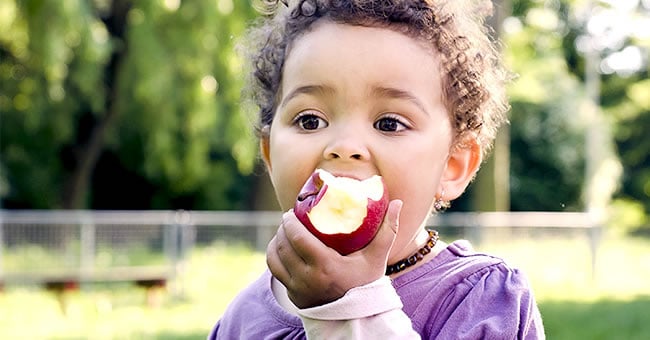 Healthy eating habits are an essential part of leading a healthy lifestyle. Teaching children about good nutrition can have a positive impact on their health now and in the future. Here are four questions you can explore with your students during National Nutrition Month (every March) and throughout the school year to ensure they have a good nutrition foundation:
1. Why Is It Important to Eat Healthy?
Eating a nutritious and well-balanced diet can help children maintain a healthy weight as they grow and can promote a healthier lifestyle. Eating healthy can also lower children's risk of developing chronic diseases later in life. Ask children why they think it's important to eat healthy and base your discussion on their answers. Which key points do they make? Which ones do they miss? Do any of their answers need to be elaborated on or discussed further?
2. Where Does Our Food Come From?
Children need to understand that their food doesn't come from a grocery store. Explaining how the fruits and vegetables they eat are grown and eventually get to the grocery store is a great place to start. Be sure to have various videos, pictures, and books about where our food comes from available for children to look at, so they can learn about food independently or as a group.
3. What Nutrition Guidelines Should We Follow?
Once children understand why it's important to eat healthy and where their food comes from, it's important for them to learn about nutrition guidelines. Teach them about the nutrition guidelines MyPlate recommends and how to manage food proportion sizes. Hang healthy eating posters around the classroom, and send home healthy eating recipes and tips for them to try at home with their parents. There are also a variety of nutrition games you can have students play to help them learn about MyPlate guidelines and other nutrition concepts.
4. How Can We Learn to Eat Healthy?
Children may have the knowledge they need to eat healthy, but that doesn't mean they know how to put that knowledge into practice. Here are a few ways you can help them learn how to make the right food choices:
Encourage healthy eating practices during dramatic play by having a variety of healthy play food options available in dramatic play kitchens, stores, etc.
Ask children to put their nutrition knowledge to the test as they go through the school lunch line to get their food. Challenge them to pick at least one healthy food for lunch.
Teach children how to make healthy snacks, such as yogurt parfaits, fresh fruit kabobs, or trail mix.
Be a good role model for children by eating healthy lunches and talking about how you try to eat healthy throughout the day.
As you teach children about healthy eating for kids, it's important for you to explain that healthy eating is only one part of the puzzle. They also need to learn about the importance of physical activity and how a combination of healthy choices contributes to their overall health.
Be sure to browse the Nutrition category of our Science and Health section of the website for a variety of resources and materials you can use to teach children about nutrition concepts.
Related Articles
Preventing Childhood Obesity
Teaching Preschoolers About Nutrition
Teaching Elementary Students About Nutrition
Teaching Children the Importance of Movement