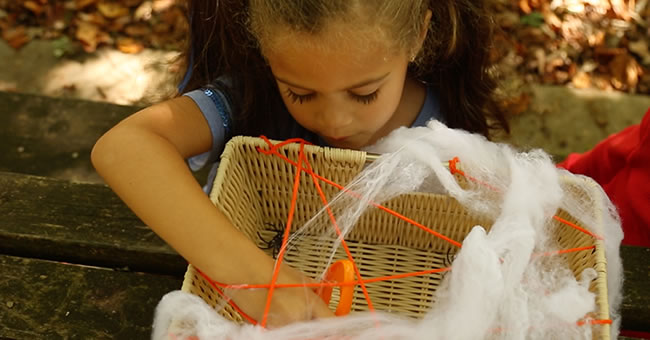 Get tangled up in fine motor fun with Spider Rescue! This game is an exciting way to challenge young learners as they develop crucial fine motor skills through play. Children will love rescuing spiders from their webs in this creepy-crawly activity that's perfect for Halloween parties and lesson plans!
What Is Spider Rescue?
Spider Rescue is a wonderful way to give your learners' fine motor development a boost as they utilize tools to reach and grab spiders in their web, leading to important early fine motor connections. This game is easy-to-make, and easy on the budget, but brings spooky fun to the classroom! A perfect fit for the fall season as children get excited for Halloween, Spider Rescue sets the stage for learning through play as an engaging, yet simple, tool for building fine motor skills. Whether your students are at a more advanced stage of motor development, or still grasping basic fine motor skills, this game gives children of various abilities the chance to boost their skills in a fun and engaging way.
Why Are Fine Motor Skills Important?
Children are naturally curious and one of the ways they learn about the world is by exploring objects and materials using their hands. These hand skills are called fine motor skills, and they are a crucial stepping-stone for school readiness. Fine motor skills help children perform important tasks like grasping toys, feeding themselves, writing, drawing, and more! Developing these skills early on helps build the foundation for tasks adults may take for granted but writing and self-care. Fine motor skills will improve as children develop and move through childhood, it just takes the right kind of practice, like Spider Rescue. This engaging game allows children a fun way to practice these skills no matter what stage of fine motor development they have reached and encourages them to keep trying as they build their fine motor abilities.
How Can I Use This In My Lesson Plan?
The learning possibilities are endless with Spider Rescue! Encourage your students to work together as a team to rescue the spiders from their web or incorporate math into this game by having students count how many spiders they can rescue from the web. Children will think critically and creatively about the best way to rescue the spiders, supplementing their fine motor skills while building meaningful connections and strengthening the classroom community in the process.
Spider Rescue provides children with the unique opportunity to experience interdisciplinary learning through play! They may think that this is just another fun Halloween-inspired game, but really, they're strengthening their whole-child development, from fine motor skills, to collaboration, to critical thinking. However you weave Spider Rescue into your lesson plan, children are sure to have fun while they learn and grow!
Download our FREE printable below!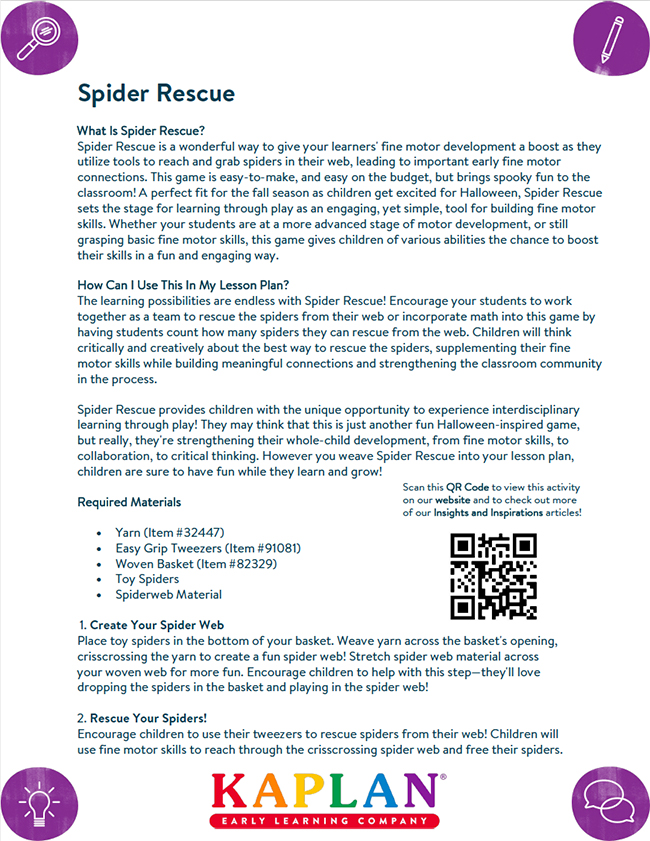 Required Materials
Toy Spiders
Spiderweb Material
1
Create Your Spider Web
Place toy spiders in the bottom of your basket. Weave yarn across the basket's opening, crisscrossing the yarn to create a fun spider web! Stretch spider web material across your woven web for more fun. Encourage children to help with this step—they'll love dropping the spiders in the basket and playing in the spider web!
2
Rescue Your Spiders!
Encourage children to use their tweezers to rescue spiders from their web! Children will use fine motor skills to reach through the crisscrossing spider web and free their spiders.
Fall into learning with fun seasonal activities and experiments! Browse our selection of related seasonal resources to encourage autumn explorations and incorporate engaging activities into your classroom.