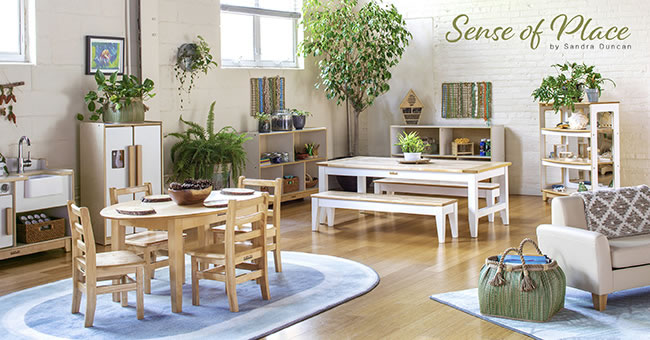 The Sense of Place preschool furniture collection is beautifully and intentionally designed to inspire preschooler's wonder and to nurture their growth and development. It not only celebrates the spirit of place but rejoices in the wonder of childhood. Woven throughout this collection are four design beliefs that I consider essential and are the underlying foundation for the creation of this spirited collection.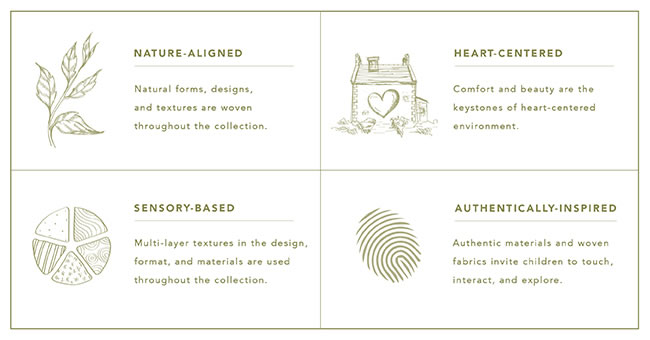 Nature-aligned
Nature-aligned We are surrounded by nature's beauty: tumbling autumn leaves in the nearby park, trickling water on a window pane, waving buttercups on the roadside, and noisy chickadees flying overhead. Nature, however, isn't necessarily something we must go a long way to see—it is right below our feet, right outside the classroom door or window. Next time you are Outside—stop, look, and listen. What do you see, hear, or smell? Could anything you observed be used in the classroom? Nature is easily found, free, and simple to infuse into every nook and cranny of children's environments. And, now with the new Sense of Place nature-based collection's furniture and furnishings, you can easily incorporate natural forms, designs, and nature's textures into your classroom.
Heart-centered
Children need heart-centered environments, places where they can find meaningful connections and engage in profound communications with others. Comfort and beauty are the keystones of heart-centered environments, which the Sense of Place collection exemplifies. Its design results in classroom balance and calm that supports both adults and children to be their very best.
Sensory-based
Children are wired to be sensory beings so naturally their classroom should provide a wealth of sensory opportunities. One of the simplest ways to provide sensorial experiences is through visual and kinesthetic textures. Sense of Place offers multi-layer textures in the design, format, and materials used to create the collection. Beautifully crafted pieces using authentic, natural materials, and woven textiles and rugs invite children to touch, interact, and explore.
Authentically-inspired
Authenticity of materials leads to authenticity of experiences. The Sense of Place collection uses a tapestry of materials that speaks to young children as well as resonates with adults. Seagrass woven baskets, solid wood accents, handcrafted furniture and accents—inspired by and created with natural materials—are designed for children's inherent need to engage and interact with the world around them.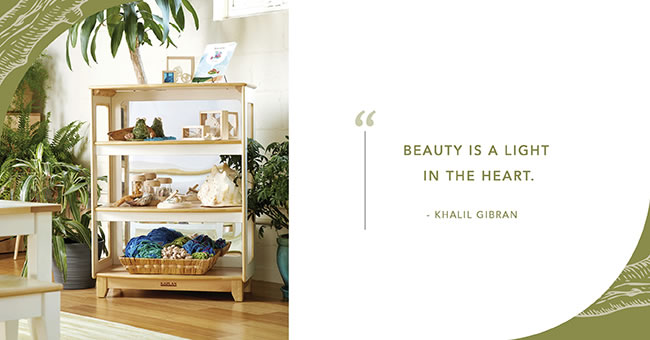 The Importance of Beauty in Classrooms
Beauty is powerful. It is a basic human need that defines our very existence. Beauty gives pleasure to our minds and our senses—think about the sight of fiery sunsets and gorgeous mountain peaks, the delicious smells of home-baked cinnamon buns and newly mowed grass, the feel of a newborn's velvety face and warm summer sun on our skin, the sounds of birds welcoming the morning and cool crisp water in a gurgling stream … and the tangy tastes of barbeque shrimp and homemade lemonade. Beauty, however, is much more than sensorial experiences. Beauty is an emotion. When we experience something beautiful with our senses, we also experience this beauty through our emotions. As adults, frequent encounters with elements of beauty help us become all that we can be. The same goes for young children; they are no exception when it comes to needing beauty in their lives. Because children spend countless hours in a child care environment, it is vitally important for early childhood practitioners to eliminate the cold and institutional elements and infuse components of beauty in the classroom.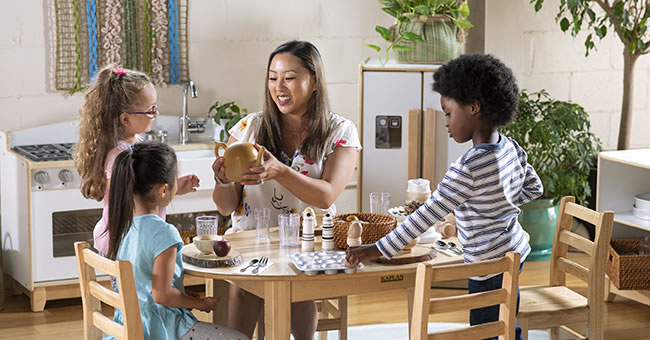 As educators and curators of classrooms for young children, we are beginning to question the traditional ways of designing classrooms. Rather than simply and unintentionally filling spaces with stuff (and even more stuff), there is a positive movement that is gaining momentum: creating meaningful, beautiful, and inspiring environments reflective of those who inhabit the space. Because of this movement, educators are beginning to change their perspective on how early childhood classrooms are designed and the way in which furnishings are arranged. Instead of concentrating on functionality (i.e., types of classroom furniture needed) and practicality (i.e., position the art center near a source of water), increasing emphasis is being placed on classroom aesthetics or the idea of infusing elements of beauty into the environment. When there is an emphasis placed on the aesthetics and classroom beauty, it means:
Buying fewer plastic items and having more natural materials in the classroom.
Having fewer artificial or pretend items purchased from a catalog and infusing more real-world, authentic objects.
Stocking smaller amounts of commercially purchased toys and, in their place, offering young children more recycled, found nature, and loose parts.
Establishing classroom beauty means reducing the number of institutional or commonplace objects and, instead, choosing more beautiful and evocative objects to place in the environment. Classroom aesthetics is not simply limited to learning materials and classroom objects—it also applies to the beauty of classroom furniture.
This can be accomplished by infusing elements of beauty for all to enjoy—from the teeny-tiny bursts of beauty in a bowl of pinecones to the big bursts of beauty in the Sense of Place furniture collection.