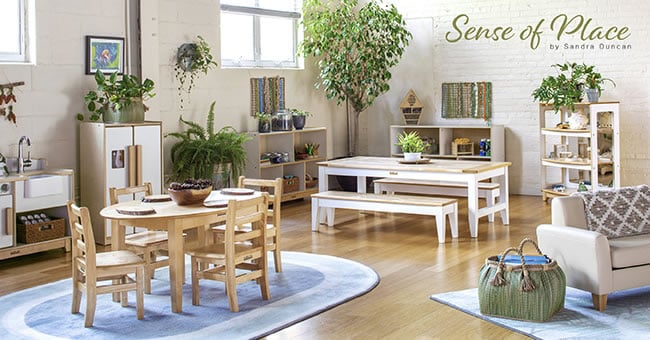 The Sense of Place preschool furniture collection is beautifully and intentionally designed to inspire preschooler's wonder and to nurture their growth and development. It not only celebrates the spirit of place but rejoices in the wonder of childhood. Woven throughout this collection are four design beliefs that I consider essential and are the underlying foundation for the creation of this spirited collection.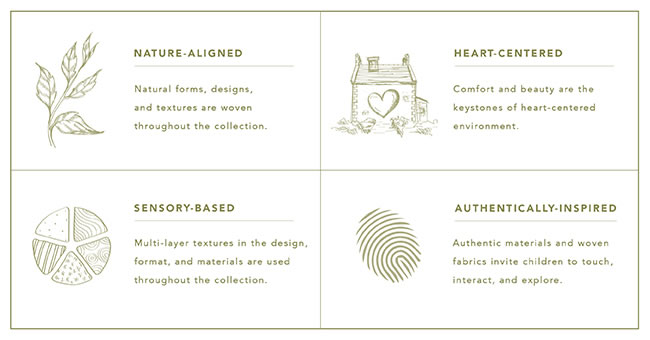 Young children are wired to be sensory beings. A well-designed classroom, therefore, requires a diversity of materials that offer both visual and tactile experiences. An easy and economical way to provide these sensory-based experiences is through nature. For example, tree pods can be either rough or smooth, sand can be wet or dry, and seashells can come in many colors, sizes, and textures. In all these examples, the sensory processing system interprets information through the touch receptors in the skin and through the eyes. Here are some other ideas to create sensory-based classrooms.
Create a tiny destination spot for one child by placing a small braided rug and soft pillow with an interesting pattern in an out-of-the-way area. The rug offers kinesthetic textures to explore and the patterned pillow provides visual textures to enjoy.
Attach a variety of textured items, such as short chains, brushes, and scouring pads, to a piece of plywood. Place in block or manipulative center for children to explore both visual and kinesthetic textures.
Add table runners made from interesting textiles or wooden placemats to tabletops for visual and kinesthetic interest.
Threading ribbon, natural vines, seagrass, or pieces of yarn through chicken wire or weaving frame is a great kinesthetic and visual experience for young children.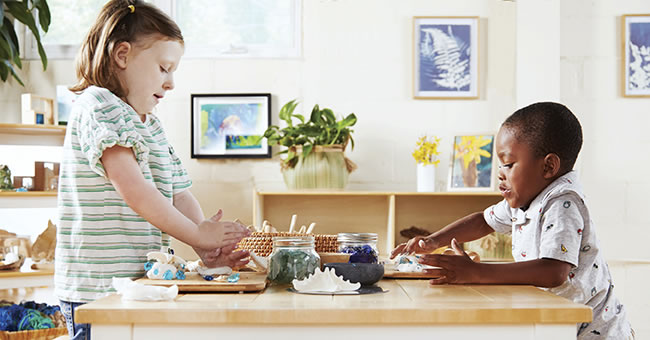 The Sense of Place preschool furniture collection reflects the belief that children learn through their senses. Incorporated in its design are multiple layers of both visual and kinesthetic textures. Children, for example, see the world from a different viewpoint with the incorporation of mirrors in many pieces of the collection (i.e., baskets, curio cabinet, wall mirrors, armoire). Multi-layer textures in the design, format, and materials used to create the seagrass baskets spark children's exploration and engagement. Beautifully crafted pieces using hardwood, authentic, natural materials, and woven textiles and rugs invite children to explore both visually and kinesthetically.