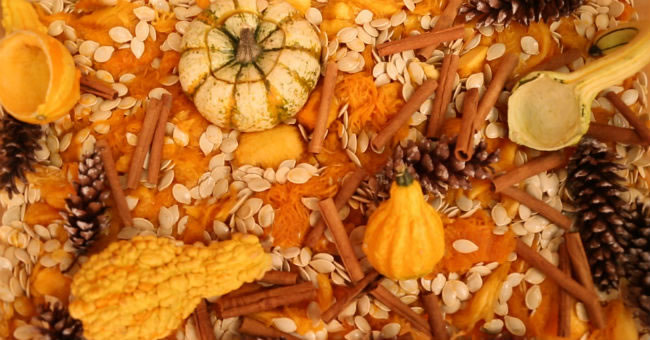 Children will love the familiarity of pumpkins and delight in the sensory experiences provided when they are offered unique ideas that take pumpkins beyond jack-o'-lanterns and pies! Taking the insides of the pumpkin and creating a fun sensory experience for children while also using the outside of the pumpkin to help children develop their fine motor skills helps children learn to be creative and not waste things. Introduce new vocabulary with words such as seed, gourd, and pulp while children engage in hands-on learning and experimentation with the two activities featured below.
Download our FREE printable below!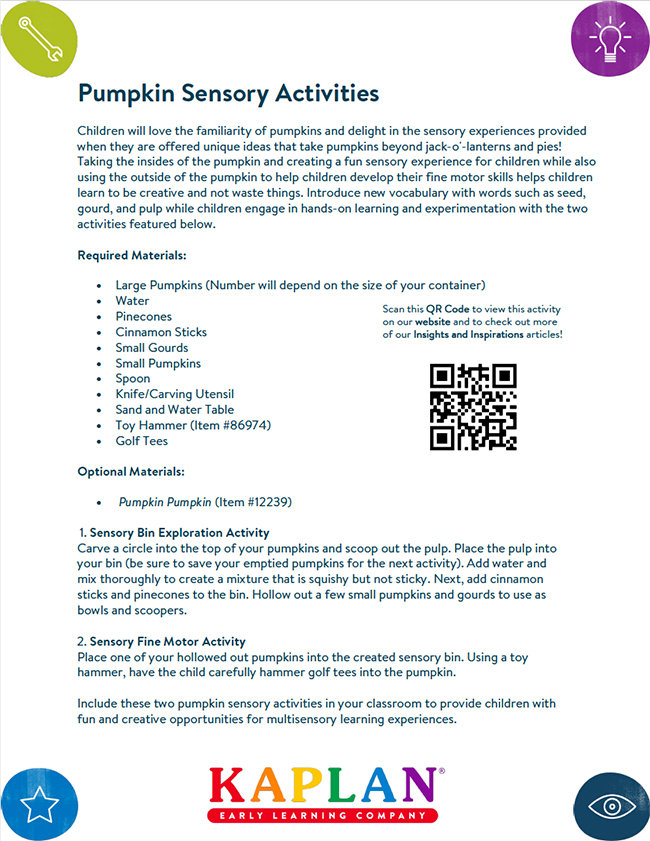 Required Materials:
Large Pumpkins (Number will depend on the size of your container)
Water
Pinecones
Cinnamon Sticks
Small Gourds
Small Pumpkins
Spoon
Knife/Carving Utensil
Golf Tees
Optional Materials:
1
Sensory Bin Exploration Activity
Carve a circle into the top of your pumpkins and scoop out the pulp. Place the pulp into your bin (be sure to save your emptied pumpkins for the next activity). Add water and mix thoroughly to create a mixture that is squishy but not sticky. Next, add cinnamon sticks and pinecones to the bin. Hollow out a few small pumpkins and gourds to use as bowls and scoopers.
2
Sensory Fine Motor Activity
Place one of your hollowed out pumpkins into the created sensory bin. Using a toy hammer, have the child carefully hammer golf tees into the pumpkin.
Include these two pumpkin sensory activities in your classroom to provide children with fun and creative opportunities for multisensory learning experiences.
Be sure to browse our list of sensory-related products, resources, and professional development.