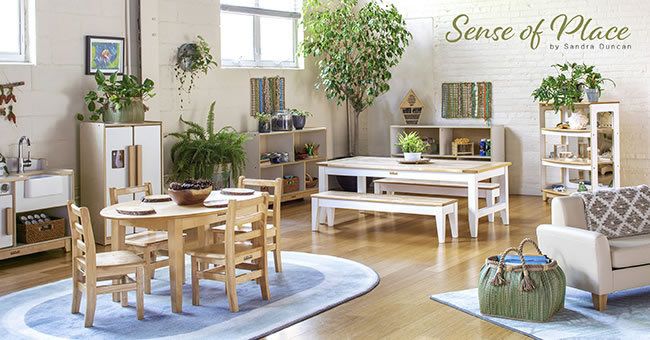 The Sense of Place preschool furniture collection is beautifully and intentionally designed to inspire preschooler's wonder and to nurture their growth and development. It not only celebrates the spirit of place but rejoices in the wonder of childhood. Woven throughout this collection are four design beliefs that I consider essential and are the underlying foundation for the creation of this spirited collection.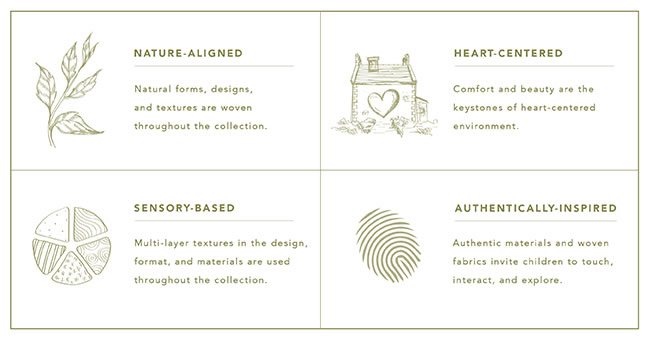 In order for children to learn about the real world, they must experience the real world. There is so much talk about children learning through pretend play—but I wonder if they would learn more through real play. What I mean by "real play" is experiencing the world through authentic rather than pretend objects. We know that children's language is intensified (i.e., increased words, number of sentences, number of words in sentences) when they interact with authentic objects. From recent research on language and literacy, we have also learned that children's stories are richer and more complex when playing with authentic versus pretend objects.
When designing the Sense of Place preschool furniture collection, it was important for the collection to be authentic. I believe that—as early childhood practitioners—it is our responsibility to offer authentic props and materials designed to transform children's creative play into intricate stories of their lives. So, you will find realistic features such as the farmhouse sink, contemporary metal kitchen faucet, and removable oven wire rack.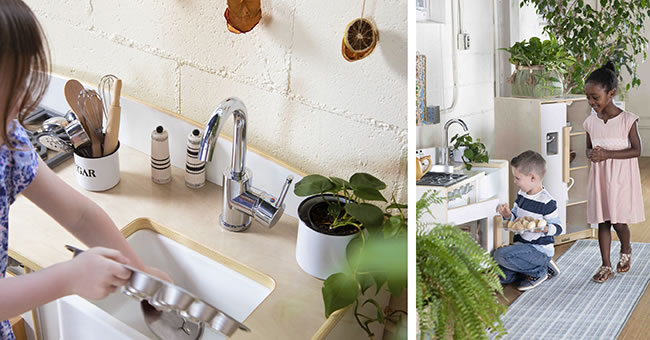 Authenticity is also found in the armoire designed for storing and holding realistic dress-up clothes and accessories. Created to reflect real-life, the armoire's doors are designed to mimic the home's closet doors. With plenty of hooks, knobs, baskets, and ample storage spaces, young children can easily find and return just the right outfit to create stories of their lives.