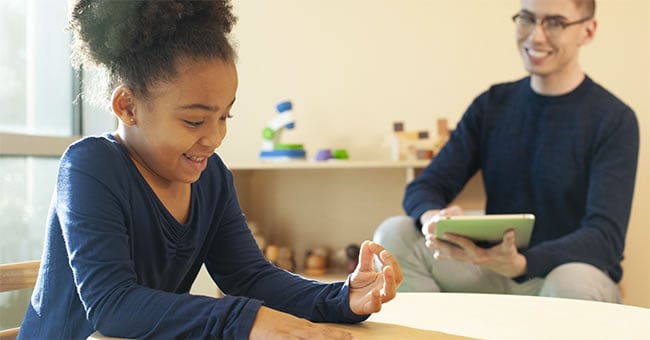 As a preschool teacher, you know that engaging with parents and families isn't always easy. Sometimes there's a language barrier. Sometimes there's simple miscommunication. And, other times, there's such a lack of communication that fostering any sort of a relationship seems nearly impossible.
Believe it or not, assessment data can help.
Sure, you may think of assessments as a nuisance. But, they're incredibly important to ensuring that your lessons or activities meet each child where she is and foster her lifelong success. Beyond helping you to evaluate and improve your program, they can also enrich your relationship with parents and families.
Use assessment data to share children's learning and development with families. Keep them in the loop with what their child is learning, how she's progressing, and what they can do at home to continue to help him succeed.
Now, while we know sharing assessment data with families is incredibly beneficial, we also know that it presents its own challenges.
Watch our recorded webinar with Dr. Laura Bailet, chief academic officer, Kaplan Early Learning Company, as she explains how to overcome these challenges in stride.
Learn how to:
Identify barriers to sharing assessment results
Gain knowledge and identify strategies to reduce barriers
Understand developmental age scores and percentiles
Understand benefits of formative child assessment as an important tool to enhance teaching and learning
During this presentation, Dr. Bailet, a licensed school psychologist who worked in a pediatric clinical setting for many years, will share her perspective on child assessment and how to convey results with authenticity, humility, and confidence to parents. She'll share real-life examples from her many years of experience with all kinds of children and families.
The time is ripe to foster better relationships with parents and families. After all, children are counting on you!
About Laura Bailet, PhD, Kaplan Early Learning Company
Dr. Bailet has more than 30 years' experience in the field of early childhood. She earned her BA at Wake Forest University and her MA and PhD from Northwestern University. She is a licensed school psychologist and has expertise on a wide range of early childhood topics and learning disorders, including dyslexia and autism. The former Operational VP at Nemours Children's Health System and Assistant Professor at the Mayo Clinic College of Medicine and Science, she has published numerous journal articles and book chapters and has been recognized by many award boards. For her accomplishments, Dr. Bailet was selected as the top "Change Agent" in Jacksonville, FL, in 2006 and is the recipient of Jacksonville's prestigious EVE Award for her success in creating Nemours BrightStart!, the program to promote reading success for all children. She is a member of the Library of Congress Literacy Awards Advisory Board.