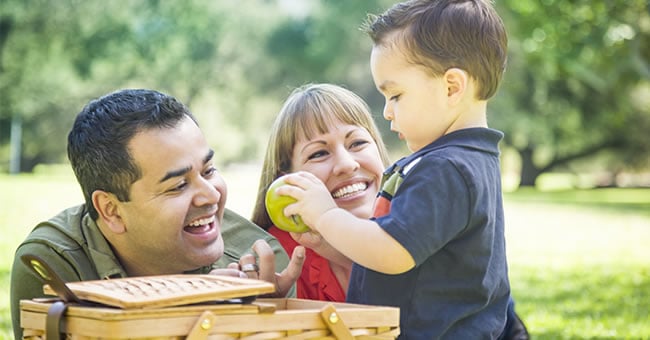 There's often a bigger focus on family engagement in PreK and elementary classrooms, but it's equally important to promote family engagement in infant-toddler environments. By intentionally partnering with the families of young children, you can help ensure that infants and toddlers start developing essential social, emotional, motor, and academic skills. Promoting family engagement in infant-toddler environments also gives you opportunities to answer parents' questions and provide them with helpful tips and information. Our Kaplan-exclusive 52 Family Engagement Ideas for Infants and Toddlers has a variety of simple and straightforward family engagement ideas that you can share with parents. Here are eight of the ideas featured in the set:
Movement
Songs, musical games, and movement are neurological exercises that help children learn motor skills and new speech patterns.
Host a quarterly movement class to encourage parents to exercise with their children. Play popular children's music, share finger plays, and bring in props. Lead families in dancing, jumping, and movement activities. This can be held indoors or outdoors, weather permitting. Provide water to keep participants hydrated.
Safety
Professional and expert knowledge shared with families empowers them to provide safe and healthy environments for their children.
Host an Annual Safety Night. Provide ideas for childproofing the home, staying healthy, and car seat safety. Include topics that new parents may not be aware of, such as safe sleeping habits. Invite a police officer, nurse, or nutritionist to participate in the discussion and offer new and relevant ideas. If possible, offer giveaways such as choke tubes or outlet covers.
Recipes
Cooking and eating together encourages good food habits and self-help skills.
Have families share a favorite recipe or two. Separate them into categories such as snack, main dish, dessert, etc. Share the recipes on the community bulletin board, make copies to hand out, or print them in the monthly newsletter. Encourage feedback as families try the new dishes.
Picnic
Social interactions and sensory experiences will boost children's future cognitive abilities.
Suggest that families have a picnic on the floor in their home, outside on the lawn, or at a nearby park or pavilion. Provide some possible prop ideas: blanket, basket, wet wipes, etc. Invite them to share how their child reacted to eating in a different place, feeling tickly grass, or seeing a bug land on their blanket.
Songs
Singing to babies creates a genuine bond between adult and child.
Encourage parents to sing songs they remember from childhood or learn new ones. Ask families to share their child's favorite song. Create a bar graph on your community bulletin board to illustrate the favorites. Note which songs children love and use the songs as a pick-me-up or transition tool throughout the day.
New Foods
When children are involved in the preparation and sharing of new foods, they will be more likely to try them.
Ask families if their children have tried a new food lately, what it was, and if it was a success. If they haven't tried a new food recently, encourage them to do so. If possible, provide some ideas by sharing recipes, websites, and healthy food apps. It's important to respect the family preferences while introducing a variety of healthy foods.
Textures
Exploration of textures increases tactile awareness and descriptive vocabulary.
Ask families to introduce their child to different textures in the home. For example, "The apple is smooth." "Daddy's face is rough." "The new toy is bumpy." Invite parents to share their child's reaction–a giggle, a frown, a curious expression, etc. You can chart the results in the parent area or share them in your monthly newsletter.
Mirror Image
Faces are babies' favorite thing to look at. As babies learn that it is their face in the mirror, they will experience self-awareness and appreciation.
Suggest that families look into a mirror with their child. Ask them to observe how their child reacts. Are they apprehensive? Do they "talk" to themselves? Do they reach out to touch the image? Encourage them to talk with their child about their reflection. "Here's mommy's nose and here's baby's nose."
Be sure to order the set for additional family engagement ideas. You can also find other helpful materials in the Family Engagement section of our website.