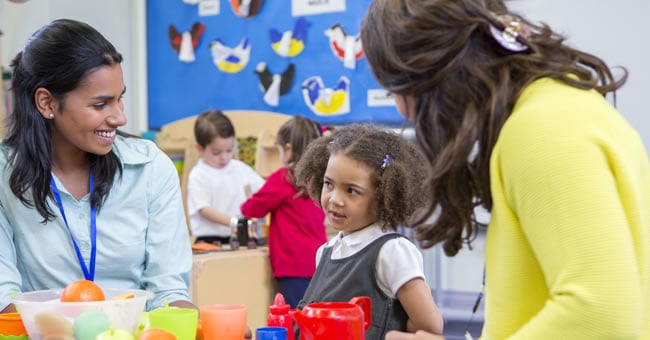 Partnering with parents is one of the best ways you can ensure that children participate in play and receive the support they need at school and at home. In Play Today: Building the Brain Through Creative Expression, Ann Barbour, PhD, explains that providing materials, acting as visiting experts, encouraging play at home, or simply reading school newsletters to learn more about play are great ways for families to be involved while also supporting classroom activities:
1. Donating Items
Whether they can give brand new school supplies or recycled household items, families are an excellent source for classroom materials. Create a wish list of things you need or want for your classroom so families know what to donate. If culturally specific items are given, use the opportunity to teach cultural awareness. It also helps to acknowledge donors in newsletters or bulletins.
2. Making Materials
If you're lucky enough to have a few parents who like to build, sew, or make crafts, don't ignore it. If they're willing to help out, provide them with the required materials and directions. Busy working parents who can't spend time in the classroom may be happy to help out the class with projects they can make at home.
3. Visiting the Classroom
Ask parents and other family members of your students to visit the classroom. They can observe, talk about their careers, or volunteer at special events. An open door policy is an invitation for families to witness the fun children have with dramatic play.
4. Facilitating Home-Based Creative Play
You can use school websites, class bulletins, or newsletters to inform families of the benefits of creative play. Creative play consists of dramatic play and other creative activities. Suggest that children spend less time in front of a screen, and encourage families to pretend, sing, make crafts, and play music with their children. Propose fun ideas, such as allowing children to dress up as characters from their favorite books or movies, create magazine collages, and make finger puppets from old gloves.
Bonus Tip: Giving or lending dramatic play kits to children's homes is another great way to support creative fun at home. You can also include a storybook and props or various art materials.
Be sure to browse our family engagement materials and the Family Engagement category of our Insights and Inspirations section for a variety of helpful tips and resources to help you promote family engagement in your classroom.