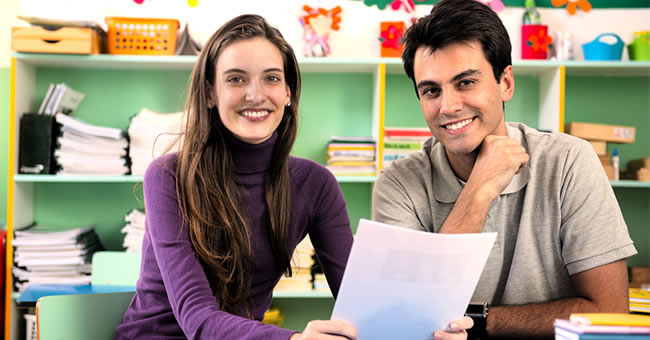 Positive family-school partnerships are essential in helping children learn and grow, but figuring out how to connect with families to form and maintain these partnerships isn't always straightforward. This is especially true in early childhood environments because attending a child care or preschool program for the first time can cause a lot of stress for both the child and family. Early care and education programs are also often the first experience families have with entrusting their child's care and education to someone else. This puts even more pressure on early childhood educators because the family-school partnerships formed in early childhood environments will likely influence the family-school partnerships formed with teachers in kindergarten and other elementary grade levels.
Key Components of a Positive Family-School Partnership
To build a positive family-school partnership with the families of the children in your care, you have to understand what defines a positive family-school partnership. In her book The Insightful Teacher, Nancy Bruski cites communication, respect, and trust as the three key components of a positive family-school partnership. "When family members feel respected and receive clear, ongoing communication from a teacher who is genuinely interested in their perceptions and opinions, there is a much higher likelihood of parental trust, cooperation, and involvement," Bruski explains.
Ways to Build a Positive Family-School Partnership
But how does one establish those three components with families? Remember that you're not going to build positive family-school partnerships with families instantaneously. It's better to develop a consistent, long-term plan that helps you establish communication, respect, and trust over time by finding different ways to connect with families. Nancy Bruski shares the following tips on how to connect with children's families in The Insightful Teacher:
Fully inform families of rules and expectations during the intake process.

Building a positive family-school partnership can begin when families arrive to enroll their children. Family members should be fully informed of the program's rules, practices, and school expectations. This is also the perfect opportunity to learn about a child's developmental history as well as the family's cultural background, family traditions, home language, and educational expectations. Intake forms that ask about recipes, stories, and songs the family might feel comfortable sharing with the class lets families know that parental involvement is valued and welcome. Teachers should also share information about classroom values, practices, and routines, such as policies for classroom pets, birthdays and other celebrations, and bringing in snacks and other foods.

Regularly communicate with families by letting them know how their child's day went.

Try to give children's parents and family members feedback on what their child did that day if you see them at pickup time. If you are not the teacher in charge at pickup time, consider writing a short note about the child's day. Weekly phone calls or email communication are also good options. Remember to be specific in the feedback you give families. Letting them know positive details about their child's day will also help them be more receptive if they receive a negative report. Giving parents detailed and specific information will encourage them to keep you informed if something happens at home that may affect how their child behaves at school.

Encourage family engagement by inviting family members to share their favorite family stories or cultural traditions with the class.

Giving family members opportunities to be involved in their child's education and share their life experiences demonstrates respect and can help build trust on both sides. If some parents are not able to spend much time at school, ask them to read their favorite children's book growing up or to send in a recipe that is popular in their culture. You can also incorporate the stories, recipes, and experiences family members share into your lesson plans and teaching strategy. For example, if a child's family is originally from Spain, you can incorporate different elements of Spain's culture (music, games, books, food) into fun class activities that will engage children and teach them about differences and acceptance.
Remember that any routine communication plans or any special family participation activities require careful planning to ensure a well-organized event and active participation. Taking these steps to connect with families and build family-school partnerships will also foster a sense of community. For more information about family engagement and connecting with families, read The Insightful Teacher and browse our family engagement resources and materials.