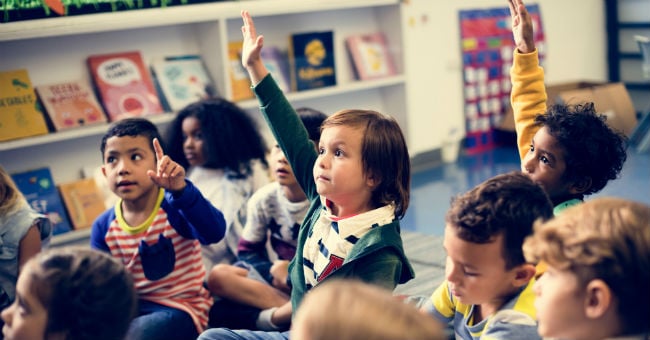 Classroom management plays a large role in building a community. Children need to feel safe in the classroom, and giving them a structured, predictable learning environment through rules and consequences, positive reinforcement, and a regular schedule fosters a feeling of security. However, classroom management isn't the only thing involved in community building.
In their book Through A Child's Eyes: How Classroom Design Inspires Learning and Wonder, Sandra Duncan, EdD, Jody Martin, and Sally Haughey discuss children's need for belonging and their right to connect with others. "Every classroom has an automatic community comprised of the children, teachers, and families," they write. "Fostering this community supports children in feeling a relationship to the classroom and those around them." The authors also share a few ways you can support your classroom community, including the following:
Include various photos of children's families around the classroom.
Display artifacts or photographs from your local community. Encourage children and their families to take pictures of the community and email them to you. You can use the images in a variety of ways. For example, you can include pictures of community buildings in the dramatic play center, or you can put them in the block center for children to use as inspiration for their building designs.
Invite community leaders and/or experts into the classroom to demonstrate a skill or talk about how their job impacts the community.
Encourage children and their families to go on walks and collect natural materials from the local community that children can bring back to the classroom. Display the materials children bring to class in the science center for children to explore.
Ask children to dig up a little bit of dirt from their backyard (remind them to ask a parent or guardian for permission) and put it in a zippered plastic bag to bring to the classroom. Find a large, clear container, and talk with children about how the container represents their neighborhood. Request that each child pour the soil they dug up into the container. Once everyone's soil has been added, discuss the differences in texture and color among the types of soil, and be sure to talk about how everyone's soil represents your community.
To help foster a sense of community outside of the classroom, try to incorporate service learning into your lesson plans and encourage community involvement by asking families to volunteer with their children.