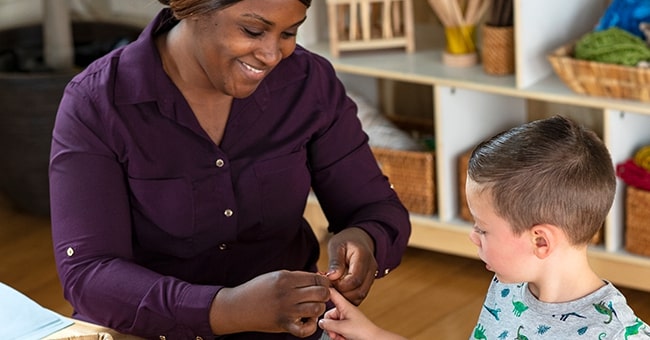 Imagine your classroom is a tapestry with a variety of threads weaving in and out, creating a beautiful and unique piece of art. By being aware of the important threads in your classroom tapestry and how they all connect, you can create a strong classroom environment for your students. "Similar to the assortment of threads in an intricately woven tapestry, the lives of young children also include numerous and varied threads or environments such as family, school, peers, and community," state Sandra Duncan, EdD; Jody Martin; and Rebecca Kreth in their book Rethinking the Classroom Landscape.
In addition to looking at Bronfenbrenner's ecological model of human development (involving interrelationships between humans and their environments) and Newmark's five critical emotional needs of childhood (respect, importance, acceptance, inclusion, and security), they specifically focus on providing a variety of activity ideas for strengthening the child, family, and community threads in your classroom's tapestry.
Child's Thread
Welcome Stones
Each child should have a unique stone to call his or her own. This will help children feel important. When a parent and child enter the classroom at the start of the day, they find the child's name on one on of the stones and place it in the basket. The placement of the stone in the basket is a way to symbolize the transfer from the family to the classroom. Children will feel secure and included by knowing that they are a part of a larger group of students who have also placed their stones in the basket.
My House
You can send the message that children and their families are important and respected by including pictures of children's homes in your classroom. Placing a framed photo of a child's home in the block area can encourage children to construct a version of their classmate's home from blocks and building materials. Placing framed photos of children's homes in the writing center can encourage conversation, story making, and journal entries about the house(s) pictured.
Family's Thread
Family Puzzles
Offer blank puzzle pieces to adults and children to create drawing and small works of art that showcase their personalities. Encourage them to use bright colors, playful characters, and abstract drawings. Once the puzzle pieces have dried, they can be put back together to form a cohesive picture that emphasizes a sense of community among the family and children in your classroom.
Our Memories
Ask children and families to write down their favorite memories of the school year, and then display their answers in the hallway or in the entryway of your classroom. By displaying the notes in an area where both children and parents gather, you can promote a sense of belonging and acceptance.
Community's Thread
City Blocks
Bring the local community inside your classroom by taking pictures of buildings around your community (schools, police or fire stations, the library, doctor or dentist offices, animal hospitals, pharmacies, hospitals, stores, etc.). You can also ask students to bring in their own pictures of buildings in the community. Provide paint and wooden building blocks (such as unit blocks) for children and encourage them to build and paint some of the buildings from the pictures. If children use tempera paint, you may want to spray their work with clear acrylic paint to help seal the paintings (make sure children are not in the classroom when you do this).
Local Treasures
Encourage children to collect artifacts and other treasures from the local community to help them become familiar with the natural world around them. Displaying different flowers and plants found in the local community and giving children opportunities to manipulate and experience them can help children learn and recognize the plants growing in their part of the world. Providing children with opportunities to bring items into the classroom to share can also help them feel accepted as important members of the classroom and community.
Be sure to read Rethinking the Classroom Landscape for additional information about strengthening your classroom tapestry and other ways you can create more meaningful learning environments for children. You can also find helpful tips on classroom design and setup and strategies for encouraging family engagement in the Insights and Inspirations section of our website.