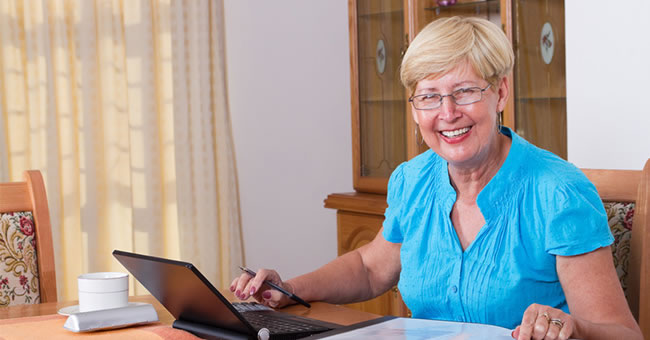 Once teachers obtain their degree(s) and enter the classroom, professional development will help them continue to learn new skills and expand their knowledge of educational topics and practices. Online learning–one of the newest and more personalized professional development options–has significantly changed the professional development landscape for educators. Instead of completing the majority of professional development on school premises, teachers can now access online professional development courses, webinars, and discussion boards at any time from any computer or mobile device that can connect to the internet.
In an article that examines whether online learning can deliver the quality professional development opportunities educators need, Annette Sibley, PhD, and Kim-Tai DeMars of Quality Assist, Inc. explain that incorporating e-learning into staff development plans can help schools and educators "gain the benefits of accessibility, affordability, expansive content, and individualized professional development that has immediate relevance for classroom practices." Cutting down on professional development costs and offering educators more accessibility and individualization would be beneficial for any school or center, but Sibley and DeMars make sure to clarify that the listed benefits only come to fruition if the selected online professional development program is "rich in content, interactive, and a compelling catalyst for engagement."
Online professional development is a practical and worthwhile opportunity for educators, but knowing what to look for to ensure that an online program has good content, is interactive, and facilitates engagement can ensure that educators receive the high-quality professional development experiences and opportunities they need to grow professionally. In their article, Sibley and DeMars discuss six experiences that principals/directors and teachers should look for when choosing an online professional development provider or program:
Remembering

Online professional development should include learning experiences that help educators remember the content they are learning by providing ways for educators to self-check their recall of information and by giving educators opportunities to name, repeat, or select information. Common ways to do this include quizzes, crossword puzzles, and fill-in-the-blank exercises.

Deepening Understanding

Online professional development should also provide opportunities for educators to deepen their understanding of content. Tools that allow educators to evaluate information, physically sort and rearrange information, share reflections in written or recorded formats, and share thoughts about content should be included in any professional development program. Sorting and matching tasks or discussion boards are two examples of ways online professional development can help deepen understanding.

Applying New Knowledge

Online professional development that provides educators with opportunities to make choices, solve problems, apply new information in a variety of ways, and use new knowledge to create an action plan will help educators learn to apply the new knowledge and information they receive. Common ways to do this include having educators design a classroom floor plan with online design tools, create a budget, and/or develop a personal action plan.

Analyzing

Another important experience to look for in online professional development is whether the program/provider offers learning experiences that will help educators with analyzing content. Online professional development should expand educators' investigation of content, provide critical thinking activities, provide opportunities for analyzing facts and events, and provide opportunities to reflect on relationships between concepts and practices. Surveys, access to related resources, and social networking tools are three ways online professional development can help educators analyze information.

Evaluating

In addition to analyzing, online professional development should also offer learning experiences that help educators evaluate the content they are learning. Opportunities for critiquing information and sharing questions, concerns, and values are important parts of this experience. Evaluating information may occur through wiki projects, rating information, or discussion boards.

Creating

One of the most important experiences online professional development should provide is offering opportunities to think creatively, put ideas together in different ways, post questions, offer new solutions, and share educators' unique work samples. This can be done by sharing wiki projects and creating action plans.
Researching and comparing online professional development programs and providers based on the preceding criteria and other important factors (budget, licensing, subscriptions, range of content, etc.) is a great way to narrow down and choose an online professional development option that will engage teachers and meet their needs. Visit Kaplan's professional development page for more information about the types of professional development Kaplan offers.
Article Source
Annette Sibley and Kim-Tai DeMars, Quality Assist, Inc. "Can On-Line Learning Deliver?." Quality Assist is an early education consulting company with a 27-year history of providing high impact professional development, both in-person and online. Quality Assist is one of Kaplan's e-learning partners.