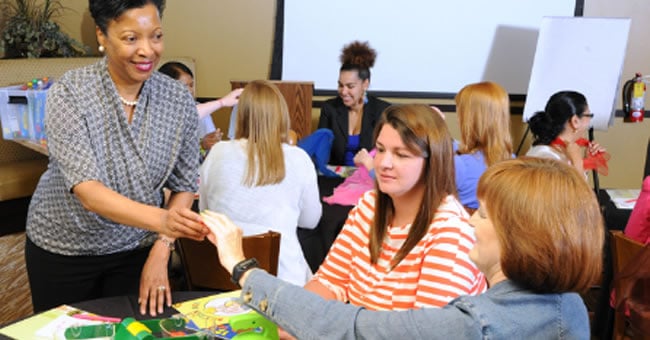 Choosing effective professional development programs will help you get the training you need, but it's also important that you choose the professional development opportunities that work best for you and your individual situation. Here are a few tips and reminders on how to get the most out of your professional development investment:
Look for professional development options that are customizable and offer content geared toward specific goals, disciplines, developmental stages, or grade levels. Any professional development options you choose should support your specific needs and be relevant to teaching the children in your care. (Gulamhussein; Darling-Hammond et al.)
Look for professional development options that include modeling and provide implementation support and job-embedded learning opportunities. All of these factors are essential to effective professional development and play major roles in ensuring that educators understand and implement new instructional strategies in the classroom. (DeMonte; Gulamhussein; Darling-Hammond et al.)
Look for professional development options that encourage collaboration and help educators develop positive working relationships. Collaboration and the presence of positive working relationships support teacher learning while also creating positive work environments. Educators are much more likely to enjoy their work when a professional development plan allows for collaboration and gives educators more opportunities to problem solve together. (DeMonte; Darling-Hammond et al.)
Look for professional development options that incorporate technology in a variety of ways. Whether it's online professional development, online discussion boards, engaging digital presentations, recording a lesson for coaches to review, or training in new technology, professional development options that incorporate technology tend to improve teacher instruction and keep educators updated and involved with changes in education. (DeMonte)
Look for professional development options that align with your school's priorities and goals. Professional development experiences that align with standards, priorities, and goals are likely to have a larger impact on instruction and student learning. "If [educators] cannot easily implement the strategies they learn, and the new practices are not supported or reinforced–then the professional development tends to have little impact" (Darling-Hammond et al.).
Look for professional development options that provide support for educators at all stages of their careers. Providing support for every type of educator (new, established, experienced, in training, etc.) is essential to creating an environment that encourages professional growth while also giving educators the tools and resources they need to learn new methods and skills.
This list of tips is a great resource for ensuring that the professional development investments you make will be effective in meeting your professional development needs. Whether the professional development training is approved in your state and whether you receive continuing education units (CEUs) for completing the training are two other factors you also need to consider. Make sure you know which factors are most important to you and understand how the experience will benefit you when considering a professional development opportunity.
Browse our Kaplan Professional Development landing page for information about the professional development services we offer, and be sure to read "How to Ensure a Return on Your Professional Development Investment" for additional information on choosing effective professional development programs that meet your individual needs.
Related Articles
Understanding Professional Development Issues and Shortcomings
The Principles of Effective Professional Development
On-Site Professional Development vs. Online Professional Development
Article Sources
Darling-Hammond, Linda, et al. "Professional Learning in the Learning Profession: A Status Report on Teacher Development in the United States and Abroad." Leaning Forward. National Staff Development Council and School Redesign Network at Stanford University, Feb. 2009. Web. 13 Oct. 2014.
DeMonte, Jenny. "High-Quality Professional Development for Teachers: Supporting Teacher Training to Support Student Learning." Center for American Progress. Center for American Progress, 15 July 2013. Web. 15 Oct. 2014.
Gulamhussein, Allison. "Teaching the Teachers: Effective Professional Development in an Era of High Stakes Accountability." Center for Public Education. Center for Public Education, Sept. 2013. Web. 14 Oct. 2014.