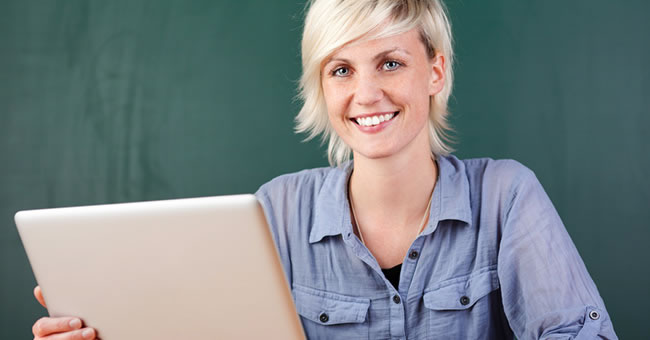 Professional development keeps educators informed on the latest education topics and gives them valuable ideas and tools to use in the classroom. As an early childhood professional, you're always looking for professional development opportunities that will enhance professional growth, but knowing which type(s) of professional development would be most beneficial for your individual situation isn't always easy.
Kaplan Early Learning Company offers two types of professional development opportunities for education professionals: on-site professional development and online professional development. Depending on your specific professional development needs, both types can be beneficial for you and your staff.
On-Site Professional Development
Whether you're looking for trainings, workshops, coaching, or consulting, on-site professional development provides a variety of wonderful learning experiences for educators. Here are just a few of the factors that make on-site professional development a worthwhile investment:
Professional Growth
On-site professional development provides multiple opportunities for early childhood professionals to learn about a variety of relevant education topics, including family engagement, STEM/STEAM, purposeful engagement, curriculum and assessment, differentiated instruction, and leadership. Our education experts share high-quality information that will help you and your staff support children's learning and development while furthering your own knowledge and education. From small and large groups to multi-site locations, on-site professional development can also encourage communication and community amongst your staff.
Customizable Training
All of Kaplan's trainings can be customized to meet the specific needs of your individual program. Have one specific area you feel you and your staff need additional training on? Contact Kaplan's professional development team to discuss which program(s) would work best for you and what kind of changes can be made to make sure that particular issue is adequately addressed in the training. Whichever training topic you choose will be available as either a full-day session (6 hours) or a half-day session (3 hours). Keep in mind that you want the training session to be specifically designed to meet the needs of you and your staff and the needs of the age group in your care.
Expert Assistance
If you're looking for a little more assistance than training sessions and workshops typically provide, consultation and coaching is an on-site professional development option that would work well for you and your staff. Our education experts can play a much larger role in your program's professional development by working on short- and long-term planning projects, assessing classroom environments, developing a training plan, or helping you choose a curriculum that aligns with performance standards. A number of complete implementation packages that are based on administrator training, staff orientation, and related topics are also available as part of Kaplan's on-site professional development services.
Inspirational Presenters
One big advantage of on-site professional development is that it allows you and your staff to learn and participate together. All of Kaplan's education experts have an abundance of practical experience and knowledge that they utilize in creating engaging and thought-provoking presentations. Our presenters will inspire, motivate, and energize you and your staff. Remember that a great training session with a knowledgeable presenter can revitalize individual staff members and your overall program.
Online Professional Development
Even though some programs can be a little wary of online professional development at first, online learning is a practical and beneficial professional development option for many early childhood programs. Here are just a few of the advantages that make online professional development a valuable investment for programs and individual teachers:
Affordable Options
Many online professional development providers offer affordable annual membership subscriptions that allow individual teachers or large groups to take multiple professional development courses. Quality Assist, one of Kaplan's online professional development providers, also offers individual courses available for purchase. Whether a teacher wants to try an online professional development course for the first time or take a variety of online courses to earn continuing education units (CEUs), Kaplan's online learning options can support your staff members' professional growth.
Individualized Learning
Online professional development allows educators to learn at their own pace and is a great way to provide staff members with individualized training opportunities. One great advantage of online learning is that courses can often be completed in relaxed, comfortable environments that further encourage engagement and understanding of the material. Online professional development courses can also offer the best of both worlds by allowing for individual study while encouraging open dialogue and unique interactions with the instructor and other professionals taking the course(s).
Rich, Engaging Content
Online learning offers a plethora of materials and content for early childhood professionals to learn and explore as a part of their professional growth. The courses offered by Kaplan's online learning providers offer rich, engaging content that helps educators create an effective instructional strategy and keeps them up to date on the latest early childhood research. Kaplan's online professional development course options all include a "focus on learning and the learner" and provide "tools of engagement that encourage reflective thinking"– two factors Chip Donohue and Selena Fox include in a list of what makes online learning effective in their March/April 2012 article for Exchange magazine.
24/7 Accessibility
One of the biggest advantages of online learning is its accessibility. Whether you and/or your staff want to work on a course during the day or at night, there are no limits to when you can access online learning courses. All you need is a computer with internet access. Both of Kaplan's online professional development providers also offer a help desk for any technical assistance you need.
So, Which Should You Pick?
Deciding which type(s) of professional development opportunities work best for you and/or your staff will depend mostly on your program's individual needs. A combination of both on-site and online professional development opportunities is probably the best strategy since they each have their own advantages. On-site professional development best supports group trainings and workshops while online professional development best supports individualized learning.