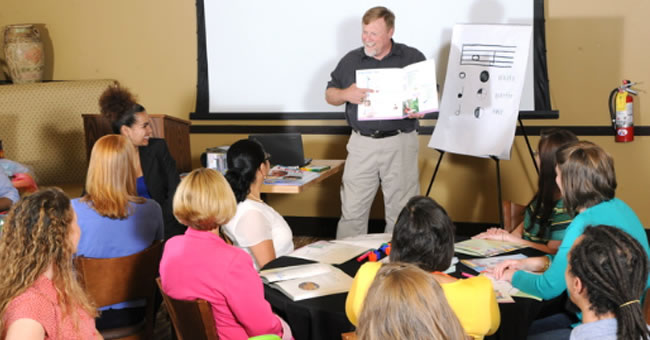 As discussed in "Understanding Professional Development Issues and Shortcomings", professional development programs and providers are starting to provide more training and learning opportunities that better address the needs of educators and the challenges of teaching. Even though professional development programs and providers are beginning to move away from the status quo, you still need to research your options and look for effective, high-quality professional development. So, how can you tell the difference between effective professional development and ineffective professional development? While it's not as easy as one may think, there are a few principles that you can use to define effective professional development:
Professional development needs to be an ongoing experience for educators. Short one-time professional development experiences are less likely to make a large impact on instruction due to educators not having enough time to efficiently absorb and practice new methods. Experiences that are a continuous process and provide extended learning opportunities help educators master new skills and instructional methods and also have a better chance at positively impacting student learning. (Gulamhussein; Darling-Hammond et al.)
Professional development needs to be job embedded as much as possible. Teachers have to have the opportunity to apply what they are learning in their classrooms. Job-embedded practice and learning opportunities help bridge the gap between understanding a new method or concept and actually implementing it in the classroom. (DeMonte; Darling-Hammond et al.)
Professional development needs to provide support for teachers during the implementation stage of using a new instructional method in the classroom. "If school districts want teachers to change instruction, the implementation stage must be included and supported more explicitly in professional development offerings, as this is the critical stage where teachers begin to commit to an instructional approach" (Gulamhussein). Providing support during the implementation stage ensures that a new instructional method has a good chance of being effective in the classroom.
Professional development needs to offer content that is specific instead of generic. The content that professional development offers educators should be specific to a goal, a discipline, a grade level, or a developmental stage. Relevant, specific content that addresses the needs of educators and the children they teach is much more useful than the general principles and topics associated with trainings and professional development opportunities that involve the whole staff. (Gulamhussein; Darling-Hammond et al.)
Professional development needs to be engaging and use varied approaches to support learning for both groups and individuals. "Teachers' initial exposure to a concept should not be passive, but rather should engage teachers through varied approaches so they can participate in making sense of a new practice" (Gulamhussein). Whether information is being presented to a large or small group, varied approaches also make it possible to present content in ways that complement educators' individual learning styles.
Professional development needs to include modeling as major parts of teacher training. Research has shown that modeling plays a vital role in helping educators understand new instructional methods. Demonstrations of new practices allow for active learning and help educators understand how new practices can be used in real classrooms. Hearing about a new method or skill will not be as effective as taking it one step further and seeing it being used by someone who has already mastered the method or skill. (Gulamhussein; Darling-Hammond et al.)
Professional development needs to promote collaboration among teachers. Collaboration is an excellent way to provide support for educators, especially for educators new to the profession, but educators are often not given the time needed to collaborate with one another. This can be detrimental to both student and teacher learning, because productive collaboration usually leads to better teaching and instruction and also helps educators solve problems they are dealing with in the classroom. (DeMonte; Darling-Hammond et al.)
Remember, effective professional development is also defined by success. Check to see if the professional development opportunities you are considering have good reviews. Positive testimonials and feedback from current and past participants usually indicate a successful and effective program. Just be sure the reviews and testimonials you see are from actual participants and not fake or paid endorsers.
Be sure to read "Making Good Professional Development Investments" and "How to Ensure a Return on Your Professional Development Investment" for more information on making the most of professional development opportunities. Our Kaplan Professional Development landing page is also a great resource for information about the professional development services we offer educators.
Article Sources
Darling-Hammond, Linda, et al. "Professional Learning in the Learning Profession: A Status Report on Teacher Development in the United States and Abroad." Leaning Forward. National Staff Development Council and School Redesign Network at Stanford University, Feb. 2009. Web. 13 Oct. 2014.
DeMonte, Jenny. "High-Quality Professional Development for Teachers: Supporting Teacher Training to Support Student Learning." Center for American Progress. Center for American Progress, 15 July 2013. Web. 15 Oct. 2014.
Gulamhussein, Allison. "Teaching the Teachers: Effective Professional Development in an Era of High Stakes Accountability." Center for Public Education. Center for Public Education, Sept. 2013. Web. 14 Oct. 2014.