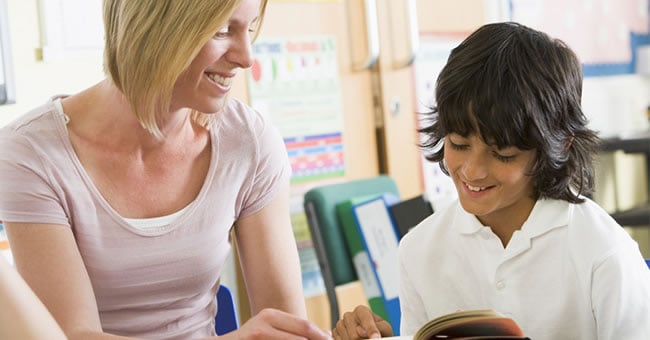 Are you concerned about your students' reading skills? Even if most of the children in your class are reading at or above grade level, there are probably several students who struggle with reading or are even several grades behind in reading ability. Many children struggle with reading at some point in their school careers, but there are a variety of ways you can help them develop their reading skills and learn to read at or above grade level.
One of the first things you need to do when helping a struggling reader is to determine why that student has poor reading skills. Does the child have dyslexia or another type of learning disorder? Does the child struggle with phonics, vocabulary, or reading comprehension? Did he or she not have good reading role models as a young child? Answering these and other similar questions will help you come up with a plan that addresses each child's individual needs. Here are a few strategies you can use to reach struggling readers in your elementary classroom:
Help students learn phonics, increase their vocabulary, and expand their reading comprehension skills. In order to read and spell, children have to understand the relationships between letters and sounds. They must also increase their vocabulary knowledge and comprehension skills to move on to more advanced reading challenges. Incorporate fun, educational language games and activities into your lesson plans to help children become proficient readers. Come up with questions that will help children better understand what they read, and try having kids work in small groups to see how that affects struggling readers. Be sure to read our Insights and Inspirations article Helping Elementary Students with Vocabulary Acquisition and Usage for additional tips on increasing children's vocabulary knowledge.
Provide an assortment of books in your classroom reading area. Giving children a variety of books to choose from may help them find books that they enjoy reading. Make sure the children's books you offer students vary in difficulty, subject, and length. Fill your classroom library with chapter books, leveled readers, and audio or read-along books. Hi-Low books are an option for children who have specific interests but don't enjoy reading. You should also include a variety of reading materials (magazines, newspapers, etc.) for children to read. If children enjoy using laptops or tablets to look up information, try downloading children's eBooks on the devices to spark children's interest in reading.
Use tutoring to provide children with one-on-one assistance. Some children who struggle with reading may require a little extra guidance. Tutoring is a great way to provide children with one-on-one assistance. If you or an assistant don't have the time to sit down with struggling readers a few times a week, try finding volunteers that can help children or schedule them to meet with a reading specialist (if your school has one). You can also provide families with a list of tutors that they can contact to provide the child with additional tutoring outside of school hours.
Ask families to help children with reading at home. A child's ability to read is often influenced by his or her family. Good reading role models are important for children of any age. Ask parents to read with their children at home for 15-30 minutes each day. Send home classroom books for the child to read or suggest books that the parents can include in their home library. You can also send home a list of questions that parents can use to help their child understand the book they're reading.
Try a variation of these and other strategies and see what works best for each child. For kids who "hate" to read, give them exposure to books, vocabulary, sentence structure, etc. by reading aloud. Remember, kids who read a lot read well, so one of your main goals should be to get kids reading. Be sure to browse our language and literacy materials and our selection of children's books for ideas on items you can incorporate in your classroom to help struggling readers.