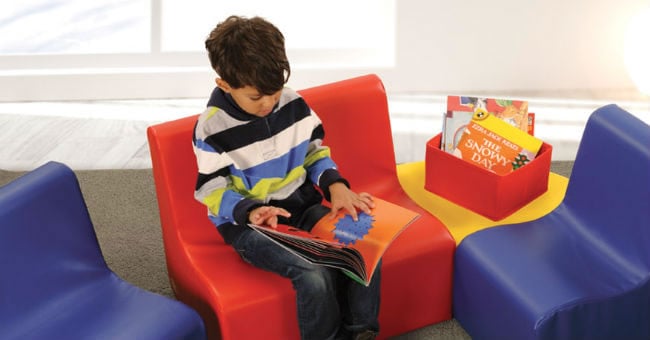 Reading nooks for kids provide a space in the classroom for students to relax and read in a comfortable, accessible setting that can be less intimidating than the school library. A reading nook is also the perfect setting for individual reading and exploration. Winter's colder temperatures and shorter days make it the perfect season to cozy up into a comfortable and fun reading nook.
Incorporating Reading Nooks Into Your Classroom
There are many reading nook ideas for kids, but the most important aspect is to make the space as warm and engaging as possible. This will help children perceive the space as a safe space for reading and learning. Consider adding cozy loungers, pillows, blankets, and soft chairs for reading since a more inviting space will encourage further participation and reading engagement. Colorful rugs, posters, and other decorations will add a cheerful and fun element to your classroom reading nook. An inviting classroom library space will also encourage students to explore new topics and read new books!
Another way to keep your students engaged with the reading nook is to incorporate exciting activities with the books they are reading. Gather everyone in the nook for reading time and, once the book is completed, set up a fun arts and crafts activity that correlates with the book. Books such as The Grinch and If You Give a Mouse a Cookie have many arts and crafts activities associated with them and are perfect for the season.
Decorating your Reading Nook
To make your classroom reading nook the perfect space for winter, brighten up the space with wintry wall decorations, such as fairy lights, to recreate the twinkling snow of winter. Post paper snowflakes with vocabulary words on the wintry wall to encourage your students to look for the words in their reading. Consider making a Snow Bulletin Board with your students to decorate the space and help them make it their own.
A reading nook can be utilized year-round, but winter weather provides ample opportunities to use the space as a warm and cozy alternative to the outdoors. In no time, all of your students will be clamoring to snuggle up with a classic wintertime book!