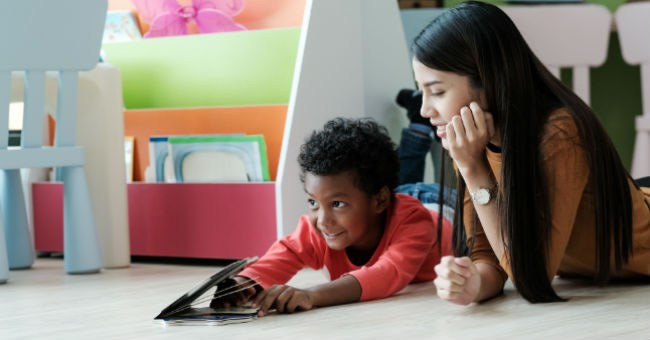 Have you heard of the term "preschool-to-prison pipeline"? As explained in "Point of Entry: The Preschool-to-Prison Pipeline" by Maryam Adamu and Lauren Hogan (2015), the term is a metaphor that represents the issue of children—especially children of color who come from low-income families—being pushed out of school and eventually ending up in prison. The practice of suspending and expelling young children, especially in preschool or early childhood settings, can have a negative impact on children for years to come.
In their report for the Center for American Progress, Adamu and Hogan recommend that suspensions and expulsions be prohibited across early childhood settings. "Teachers, principals, and directors should be equipped with more positive and effective tools for intervention when a behavioral problem is identified," they write. Suspensions and expulsions in ECE are a real concern, which is why we've provided tips and resources below to help you prevent suspensions and expulsions in your program or school.
Building a School-Wide System of Support
Establish Effective Discipline Policies
In Effective Discipline Policies: How to Create a System that Supports Young Children's Social-Emotional Competence, Sascha Longstreth, PhD, and Sarah Garrity, EdD, compare behavior-guidance policies to blueprints. "Much as a blueprint provides an architect with the plans for a building, a guidance policy provides an administrator with a plan for creating an infrastructure that supports the social, emotional, and academic success of all children," they write. If a program or school does not have effective discipline policies in place, it makes it much harder to implement practices that are in line with their mission and beliefs. It also makes it harder for teachers at the classroom level to quickly and effectively respond to challenging behaviors.
Develop Partnerships with Families
Building positive family-school partnerships and increasing family engagement are essential parts of developing a strong system of support in programs and schools. Communicating with families and making sure they are aware of and understand the program's or school's behavior-guidance policies can help reduce the number of suspensions and expulsions in ECE. If parents know what is expected of children at school, they can reinforce those behaviors at home and will feel more comfortable talking about their child's behavior issues with teachers and administrators.
Integrate Developmental Screening and Assessment
Encouraging children's social and emotional growth and using developmental screenings and assessments to track social and emotional well-being can help identify children who need a little extra help. DECA and e-DECA from the Devereux Center for Resilient Children are designed to support early intervention efforts to reduce challenging behaviors. They also include strategies to support teachers in working with individual children.
Create a Supportive Staff Culture
Creating a staff culture that is supportive of teachers as they work with children is an integral part of building a school-wide system of support. If teachers are frustrated with a child in their class or feel like they've done everything they can, they need to feel comfortable asking for advice from other teachers and administrators. This helps support the teacher's well-being in addition to that of the student.
Train Staff on Cultural Awareness and Implicit Biases
Everyone has implicit biases, but it takes courage to examine those biases, which is why NAEYC supports research that explores the implicit biases of early childhood educators and the effects these biases have in the classroom. "As a longtime leader in the anti-bias field, NAEYC is committed to bringing new research and resources to you, in order to shine a light on how we can, collectively and individually, reduce our biases and improve our policies and practices to better serve young children and their families," NAEYC writes on their website. Being proactive and training your staff about cultural awareness and implicit biases is the best way to tackle these issues head-on.
Creating a Supportive Classroom Environment
Modify the Classroom Environment to Prevent Challenging Behaviors
As discussed in the CEELO Policy Report "Information and Resources to Assist States in Developing Policy on Early Childhood Suspension and Expulsion" (2017), setting up classrooms to support young children's development, developing routines for classroom transitions, and ensuring that educational materials and supplies are designed to support learning and are fitted to children's ages are essential parts of effective classroom management. Having a developmentally appropriate classroom and an effective classroom management strategy can reduce challenging behaviors and prevent suspensions and expulsions.
Work to Create a Culturally Inclusive Environment
Recognizing that the children and families you serve are increasingly diverse is an essential first step to creating a culturally inclusive environment. Make it a priority to talk with families and learn about their cultures, so you can better incorporate elements of different cultures into the school and classroom. It's also important to design preschool environments that welcome families and help them feel accepted. Making the design useful for all families, accommodating for individual preferences and abilities, and easy to understand (regardless of someone's language skills, experience, knowledge, or concentration level) are a few ways to create a warm, welcoming, and culturally inclusive environment.
Emphasizing Participation in Ongoing Training
Ongoing training for staff is critical to reducing challenging behaviors and preventing suspensions and expulsions in ECE. Learning new teaching strategies for addressing challenging behaviors can help educators focus on teaching rather than punishing. Kaplan Early Learning Company is proud to offer a variety of online and on-site professional development options for early childhood caregivers and educators! Contact us today for more information.