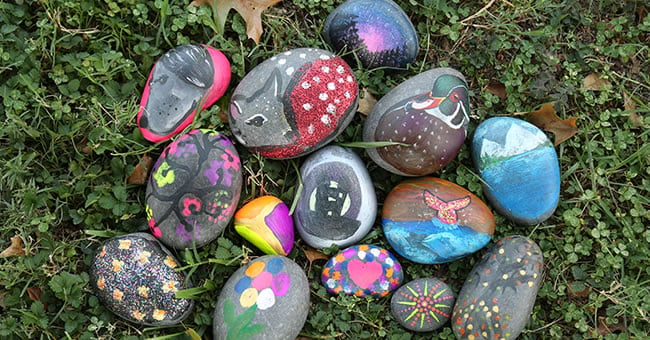 Embrace diversity in your classroom and inspire creativity with this social-emotional art activity. The Only One You Rock Garden Activity empowers children to see that their differences, and similarities, make them unique and should be celebrated! Encourage students to create their own masterpieces that represent who they are. By the end of this activity, you'll have a beautiful rock garden full of colorful, painted stones that are all unique in their own way. This easy-to-do art activity is the perfect way to incorporate social-emotional learning into craft time, allowing children to express their creativity, and explore their inner artist, while reflecting on what makes them one-of-a-kind!
What is an Only One You Rock Garden Activity?
Inspired by the board book, Only One You by Linda Kranz, this activity emphasizes the uniqueness of each child and how important they are in their world. An Only One You Rock Garden is a beautiful addition to any classroom as a showcase of diversity and individuality. Displaying children's favorite color, animal, design, or anything they imagine, each painted rock allows children to express themselves freely while taking time to be mindful and reflect on other's rocks and how they might be different than their own. The perfect representation of how our differences make us special, the Only One You Rock Garden activity encourages students to come together in kindness as one diverse community made up of unique individuals! This important lesson also helps students build strong social and emotional skills, giving them the foundation they need to learn and grow.
Your learners will love finding support, comfort, and inspiration every day in your classroom rock garden as they build meaningful connections, learn through play, and are reminded of how special they truly are!
Why is Embracing Diversity in the Classroom Important?
Are you supporting diversity in your classroom? Many teachers may be afraid of offending children and their families, causing them to ignore the diversity of their students and avoid addressing racial and cultural differences in the classroom. However, teaching children about different races and cultures allows educators the opportunity to deliver more authentic lessons fit for a diverse group of students with various backgrounds and experiences. Addressing racial differences also encourages children to treat people who are different than them with kindness and reinforces their own self-love. Creating the Only One You Rock Garden as a class, instills within children the important lesson that their racial or cultural differences from their classmates should be celebrated and makes them the only one of them there is!
How Can I Use This in My Lesson Plan?
Addressing and embracing diversity in your classroom helps create a safe space where students can learn and grow. Creating an Only One You Rock Garden as a class is the perfect chance to discuss diversity and make meaningful connections as a classroom community. Reading Only One You by Linda Kranz is the perfect way to kickstart this arts and crafts activity. As you share the main character's story with the children, encourage them to think about what makes them and their families unique. Continue the discussion while children paint their own rocks and support students as they share stories of cultural practices, family traditions, or simply traits they feel are unique to them. Having an open discussion with students helps them feel comfortable with themselves and others in their class as they form powerful community connections and discover what makes each individual special.
Required Materials
Directions
Paint | Allow each child to paint their own rock. Encourage each child to choose decorate their rock with their favorite colors, animals, hobbies, or other creative design!
Dry | Let your colorful rock garden dry.
Place | Place your beautiful rock garden outside or in your classroom for an engaging display. Send rocks home at the end of the school year for a special treat!