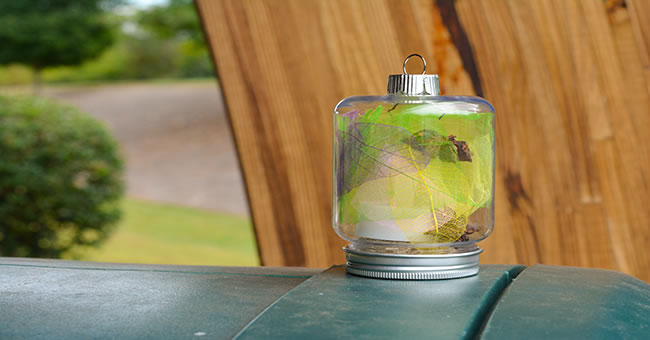 Inspire creativity this holiday season with the Loose Parts Holiday Ornament! Quick and easy-to-incorporate into busy holiday lesson plans, the Loose Parts Holiday Ornament is the perfect way to engage young minds and support open-ended learning through loose parts discoveries. Children will love exploring and choosing their very own loose parts to create a one-of-a-kind ornament they can share with their loved ones or proudly display in the classroom!
What Is A Loose Parts Holiday Ornament?
Loose parts are natural or synthetic found, bought, or upcycled materials like stones, seedpods, fabric scraps, acorns, and hardware like bolts and nuts, that children can move, manipulate, and change within their play.
The Loose Parts Holiday Ornament takes this fundamental mission of loose parts play and transforms it into an activity children can explore independently or within a small group as they create a unique ornament that captures the spirit of their open-ended play and imagination!
Why Are Loose Parts Important?
Engaging and inspiring, loose parts capture children's curiosity and give them the freedom to explore creativity on their own terms. Creating endless play and learning possibilities, loose parts naturally support open-ended playful learning experiences. For example, if a child picks up a rock and begins to play, the rock can be transformed into anything the child wishes—there are no limits to the imaginative power of loose parts!
How Can I Use This In My Lesson Plan?
Incorporating the Loose Parts Holiday Ornament into your holiday classroom schedule is the perfect way to unlock the many learning benefits of loose parts play. Children will love engaging in problem-solving and abstract thinking as they explore the loose parts provided, build meaningful connections, and learn through play all while creating a unique ornament to display or share.
This activity is also a wonderful tool for refocusing students during the holiday season, or any other time of the year. As students look forward to winter break and upcoming celebrations they are naturally excited and distracted. Incorporating the Loose Parts Holiday Ornament into your lesson plan gives teachers a chance to step back while their students explore loose parts and exercise their creativity, in turn providing children with a positive, open-ended way to channel their excess excitement!
Required Materials:
Ribbon, String, or Twine
White Tealight (Flameless, Battery Powered)
Directions
Give 1 fillable mason jar to each child. During this time, set out the
Naturals Starter Pack
and other nature-inspired loose parts for children to explore and use in their ornaments.
Ask children to fill their ornaments with the loose parts they selected, leaving room for a tealight. Encourage children to problem-solve as they determine what loose parts will fit into their ornaments. Help children insert their tealights into their ornaments, switch on the tealight, then close the ornament opening.
Insert a piece of ribbon or twine through the loop on the ornament's cap. Hang, and enjoy, the beautiful, glowing loose parts ornaments around your classroom. Or, send these ornaments home with children as a special gift for friends or loved ones.