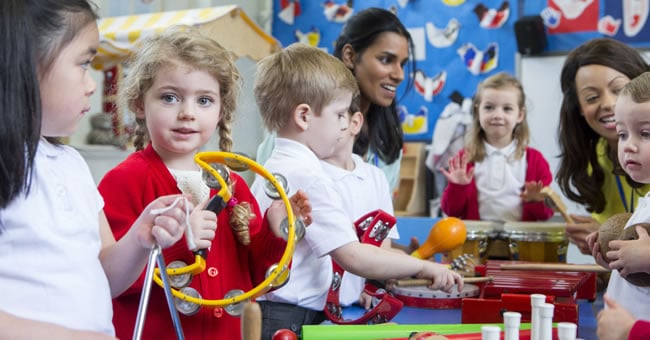 The dramatic play center, art center, and music center are the three learning centers in which most creative expression happens, which is why it's so important to make sure you're setting the stage for purposeful play in these centers. As Ann Barbour, PhD, explains in Play Today: Building the Brain Through Creative Expression, "Well-designed, welcoming, and stimulating environments with a mixture of familiar and novel materials encourage children's sense of security as well as their engagement in high-quality play." Here are a few tips Barbour shares to help you create engaging learning centers that encourage creative expression:
Dramatic Play Centers
Offer Visual Appeal – A bright, attractive learning center will appeal more to children than one that is not exciting. Be sure to consider the walls and ceiling. You can add interest to the center by displaying photos, charts, and other items related to your play theme at children's eye-level.
Supply Open-Ended Materials – Open-ended props encourage imagination, creativity, and problem-solving skills. Avoid including manufactured toys, especially ones with electronic parts, in the center. Children usually focus on making them move, beep, or light up instead of finding ways to incorporate them into dramatic play.
Provide Life-Size Materials – Life-size props, such as clothing children can wear, promote dramatic play. Encourage children to play together by providing props that support different roles and materials that children can use simultaneously. For example, a tent would encourage children to camp together and perform different roles.
Support Emergent Literacy and Numeracy – Include props or scenarios to promote literacy and mathematical concepts. Props such as notepads, calendars, recipe cards, markers, ink stampers, telephones, and old keyboards can be added to support learning development.
Offer Easy Management – Make sure props are easily accessible to children. Place items in labeled containers for easy cleanup and organization.
Remember the Outside – Dramatic play doesn't need to be limited to indoors. Outdoor play allows for more scenarios as well as the involvement of more children. Pretend games outdoors can include archeology, a day at the beach, an animal safari, or a camping trip.
Art Centers
Provide Inspiration – Provide interest and inspiration by incorporating prints, posters, and calendars of fine art along with children's own artwork into the learning center. Bright lights and colors can also add to the aesthetic appeal of the center.
Focus on Practicality – Remember that an art center is a workshop where children's artwork can sometimes be messy. Think about the location of the art center in your classroom, where you're going to store wet and dry materials, etc.
Provide Child-Centered Activities – The processes children use and the artwork they create should be unique–don't ask them to re-create a craft you've made. Introduce new materials to the class and model how to use certain tools, but let children have opportunities to experiment and express themselves without expectations.
Offer a Variety of Open-Ended Materials – Keep in mind that coloring book pages, tracing patterns, dot-to-dot sheets, etc. do not encourage children's creative expression. Paper, markers, crayons, scissors, glue, playdough, clay, paint, yarn, and other art supplies are the materials you want in your art center.
Come Up with a Simple Organizational Plan – An art center functions more efficiently when every item has a place where it belongs. Label spaces where materials belong, and ask children to return them to their proper places when they're finished using them. You can highlight specific items by placing them in the center of the table to attract children's attention.
Go Beyond the Classroom Walls – Let children express themselves through outdoor art. Encourage them to paint walls and playground equipment with water, use chalk on sidewalks, or create murals to hang from clotheslines. Picnic tables are great workspaces for children to use.
Music Centers
Encourage Musical Exploration and Expression – Display pictures of people from different cultures playing instruments and dancing, post words and musical scores to children's favorite songs, and display posters related to music in the center.
Incorporate Practicality – Incorporate plenty of sound-absorbing materials (carpeting, floor pillows, fabric hung up from the ceiling, etc.) into the center to help dampen noise and prevent students in other centers from being disturbed.
Provide a Variety of Instruments – Introduce children to different types of music and musical instruments to help expand their appreciation for musical styles beyond popular culture. Having a variety of instruments available in the center allows children to experiment with different musical sounds. Ukuleles from Hawaii, finger cymbals from the Middle East, maracas and rain sticks from Latin America, and thumb harps from Africa are examples of instruments from other cultures that you can include in your music center.
Offer Additional Materials – Make sure scarves, streamers, and other props are available for children to use in the center. Hanging a full-length nonbreakable mirror in the center can also encourage children to dance to the music.
Provide Sound Equipment – Include a variety of CDs for children to choose from in the center, and be sure to have child-size earphones and CD players that children can operate independently.
Bring Music Out to the Playground – Explore sound play outside of the classroom by creating homemade musical instruments that can be housed outdoors. Chimes made from metal utensils, PVC pipes suspended from trees, and large drums made from overturned buckets or metal washtubs are all great examples of how you can explore music on the playground.
Be sure to visit the Learning Centers category of the Insights and Inspirations section of our website for additional tips and information on setting up your preschool learning centers!