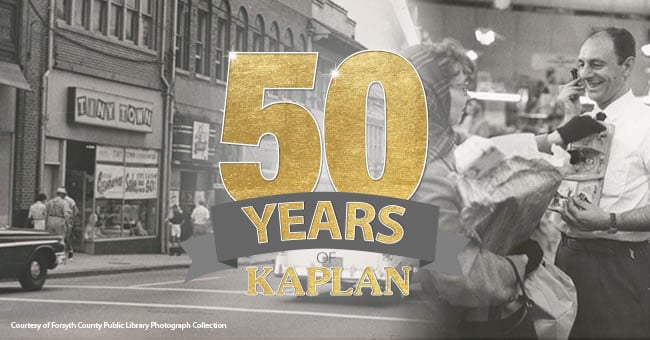 Building a foundation from toys that teach, the Kaplan story begins with Leon and Renee Kaplan and a small toy store named Tiny Town. The store primarily focused on providing unique toys and gifts and was enjoyed by children and parents alike. Once Head Start was created in 1965, Leon and Renee realized that investing in early care and education would become increasingly important, which led them to form Kaplan School Supply in 1968. As support for Head Start and other preschool programs grew, Kaplan School Supply flourished. The company changed its name to Kaplan Early Learning Company in 1996 and continues to expand and be successful in the early education market. Customers often commend Kaplan for its generosity, knowledge of early childhood, and ability to keep on top of trends. It's also known for its high-quality learning materials and services.
When you look at Kaplan Early Learning Company's history, you'll find that the relationships we've had with our customers and the family atmosphere we've held true to is what keeps Kaplan growing and evolving. When Leon and Renee founded Kaplan in 1968, they probably had no idea what their small business would become, but they would undoubtedly be thrilled about the positive impact Kaplan continues to have on children, teachers, and families. Learn more about Kaplan's history, our impact in the community, and our 50th anniversary celebration below!
The Kaplan Timeline
1951
Leon and Renee Kaplan open a toy store in downtown Greensboro, NC, to provide unique toys and gifts that encourage learning through play. The store, Tiny Town, was very popular in the community and eventually grew into multiple locations with stores in Atlanta, GA; Boca Raton, FL; Washington, D.C.; and Reynolda Village in Winston-Salem, NC.
1968
Leon Kaplan's interest in educational books and toys leads him to form Kaplan School Supply in 1968. The company embodied Leon's vision of providing developmentally appropriate materials and resources that promote the growth of the whole child—cognitively, physically, socially, and emotionally.
1985
Kaplan School Supply moves their headquarters from Jonestown Road in Winston-Salem, NC, to a 50-acre complex on Lewisville-Clemmons Road in Lewisville, NC.
1996
Kaplan School Supply changes its name to Kaplan Early Learning Company.
2008
Kaplan Early Learning Company expands its state-of-the-art distribution facilities with a $5 million project. The 200,000-square-foot distribution center expanded to 350,000 square feet.
2018
Kaplan Early Learning Company celebrates 50 years as a leading international provider of high-quality products and services that enhance children's learning.
Then vs. Now
The Early Years
Kaplan School Supply started out with a small team and grew as orders increased. For over 15 years, Kaplan operated at a site on Jonestown Road in Winston-Salem, NC, before moving 1985 to its current location on Lewisville-Clemmons Road in Lewisville, NC. In a 2011 interview for the Kaplan website, former employee Mary Devlin spoke about her 34-year career at Kaplan and described what Kaplan was like in the years after its conception: "We were on Jonestown Road. There was one person in customer service… [and] there were two shipping departments at the time—UPS shipping (with about five people) and warehouse shipping (with only five or six [people])… It was almost like each order was a person. On a good day, we'd ship about 500 boxes. Oh! And we used shopping carts!"
Culture and Prices in 1968
Kaplan in 2018
Today, we continue to embody Leon's vision by providing developmentally appropriate products to school systems, child care centers, and federally supported programs (e.g., Head Start, military child care, and before- and after-school programs). Kaplan currently employs over 250 local employees at our corporate headquarters on Lewisville-Clemmons Road. The site is home to a state-of-the-art distribution center, warehouse, two office buildings, and the Kaplan Education Megastore.
We've also continued to uphold Leon and Renee Kaplan's belief in giving back to the greater good, especially in our local community. Kaplan strives to partner with the community through charitable giving and educational initiatives that make a positive impact. Whether it's donating playground equipment to the Ronald McDonald House of Winston-Salem, having blood drives on campus, or volunteering at the Second Harvest Food Bank of Northwest North Carolina, our company and employees love to give back to the community.
How We're Celebrating
The success of a company is dependent on a variety of factors, which is why we want to recognize all of the individuals, businesses, and organizations that helped us grow and succeed during the last 50 years. To commemorate 50 years of Kaplan and our presence in the community, we hosted a free Community Playdate on Thursday, August 30, 2018 from 6 p.m. to 8 p.m. on the front lawn of our company headquarters. The event was open to the public and featured over 20 local vendors, including A Higher Bounce (bounce house and slide), Birthday Party Rockstar (face paint and balloon art), Reserving Royalty (professional children entertainers), Lewisville Fire Department, Winston-Salem Police Department, Sunset Slush Italian Ice, Forsyth County Public Library, Hip Chics Boutique, Lowes Foods, Chick-fil-A, and more!
We'll also be celebrating at NAEYC and in a variety of other ways throughout the year. Whether you're a customer, vendor, partner, employee, or connected to Kaplan in some other way, we want to thank you for everything you do, and we hope you join us in celebrating 50 years of Kaplan. We can't wait to see what the next 50 years bring!
Want to know more about Kaplan? Be sure to read the article in Winston-Salem Monthly about Kaplan's 50th anniversary and impact in the community.