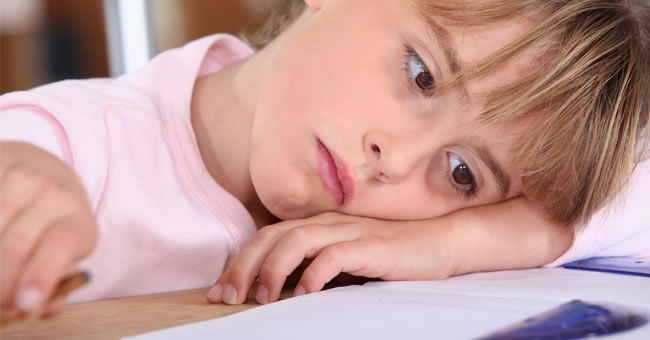 All children can be sad or moody at times, but depression impacts more children than people think–about 1 in every 33 children may have depression according to KidsHealth. Depression can impact children mentally, physically, emotionally, and socially, which is why it's important for depression to be identified and addressed at school and at home.
If you think a child in your care is showing symptoms of depression (withdrawal, energy loss, crying, irritability, a change in grades or eating habits, etc.) and the symptoms last for more than two weeks, talk with the child's family to see if they've noticed the same symptoms at home. Remember, parents may not react well to being told that their child isn't acting like his or her usual self. Remain professional and give parents contact information for your school's guidance counselor and/or the contact information for local psychologists and counselors.
Once children have been diagnosed with depression, the challenge for both educators and parents is figuring out how to help the child at school and at home. Make sure you establish a communication plan with the child's family to ensure that you know how things are going at home and that the parents know how their child is doing in school. If a child needs to take medicine for anxiety or depression at school, make sure parents fill out the appropriate forms and that you follow your school's protocol for giving children medicine.
Whether a child does or doesn't receive the counseling/medication he or she needs, there are a variety of things you can do to help depressed students. In his article for the National Association of School Psychologists (NASP), Dr. Thomas J. Huberty states that "School personnel can have significant, positive impacts on improving the academic, social, and emotional development of children with depression without being professional therapists." He suggests that educators implement the following strategies for helping children deal with depression:
Work on your relationship with the depressed student. Talk with the student and show him or her that you care.
Be patient and positive in your instructional strategy. Don't give up on students and be sure to use positive approaches (praise, rewards, etc.). Make sure you don't use any negative approaches (punishment, sarcasm, etc.) that may make the depression worse.
Keep a positive mindset toward the student. Remember that depression isn't something children choose. A depressed student may want to do well, but he or she may not necessarily have the capacity or resources to do well in school. Work on finding ways to give the depressed child the support and attention he or she needs.
Consider making adjustments or accommodations for the depressed student. Tweaking assignments and tasks by giving the depressed student more time, breaking a task into smaller parts, or offering the student extra assistance can help the child be more successful in school without lowering expectations.
Give the depressed student opportunities for success. Giving the child opportunities to show leadership and be successful and then recognizing him or her for that success can increase the child's sense of self-worth. Providing these types of opportunities also shows the student that you believe in him or her.
Ask your school psychologist, guidance counselor, or social worker for assistance.
The support personnel in your school can be a great resource for helping children with depression succeed in school. Ask them for suggestions on strategies for each individual child.
Taking the time to connect with depressed students and finding ways to help them learn will ultimately impact their success and how they deal with depression. Be sure to browse our section of social-emotional materials for ideas on items you can include in your classroom to help depressed students.
Article Sources
Huberty, Thomas J. "Depression: Helping Students in the Classroom." National Association of School Psychologists. NASP, 2004. Web. 3 Oct. 2014.
"Understanding Depression." KidsHealth. Nemours, n.d. Web. 3 Oct. 2014.