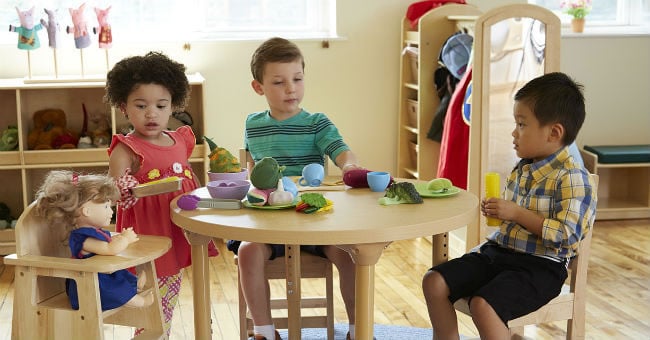 Do you have a student with autism spectrum disorder (ASD) who struggles to communicate with others? If you plan accordingly, there are a variety of ways you can integrate social skills training into daily school activities. In fact, early childhood classrooms are one of the best places for students with ASD to learn and practice social skills. "Classrooms offer natural settings for peer interaction as well as multiple student groups with which to rehearse skills," explains Tricia H. Shelton, EdD, and Mary Renck Jalongo, PhD, in Practical Strategies for Supporting Young Learners with Autism Spectrum Disorder. They also offer the following strategies for building social skills in students with ASD:
Practice Body Language and Facial Expressions – In addition to words, people communicate through facial and body cues every day. Learning to read those cues can help students with ASD better understand the people around them. You can use books and magazines to help students with ASD learn how various emotions are portrayed on people's faces and bodies. Our Emotion Stones are another great learning tool you can use to teach children about emotions. You can also encourage students to write, draw, or talk about their own feelings. Try having them make collages of faces that depict emotions–start with obvious emotions (mad, sad, happy, etc.) and then have them add more subtle emotions (nervous, confused, afraid, etc.).
Use Students' Peers – Peers are valuable resources you can use to help students with ASD learn social skills. Encourage the students in your class to model appropriate behaviors, and be sure to point out the use of appropriate social skills in action. Keep in mind that less-structured activities, such as lunch or recess, can be stressful for children with ASD because they're typically unpredictable and difficult for them to navigate. You may want to select some of your friendly and outgoing students to be play pals for children with ASD. The play pals can help encourage students with ASD to participate in play activities or engage in conversation.
Discuss Ways to Show Respect – Respect should be something you discuss with all of your students. Give them examples of different ways they can show respect, such as listening while others speak, helping others, accepting differences, etc. You'll also want to teach children how to appropriately respond when their feelings are hurt. Make sure that children know bullying is not allowed and that you want them to learn how to include others who feel left out and how to intervene when someone is being teased or hurt.
Show the Importance of Taking Turns – Taking turns is an important social skill for children to learn, but many children struggle with it. You can use games to show how taking turns works and why it's important. One idea is to have student partners pass a small toy or ball between each other to visually show how taking turns occurs in conversation. If children are having trouble holding their own in conversation, encourage them to talk themselves through each step of a conversation in their head as they interact with others.
Read Practical Strategies for Supporting Young Learners with Autism Spectrum Disorder for more information about helping students with ASD. You'll also find articles on supporting children with autism, helping them learn life skills, and more in the Inclusive Classroom category of our Insights and Inspirations section. Be sure to also check out our Special Needs and Inclusion section for a variety of materials you can use in the classroom to support children with ASD.