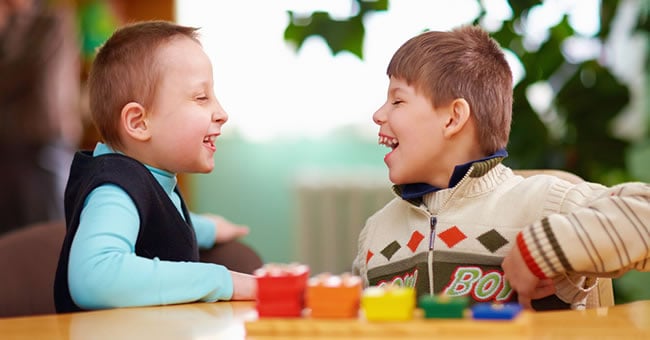 As a teacher, you know how important it is to plan teaching strategies and activities that match young children's developmental needs and characteristics. Children with a learning disability, speech or language disorder, hearing or visual impairment, physical disability, autism spectrum disorder (ASD), attention deficit hyperactivity disorder (ADHD), or other type of impairment may need special accommodations or modifications in the classroom. One of the best ways you can support children with special needs is by changing the classroom environment to increase children's participation in activities. The authors of Themes for Inclusive Classrooms offer the following examples of ways you can adapt your classroom environment for young children with special needs:
Offering alternative seating arrangements is a great way to support children with disabilities. Depending on the needs of the individual child, you can have them sit near you or a peer buddy, in a quiet area of the classroom, or provide an alternative seating option (such as a K'Motion Stools) that will help them focus in class.
Rearranging the layout of the classroom, especially in regards to classroom furniture, can also help children with special needs move more easily around the classroom.
Limiting visual clutter on walls can help reduce distractions for children with autism or ADHD.
Play soft music or provide white noise throughout the day to help with sensory stimulation.
Reducing the noise level in the classroom can help children with a visual or hearing impairment.
Changing the amount of lighting or brightening or dimming lights can help children with autism or a visual impairment.
Adapting furniture by lowering chairs or securing desks and creating slant boards throughout the classroom for writing support can help children with a physical disability or orthopedic impairment.
For children with a cognitive and/or developmental delay or an orthopedic impairment, consider using pegs to adapt handles on doors, shelving, coat racks, backpack areas, and puzzles.
Accommodating and modifying your classroom environment can help children be successful learners and be an active participant in classroom activities, but remember that deciding which accommodations or modifications you should use will be mostly dependent on the individual child and your teaching objectives. For more information about adapting classroom environments for children with special needs, read Themes for Inclusive Classrooms and browse our special needs and inclusion materials.