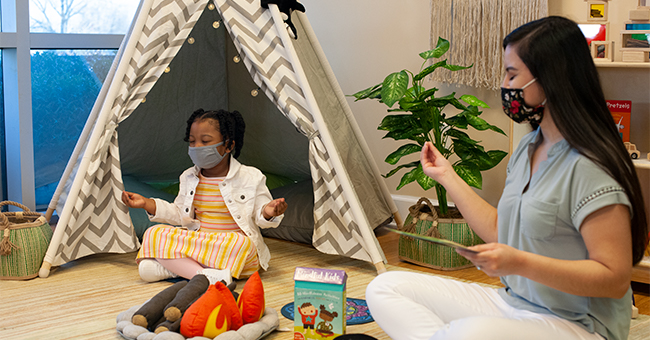 In the fourth blog of her series, Boosting Early Literacy, Dr. Laura Bailet — Kaplan's Chief Academic Officer — focuses on the importance of taking the time for mindfulness and supporting a sense of calm in children as they grow.
In today's fourth blogpost on boosting early literacy skills for all children, let's focus on the fundamental importance of calm, confident young minds for learning. No matter how great your literacy teaching skills, if children don't feel emotionally safe and supported in the classroom, their learning results will fall short.
Research on this topic overwhelmingly shows that educators must take actions every day to assess their students' emotional state, and intentionally demonstrate caring and responsive interactions, if they hope to teach in a way that supports long-term learning gains. The Psychology Today "article, Why Your Brain on Stress Fails to Learn Properly," summarizes the brain mechanisms behind stress and learning connections. No wonder we all struggle with learning and memory when we are stressed out!1
A trauma-informed care approach is imperative for all young children right now, given the widespread adverse impact of the pandemic: "Events do not have to meet the criteria for trauma to have a negative impact on a child. Sometimes a child has bigger-than-expected reactions to changes or stressful events, or these reactions may continue for longer than you had imagined."2
This type of care is multidimensional and includes the following:
Quality check-ins with each child each day to assess their emotional state, listen, and offer affirmation
Predictable routines to help children feel safe and gain confidence
Modeling of emotional recognition, labeling and self-regulation
Toys, books and activities that provide children choices to explore their stresses and emotions, develop a positive self-identity, and build confidence in their growing skills
As you map out your program priorities in the months ahead, ask yourself whether you have sufficient practices and materials to create an emotionally nurturing classroom. Consider assessment of children's social-emotional status with tools such as the Devereux Early Childhood Assessment, which provides a complete picture of each child's needs to better target resources and learning experiences. Make ongoing assessment and implementation of high-quality teacher-child interactions a top priority too, with a tool such as CLASS®, to create a roadmap for continuous professional growth that, in turn, will result in stronger child literacy outcomes.
Remember, creating a successful approach to help every child become a reader requires multiple types of resources, combined strategically over time. The foundation starts with daily, intentional efforts to build calm and confident young minds.
About the Author
Laura Bailet, PhD, Chief Academic Officer, Kaplan Early Learning Company
Dr. Bailet has more than 30 years' experience in the field of early childhood. She earned her BA at Wake Forest University and her MA and PhD from Northwestern University. She is a licensed school psychologist and has expertise on a wide range of early childhood topics and learning disorders, including dyslexia and autism. The former Operational VP at Nemours Children's Health System and Assistant Professor at the Mayo Clinic College of Medicine and Science, she has published numerous journal articles and book chapters and has been recognized by many award boards. For her accomplishments, Dr. Bailet was selected as the top "Change Agent" in Jacksonville, FL, in 2006 and is the recipient of Jacksonville's prestigious EVE Award for her success in creating Nemours® BrightStart!, the program to promote reading success for all children. She is a member of the Library of Congress Literacy Awards Advisory Board.
References
1Hobson, N. (2018). Why your brain on stress fails to learn properly. Psychology Today, https://www.psychologytoday.com/us/blog/ritual-and-the-brain/201804/why-your-brain-stress-fails-learn-properly.
2Welch, G. (2019). How Can I Help? A Teacher's Guide to Early Childhood Behavioral Health.
Explore This Series
Boosting Early Literacy: A Path BACK to Success
Boosting Early Literacy: Books All Around
Boosting Early Literacy: The Value of Targeted, Small-Group Intervention