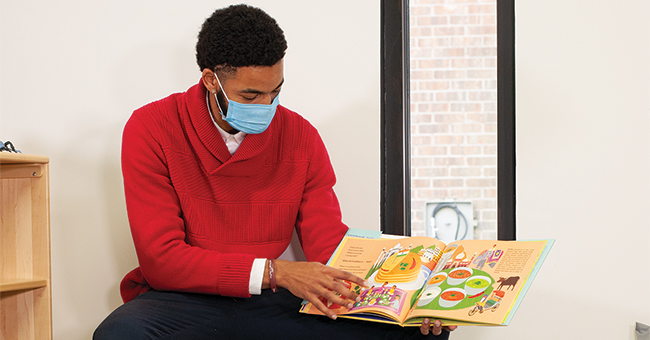 In the third blog of her series, Boosting Early Literacy, Dr. Laura Bailet — Kaplan's Chief Academic Officer — explains the benefits targeted literacy interventions have on learners who may be at risk and provides key considerations for educators considering these interventions to combat learning loss.
In my last blog post, I emphasized how the presence of books at home and in classrooms is such a critical factor in creating successful, lifelong readers. Books everywhere are definitely necessary, but for children who may be at risk for reading struggles, they aren't sufficient.
Research shows that, in addition, targeted early literacy curricula can be highly effective in helping children who have fallen behind in critical foundational skills for reading, catch up. Recent reports of research on intensive individual, or small group intervention, show definite gains in essential skills, and this strategy should be strongly considered now for programs with learners who are at risk. 1, 2
In early childhood, targeted programs to develop alphabet knowledge and phonological awareness can be particularly effective. For example, in a series of rigorous studies, the Nemours® BrightStart! early literacy intervention resulted in big gains in print knowledge and phonological awareness for at-risk prekindergarteners. 3, 4, 5 One benefit of catching up struggling learners starting in pre-K is there is less ground to make up, so providing targeted intervention even for several weeks can make a big difference. In addition, it prevents a cycle of reading failure from ever getting started, so children can enter kindergarten with greater confidence and on a level playing field.
When initiating targeted, small-group literacy intervention, consider the following keys to success:
Set a vision for your program, including early literacy targets for all children
Choose an evidence-based program
Provide adequate training on the intervention selected, and monitor implementation fidelity
Plan for and provide extra supports for classroom teachers to successfully implement small-group instruction (e.g., extra personnel, designated quiet space for small-group instruction, etc.)
Plan out all aspects of implementation — daily and weekly schedule for the entire classroom; planning and prep time; when to make up lessons due to student absence; etc.
Provide engaging, self-explanatory activities to keep children occupied when not in a small group
Teach all children classroom behavioral expectations, especially when the teacher is working with a small group and other students should be engaged in self-directed activities
Plan small-group and individual child behavior management strategies in advance, as children who struggle with literacy are also more likely to display behavioral challenges
Targeted, intensive small-group literacy intervention makes great sense in response to learning losses resulting from the pandemic, and funding may be available that previously didn't exist. Consider offering such programs this summer, or initiating them early in the next school year, after baseline assessments have identified children most in need of extra support. This is one of the most effective tools in your toolbox, so don't wait to make and implement a great plan. Your students and your program will reap the benefits now and for years to come.
About the Author
Laura Bailet, PhD, Chief Academic Officer, Kaplan Early Learning Company
Dr. Bailet has more than 30 years' experience in the field of early childhood. She earned her BA at Wake Forest University and her MA and PhD from Northwestern University. She is a licensed school psychologist and has expertise on a wide range of early childhood topics and learning disorders, including dyslexia and autism. The former Operational VP at Nemours Children's Health System and Assistant Professor at the Mayo Clinic College of Medicine and Science, she has published numerous journal articles and book chapters and has been recognized by many award boards. For her accomplishments, Dr. Bailet was selected as the top "Change Agent" in Jacksonville, FL, in 2006 and is the recipient of Jacksonville's prestigious EVE Award for her success in creating Nemours® BrightStart!, the program to promote reading success for all children. She is a member of the Library of Congress Literacy Awards Advisory Board.
References
1 Steiner, David, & Slavin, Robert. (2020). "Tutoring as an Effective Strategy in Our Troubled Times." The Thomas B. Fordham Institute. https://fordhaminstitute.org/national/commentary/tutoring-effective-strategy-our-troubled-times.
2Quan, Vincent, E. Kathleen Adams, & Emily Johnston.(2021)."Tutoring to Combat COVID-19 Learning Loss." Econofact. https://econofact.org/tutoring-to-combat-covid-19-learning-loss .
3Bailet, L., Repper, K., Murphy, S., Piasta, S., & Zettler-Greeley, C. (2013). Emergent literacy intervention for prekindergarteners at risk for reading failure: Years two and three of a multi-year study. Journal of Learning Disabilities,46(2), 133-153. doi:10.1177/0022219411407925
4Bailet, L., Repper, K., Piasta, S., &: Murphy, S. (2009). Emergent literacy intervention for prekindergarteners at risk for reading failure. Journal of Learning Disabilities, 42(4), 336-355. doi:10.1177/0022219409335218
5Zettler-Greeley, C. M., Bailet, L. L., Murphy, S., DeLucca, T., & Branum-Martin, L. (2018). Efficacy of the Nemours® Brightstart! early literacy program: Treatment outcomes from a randomized trial with at-risk prekindergartners. Early Education and Development, 1-20. doi: 10.1080/10409289.2018.1475202
Explore This Series
Boosting Early Literacy: A Path BACK to Success
Boosting Early Literacy: Books All Around
Boosting Early Literacy: Supporting Calm, Confident Young Minds