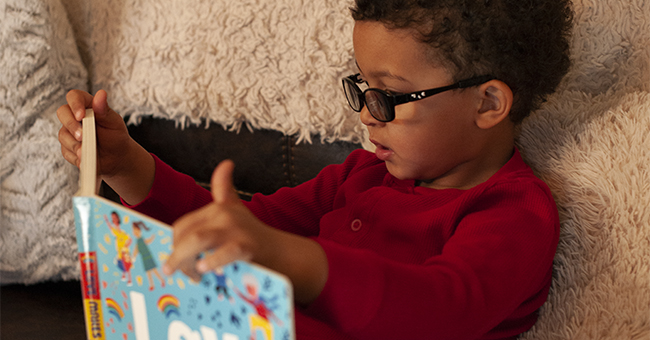 In the second blog in her series, Boosting Early Literacy, Dr. Laura Bailet — Kaplan's Chief Academic Officer — provides educators and administrators with practical advice for getting books in the hands of children at school and at home.
In the first of this series on boosting early literacy for children, especially those who lost ground due to the pandemic, I listed several potential strategies to help ALL children. School districts and early childhood programs are likely already planning summer learning supports and initiatives. This year more than ever, these efforts are critical in helping children enter the next school year well-prepared.
Today, I want to highlight the importance of getting books into children's homes, starting this summer, AND building your classroom libraries for next year. Nothing says more clearly to a child that she is a reader than having her own set of books at home to see every day, along with a large classroom library from which to choose her next great read! Research on motivation to read tells us that having one's own books is a key factor in sustaining reading habits long-term. Having diverse book choices in the classroom reinforces the value of reading, along with validating children's autonomy in selecting their own books to read. Drs. Linda Gambrell and Barbara Marinak's article on Reading Rockets.org, Simple Practices to Nurture the Motivation to Read , identifies these and other important practices to motivate young readers.
Providing books for children at home and at school is an opportunity to enhance equity for low-income children, who too often live in communities with an appalling lack of books in homes, schools, and libraries.1 Sheer quantity of books makes a difference. But more importantly, a diverse array of high-quality books ensures there is something to pique every reader's interests.
Be sure to include books that represent:
Authors of color and diverse backgrounds
Stories about people of color and diverse backgrounds
Fiction
Biographies and autobiographies
Science, social studies, engineering, math, geography, music, and sports
How-to books
Newspapers and magazines
Comic books and graphic novels
Poetry
For children, seeing books that reflect characters and places they can relate to build confidence and encourage new ideas and aspirations.
Does your program serve children who lack sufficient access to books? If so, are you ready to provide children with books at home and school? Or do you need to expand the diversity of authors and stories in your classroom book collections? Plan now for ways to boost your book resources to foster summer learning and enhance your classrooms for the next school year.
Watch for the third post in this series, addressing targeted early literacy intervention to boost reading success!
About the Author
Laura Bailet, PhD, Chief Academic Officer, Kaplan Early Learning Company
Dr. Bailet has more than 30 years' experience in the field of early childhood. She earned her BA at Wake Forest University and her MA and PhD from Northwestern University. She is a licensed school psychologist and has expertise on a wide range of early childhood topics and learning disorders, including dyslexia and autism. The former Operational VP at Nemours Children's Health System and Assistant Professor at the Mayo Clinic College of Medicine and Science, she has published numerous journal articles and book chapters and has been recognized by many award boards. For her accomplishments, Dr. Bailet was selected as the top "Change Agent" in Jacksonville, FL, in 2006 and is the recipient of Jacksonville's prestigious EVE Award for her success in creating Nemours® BrightStart!, the program to promote reading success for all children. She is a member of the Library of Congress Literacy Awards Advisory Board.
References
1Neuman, S.B. & Celano, D. (2001). Access to print in low- and middle-income communities: An ecological study of 4 neighborhoods. Reading Research Quarterly, 36, 8-26.
Explore This Series
Boosting Early Literacy: A Path BACK to Success
Boosting Early Literacy: The Value of Targeted, Small-Group Intervention
Boosting Early Literacy: Supporting Calm, Confident Young Minds