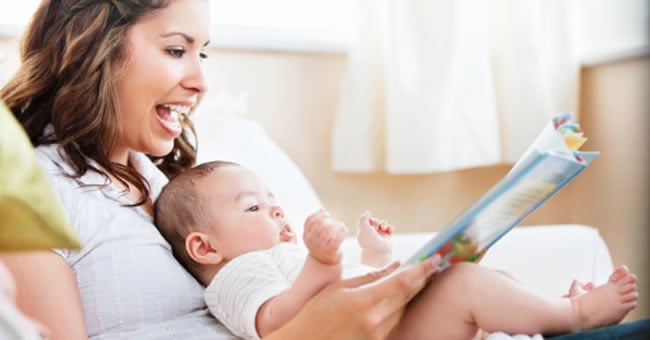 If you want children to have a lifelong love of reading, you need to help them develop positive relationships with both books and reading during their first few years of life. "Children who enjoy and are comfortable with books are more likely to stick with learning how to read later on," states Amy Brooks Read and Saroj Nadkarni Ghoting in their book Time for a Story. If a child does not develop positive relationships with books and reading, he or she will likely fall behind in various developmental areas and struggle in school. Read and Ghoting feature the following tips for helping children build relationships with books and reading in Time for a Story:
Have Fun
If you're having fun reading, children will too:
Laugh!
Give characters different voices.
Make positive statements, such as, "I love this book," "This is a funny story," and "The pictures are so pretty."
Change the inflection of your voice—avoid reading in a monotone voice.
Make the books come alive by adding different voices and movements.
Get excited about what is under the flap or behind a tab.
Talk about the textures in a touch-and-feel book.
Keep Children Engaged
For children to develop relationships with books and reading, you need to keep them engaged:
Interactive books would be a good addition to your library because their design engages children, but it's important to remember that interaction really comes from you.
If the story is getting too long or children are losing interest, try changing the sound of your voice or moving the flaps and tabs to keep them engaged.
It's okay if you don't read every word on the page—try to keep the experience fun and positive.
If children pet a picture that has fur or do something similar, make comments and describe what they are doing. It's important to encourage these types of behavior.
Keep children interested in the book area of the classroom by rotating or adding books to the classroom library. Be sure to keep favorites on the shelves, but don't hesitate to add new books to help keep children interested.
Engage children in a variety of fun reading activities. Maintaining high levels of interaction will help build children's enjoyment of books and reading.
Be sure to browse our selection of children's books for some great books for infants and toddlers that you can add to your classroom library.