Kindergarten through second grade is a time when children experience rapid growth as they learn new academic skills, establish friendships, and become independent.

Learning to navigate this period of rapid change can be difficult for young children, which is why play is so important. Playtime and toys allow children to experiment, have fun, and learn valuable life and academic skills. However, not all play is created equal.

Electronics and tech gadgets may be entertaining for children at this age, but screen-free play ignites imagination and creativity, allowing children to absorb knowledge and skills fully. At Kaplan, our mission is to help children learn through play by delivering toys to classrooms and homes throughout the United States. We partner with early childhood experts and designers to create products that support developmental theory and best practices for children from birth to eight years old.

In this article, you will explore 13 products that support children's academic, social, and physical development in kindergarten through second grade.
Blocks and Puzzles for Children in Grades K-2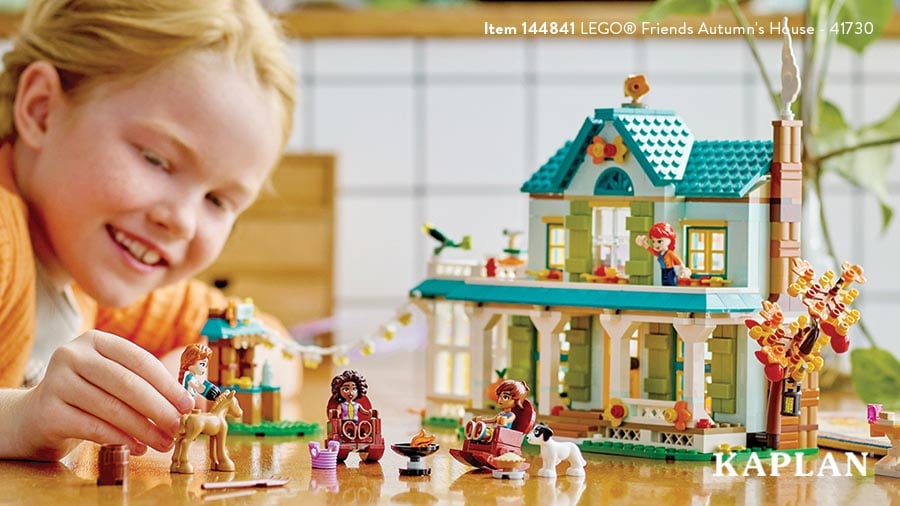 Blocks and puzzles enhance problem-solving and reasoning skills for children in kindergarten through second grade. These skills will come in handy as children face new challenges, such as working on group projects with classmates. During block play, children will use math skills like symmetry and balance to create structures, buildings, and anything else they can imagine.
LEGO® Friends Autumn's House
Animal lovers and future bakers will enjoy interacting with the LEGO® Friends Autumn's House. An instruction booklet provides children with a sequence of steps to help them assemble the house and characters independently. Following directions helps children develop reasoning, problem-solving, and early literacy skills. This set nurtures open-ended imaginative play as children use the character pieces to collect apples, bake pies, sip coffee by the fire, and play fetch with Daisy the dog.
Plus-Plus® Learn to Build Vehicles - GO! Vehicles
It is a race to the finish line with the Learn to Build GO! Vehicles Set. With these colorful blocks, children can build two different race cars, a trailer, a motorcycle, and more. This set makes the perfect gift for screen-free play to encourage fine motor movements that develop logical thinking and spatial awareness. Children can use their thinking skills to plan and update their builds so that the pieces fit together appropriately to make their vehicles roll.
Plus-Plus Puzzle By Number® - 500 Piece Rainbow Puzzle
The Plus-Plus Puzzle By Number® Rainbow Puzzle combines the artistry of a paint-by-number with the entertainment of a puzzle. Using the enclosed pattern, children fill in the rainbow design by matching colored pieces with their corresponding numbers. Working on puzzles requires hand-eye coordination and attention to detail. The more children develop these skills, the easier it will be for them to focus and concentrate on other tasks in the future. Once the puzzle is complete, you can display it on a table or hang it in your child's room as a fun piece of wall decor.
---
Dramatic Play Gifts for Children in Grades K-2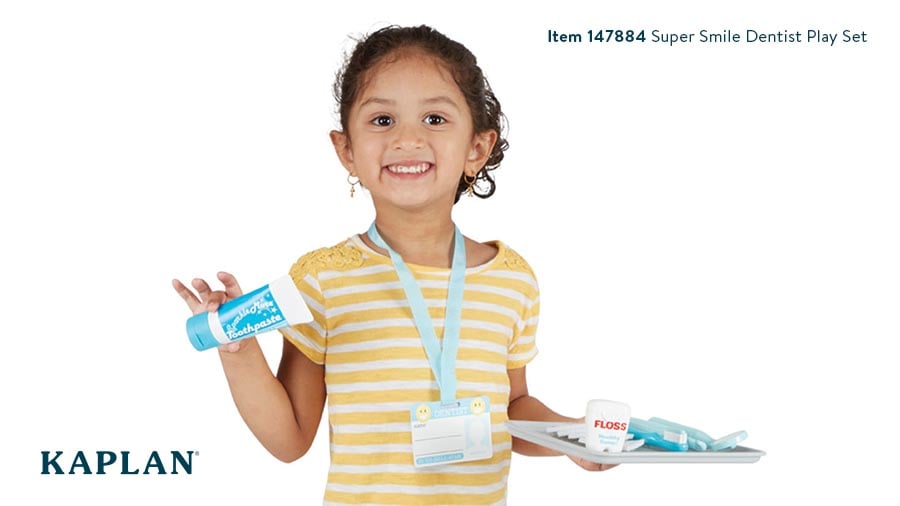 Children gain independence as they transition from preschool to elementary school. This transition brings new experiences that can lead to intense emotions and challenges. Dramatic play provides a creative outlet where children can express themselves, blow off steam, work through their feelings, and learn to get along with their classmates.
Super Smile Dentist Play Set
Introduce children to dentistry and oral hygiene with the Super Smile Dentist Play Set. Using realistic tools, children can perform cleanings, treat cavities, and fit braces on the dental form that comes with the set. Acting this out can relieve pre-dental visit anxiety and teach children to care for their teeth and gums.
Beauty Salon & Hair Stylist Dress Up Set
The Beauty Salon & Hair Stylist Dress Up Set delivers hours of salon-inspired fun for children. By putting on the smock, children can transform themselves into professional Hairdressers, ready to give their friends or stuffed animals a makeover. This set includes non-cutting scissors, headbands, a battery-powered hairdryer, hair spray, and more. Beauty salon dramatic play improves fine motor development and encourages positive social interactions and respect for children with different textures and types of hair.
---
Active Play Gifts for Children in Grades K-2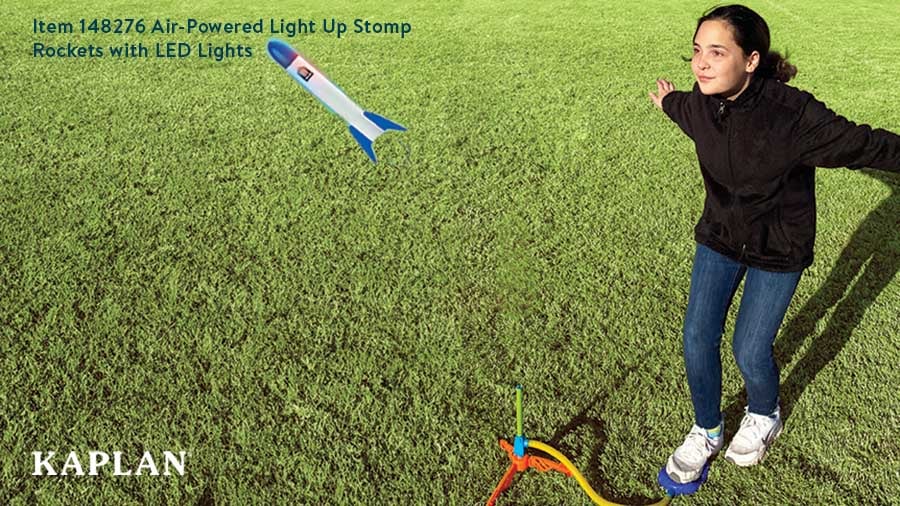 Physical activity increases blood flow to the brain, boosting energy levels and "feel good" chemicals known as endorphins. The same happens when young children play outdoors or run around during P.E. classes. That said, the benefits of active play go far beyond physical health. Children who are active also have an easier time focusing on tasks and following parent/teacher instructions.
Dodge Tag Game Set with Target Vest
This two-player Dodge Tag Game Set has everything children need for indoor or outdoor fun. Players wear an air mesh vest as they run around and dodge the foam balls thrown by their opponent. If a ball sticks to a player's vest, that is a hit! Games like dodgeball improve agility and flexibility while building muscle strength. This is important because it enhances a child's range of motion and prevents muscle sprains or other injuries that can occur during periods of active play.
Gradient Moon Ball
The gravity-defying Gradient Moon Ball will provide hours of "out of this world" fun for children in grades K-2. The lightweight design allows this ball to bounce up to 100 feet in the air before falling to the ground. As children throw, catch, and bounce the Moon Ball, they improve their physical fitness, hand-eye coordination, and agility.
Air-Powered Light Up Stomp Rockets with LED Lights
Air-Powered Light Up Stomp Rockets are both fun and educational. Children will learn about physics, aerodynamics, and gravity while staying physically active and strengthening the muscles in their legs. The Light Up Stomp Rocket set includes a launcher and three rockets children can launch over 30 feet into the air. The more powerful a child stomps on the launcher, the higher the rocket will fly.
---
STEM Gifts for Children in Grades K-2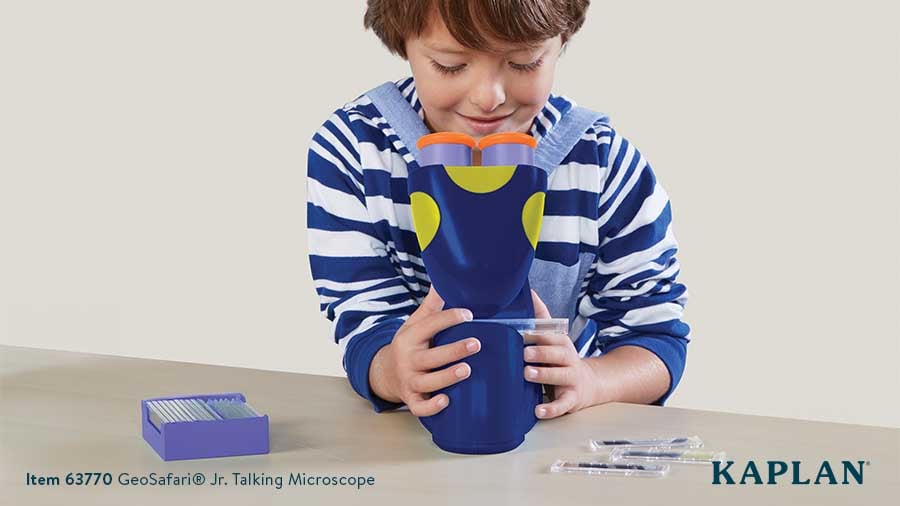 STEM stands for Science, Technology, Engineering, and Math. These subjects play an integral role in early elementary education. Children exposed to STEM subjects at an early age have an easier time using critical thinking skills, solving problems, and thinking creatively. Toys that encourage open-ended STEM thinking allow children to explore their natural curiosities and can even inspire future career goals.
Elenco® MyHome Snap Circuits®
Children will experience the power of electricity with the Elenco® MyHome Snap Circuits®. This kit comes with thirty projects which include building a real, working house complete with automatic lights, motion detectors, a home security system, and more. Critical thinking skills will come into play as children build and gain a better understanding of how electrical circuits work.
GeoSafari® Jr. Talking Microscope
The GeoSafari® Jr. Talking Microscope invites budding scientists to explore animals, plants, and everyday household items. This fully functioning microscope includes 20 slides, 60 photo-quality images, and will share more than 100 fun facts in English, Spanish, French, and German. Microscopes provide an exciting introduction to science concepts and help children retain information through hands-on experiences instead of memorizing information in a textbook.
12" Traveler Student Globe
Give children a new perspective of their world with the 12" Traveler Student Globe. They can study the globe to discover the geography of Earth, the location of different countries, and the distances between land masses. Enhance tactile learning by encouraging children to use their fingers to feel the bumpy textures of mountain ranges and different elevations of the land and sea. This globe can also help alleviate stress and anxiety about upcoming travel plans or relocating to a new home in a foreign country or state.
---
Creative Gifts for Children in Grades K-2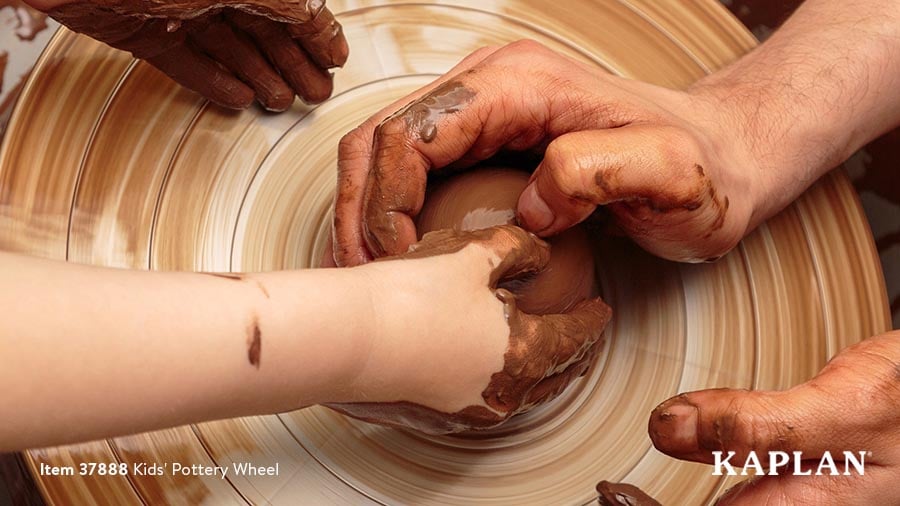 Elementary school introduces children to new ways of participating in art and creative activities. They use new mediums and materials to create both realistic and abstract works of art. Whether at home or in the classroom, every opportunity a child has to immerse themselves in artistic activities is essential. Being creative allows children to uncover their self-identity and cope with the natural stressors of growing up.
Kids' Pottery Wheel
Young artists will love using their hands to create clay creations on the Kids' Pottery Wheel. This child-size pottery wheel offers authentic art experiences and introduces children to a new artistic medium – clay! They can create bowls or cups to hold their personal treasures or as a gift for friends or family members. Children will feel a sense of pride after turning a standard block of clay into usable pottery and decorative art.
Spirograph® Deluxe Set
This toy may be one you recognize. Inspiring future artists for generations, the Spirograph® Deluxe Set contains gears, rings, pens, and other tools that children can use to create swirly shapes and abstract art. The included guide shares different drawing techniques that children can follow. They can also use their imagination to create their own unique designs.
---
Time to Start Shopping
This article shares a small sampling of the educational gifts Kaplan offers for children in kindergarten through second grade. You can visit our website to browse our full collection of toys, books, games, and gifts that nurture positive play at home and in the classroom.

We are always developing new ways to help children learn through play. To stay up-to-date on our latest product releases and ways to save money on gifts for children of all ages, click here to join our email newsletter.