Are you tired of buying gifts that children never want to play with?

Maybe you have a closet full of toys in their original packaging or a pile of toys under your child's bed that they have not touched in months. When you buy children toys, games, and other gifts, you want to know they will play with them.

When children play, they learn. This is an ideal Kaplan firmly believes in, and it is why we continue to deliver educational toys and materials to homes and classrooms year after year. We also work closely with early childhood experts and designers to develop our own brand of educational toys that support developmental theory and best practices. Our products are durable enough to withstand the rigor of preschool classrooms, and fun enough for children to enjoy at home.

When choosing gifts for young children, you want to look for toys and materials that match their age and current stage of development. This will ensure they engage in play that stimulates cognitive and physical development while boosting their self-esteem and problem-solving skills. In this article, we share 12 gift ideas and how they nurture positive play and support the development of preschoolers ages three to five.
Blocks and Puzzles for Preschoolers (Ages 3-5)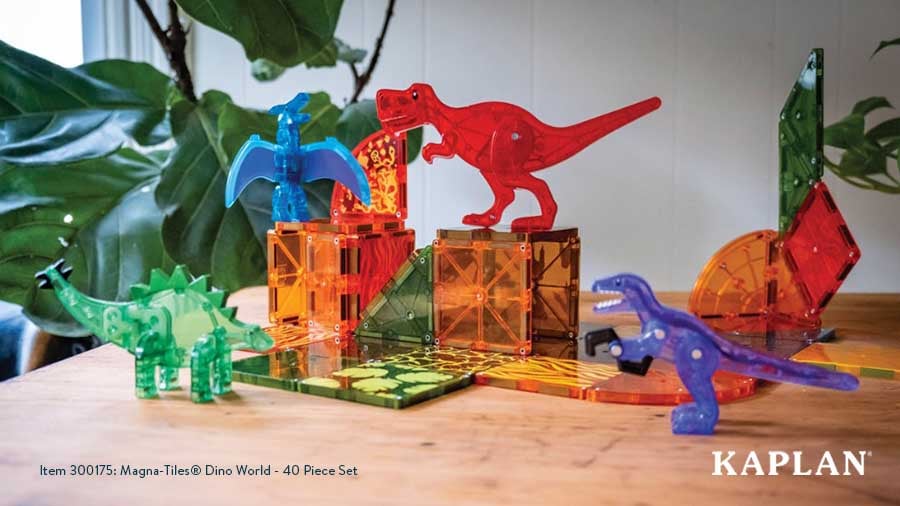 Blocks and puzzles encourage children to use their fine motor skills and imagination to experiment and solve problems. Fine motor movements like stacking, sorting, and piecing things together builds small muscles in the hands that children will use when writing, drawing, and brushing their teeth. Children can play with blocks and puzzles alone or with others, opening up the potential for positive bonding experiences with their family members and peers.
Branch Blocks - 36 Pieces
The 36-piece Branch Blocks set is a great way to bring natural elements into indoor play. Children can stack these blocks to create bridges, buildings, a seating area for dolls, and more. The textured bark on the exterior of each block activates tactile senses that help children learn to perceive sensations (such as pain) and respond in meaningful ways.
Magna-Tiles® Dino World - 40 Piece Set
With the Magna-Tiles® Dino World set, children will spend hours in imaginative play experiences involving volcanoes, molten lava, and dinosaurs. This set includes four magnetic dinosaurs: a t-rex, stegosaurus, pteranodon, and velociraptor. Each piece is compatible with other Magna-Tiles® sets.
Arthur Toy House 3D Puzzle
A puzzle that doubles as a doll house, the Arthur Toy House 3D Puzzle brings scenes from Marc Brown's classic books to life. Children can assemble the puzzle pieces to create Arthur's house and move the character pieces from room to room as they act out real-life scenarios. This gives children an outlet to express their emotions and work through situations they experience in their own lives.
---
Dramatic Play Gifts for Preschoolers (Ages 3-5)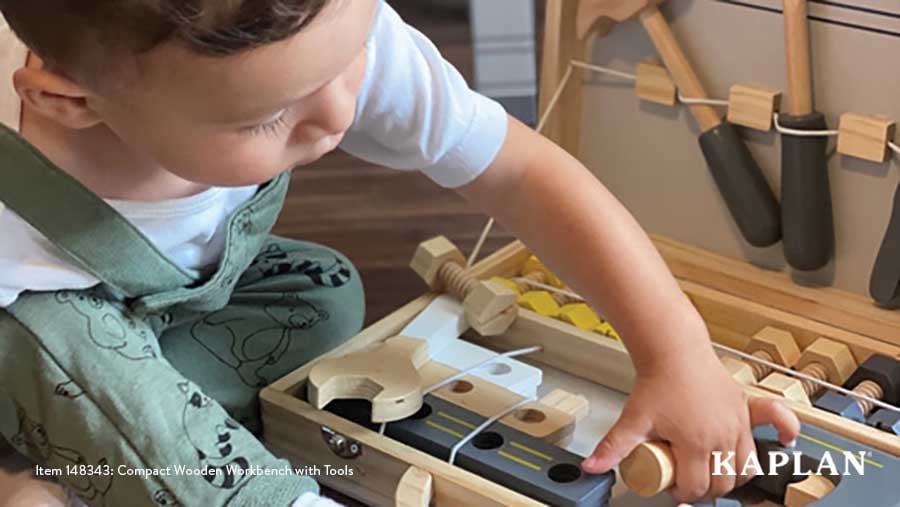 Dramatic play toys allow children to imitate real-world scenarios and the roles people play in society. An example of a dramatic play activity is children working in a pizza shop. One child may want to place a pizza order while another child works as the pizza chef. As the children play and encounter possible disagreements or challenges amongst themselves, they will develop skills such as conflict resolution, self-regulation, and creative thinking – skills they will take into adulthood.
Compact Wooden Workbench with Tools
Children will love the pretend play experiences happening at the Compact Wooden Workbench. This workbench includes tools such as a hammer, saw, and screwdriver that children can use to assemble objects using wooden nuts and bolts. They will improve their creative thinking and problem-solving skills as they work to piece objects together and create fun objects. This workbench also features built-in compartments to store tools when playtime is over. Add wooden blocks or loose parts to the workbench to give children more ways to play and experiment.
Fastening Learn to Dress Doll
The diverse Fastening Learn to Dress Doll helps children practice their fine motor skills and activities of daily living by using zippers, snaps, buckles, and shoe laces. The toys children play with help to shape their view of the world. The diversity found in this line of dolls will help all children develop a positive self-view and feel a great sense of pride about being represented in a toy. While playing with the Learn to Dress Dolls, children will develop respect for different genders, races, cultures, etc.
---
Interactive and Creative Gifts for Preschoolers (Ages 3-5)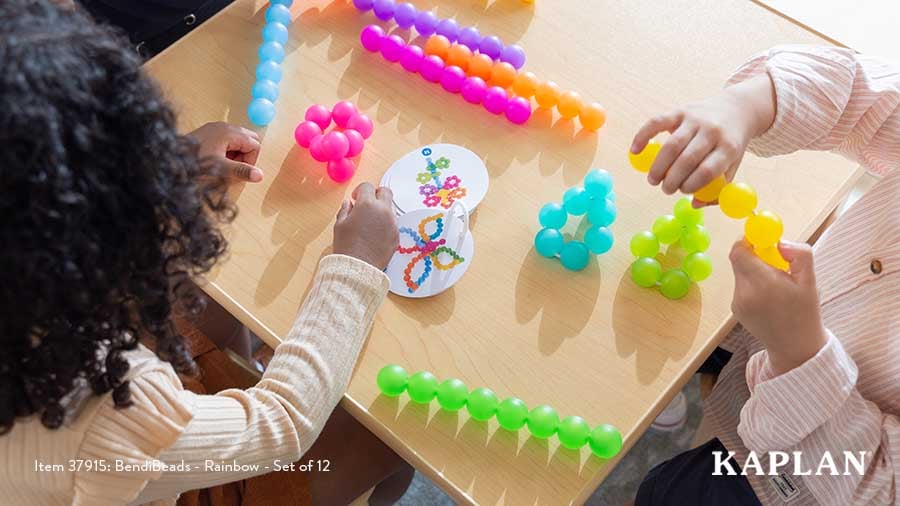 Interactive play allows children to learn and grow through hands-on experiences. This type of play helps the brain retain valuable information and skills. Active thinking skills that occur during interactive play enhance memory skills children will use as they age.
Little Learners Tablet
Engage children across various subject areas with the Little Learners Tablet - powered by Samsung. Children can interact with pre-installed games featuring literacy, mathematics, science, and social/emotional concepts. You can also access the full Android experience by tapping into the Google Play Store for apps such as YouTube, Netflix, Spotify, and more.
BendiBeads
Made from translucent plastic, BendiBeads are a fun way for children to create shapes and 3D builds without using traditional wooden blocks. Children can stretch and twist elastic strands to connect each string of beads to another. While playing with BendiBeads, children will have to use their imagination, solve problems, and improve their fine motor skills by using the small muscles in their hands. BendiBeads make a great fidget toy for children with ADHD or those who need an outlet to help with concentration and fighting feelings of boredom and anxiety.
Kids Weaving Loom
The Kids Weaving Loom provides an authentic creative experience by introducing children to textiles and weaving basics. This loom is the perfect size for young children because they can easily use their hands to create tapestries, hair accessories, and other woven items. It does come with three skeins of yarn so that children can start projects right away!
---
Active Play Gifts for Preschoolers (Ages 3-5)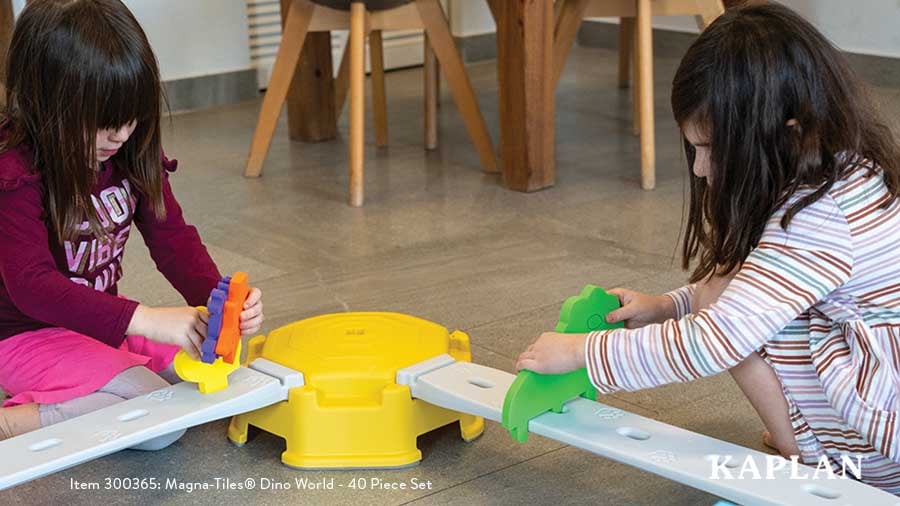 The more time children engage in active play, the faster they develop gross motor skills like walking, jumping, balancing, and running. Gross motor skills are essential because they allow children to perform everyday activities. Nurturing these skills promotes optimal health later in life.
Teeter Popper Balance Board
Children can stand, wiggle, spin, rock, and twirl on the Teeter Popper Balance Board. As it moves, the suction cups attached to the bottom of the board make a popping sound. The Teeter Popper improves core strength, coordination, and balance and will engage children in active fun for hours.
Obstacle Course & Balance Path Set
The Obstacle Course and Balance Path Set includes durable, interlocking pieces that children can assemble into various courses for indoor or outdoor play. Children will work on their balance and coordination as they walk along the paths they create.
---
STEM Toys and Games for Preschoolers (Ages 3-5)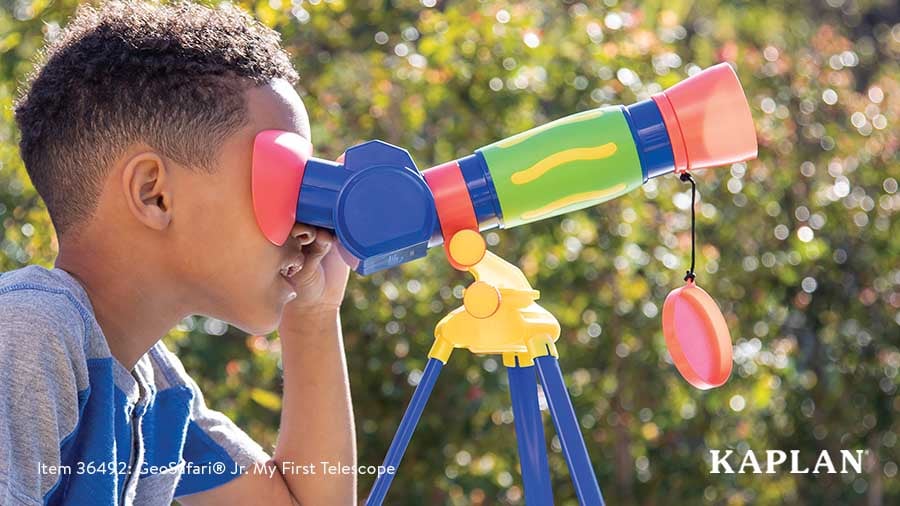 STEM toys do more than teach children about science and math. They also develop
critical thinking skills and logical reasoning. These skills help young children learn to navigate challenging situations, develop positive solutions, and work well in group situations.
GeoSafari® Jr. My First Telescope
Children can explore nature in new ways with the GeoSafari® Jr. My First Telescope. The magnifying lens will work at a distance of 100 ft., perfect for use at the park, in your backyard, while on a camping trip, etc. This beginner telescope features a tripod and large eyepieces, making it the perfect size for young children to find stars and planets, watch birds in flight, or discover patterns in the clouds.
Wooden Marble Run Race Track - 81 Pieces
Introduce children to the laws of gravity with the Wooden Marble Run Race Track. They'll put their trial-and-error skills to the test as they build and test different methods to get their marble down the track. This set includes a spiral funnel, bell bucket, wooden track pieces, and 20 marbles.
---
Time to Start Shopping
The items above are just a tiny sampling of educational gift ideas for preschool-aged children. You can visit the Kaplan website to browse even more toys, books, games, and gifts that nurture positive play and growth for young children.

We constantly add new toys and materials that help children learn through play. To stay up-to-date on our latest product releases and ways to save money on gifts for children of all ages, click here to join our email newsletter.