Children grow quickly during their first year of life.

In the first few months, they learn to sit up, grasp objects in their hands, babble, and more. This speedy growth is why buying toys and gifts for infants can be such a challenge. With so many options on the market today and the rate at which children grow from one stage to the next, it can be difficult to determine which toys are engaging, safe, and educationally stimulating for infants at play.

To make the gift-giving experience enjoyable for yourself and your little one, you want to choose toys that are developmentally appropriate now – and as your infant grows. At Kaplan, we fully believe that children learn best through play. This is why we work closely with early childhood experts and designers to craft our own line of educational toys backed by developmental theory and best practices.

Throughout this article, we explore 14 age-appropriate gift ideas and how they support the growth, education, and safety of infants ages birth to twelve months.
Blocks and Puzzles for Infants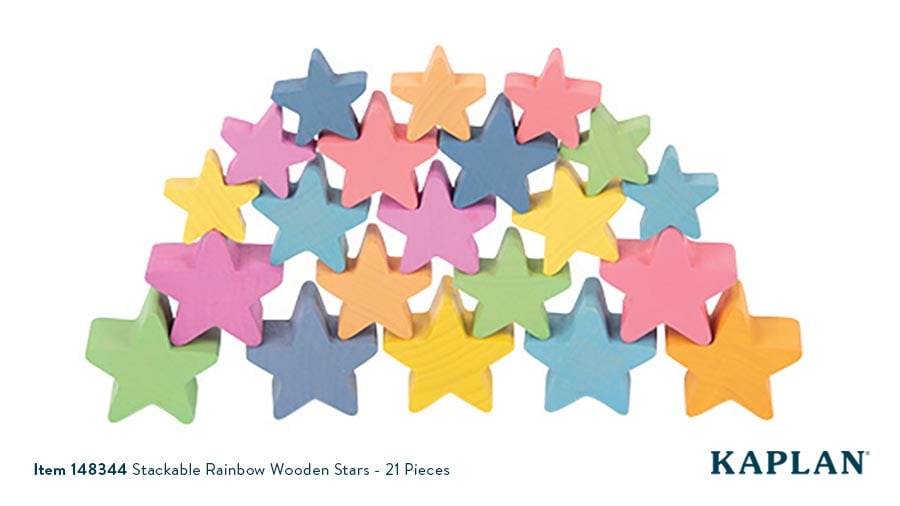 When an infant uses the muscles in their hands to make coordinated movements, they are using their fine motor skills. Developing fine motor skills helps you feed yourself, write, and even brush your teeth. This type of motor development is not something you can teach, but you can help infants foster it on their own by using blocks, puzzles, and textured materials they can grasp, hold, and release.
Stackable Rainbow Wooden Stars - 21 Pieces
Made of European beech wood, the chunky pieces of the Stackable Rainbow Wooden Stars are smooth, splinter-free, and stained with non-toxic paint that is safe for infants at play. Older infants will improve fine motor movements in their hands as they manipulate, stack, and sort the star blocks. They will also work on beginning problem-solving and critical thinking skills as they experiment with stacking the blocks and knocking them over.
Little Tikes® Baby Builders™ Explore Together Blocks™
The Little Tikes® Baby Builders™ Explore Together Blocks™ include 16 perfectly sized blocks with unique tactile elements infants can explore. They can use their hands and fingers to move the bee slider, open a door, flap butterfly wings, and more. As infants grow, they can begin stacking the blocks two at a time to work on coordination and understanding how things fit together. The product box doubles as a storage container, making cleanup a breeze.
Lights & Sounds Shape Sorter
Featuring two modes of play, the Lights & Sounds Shape Sorter introduces children to three languages: English, Spanish, and French. Introducing children to multiple languages during infancy has the potential to enhance linguistic, cognitive, social, and emotional skills. The shape sorter will light up and play sounds as infants correctly match shapes and colors to their corresponding base. Puzzle games like this help infants develop hand-eye coordination and critical thinking skills.
---
Exploratory Play Toys for Infants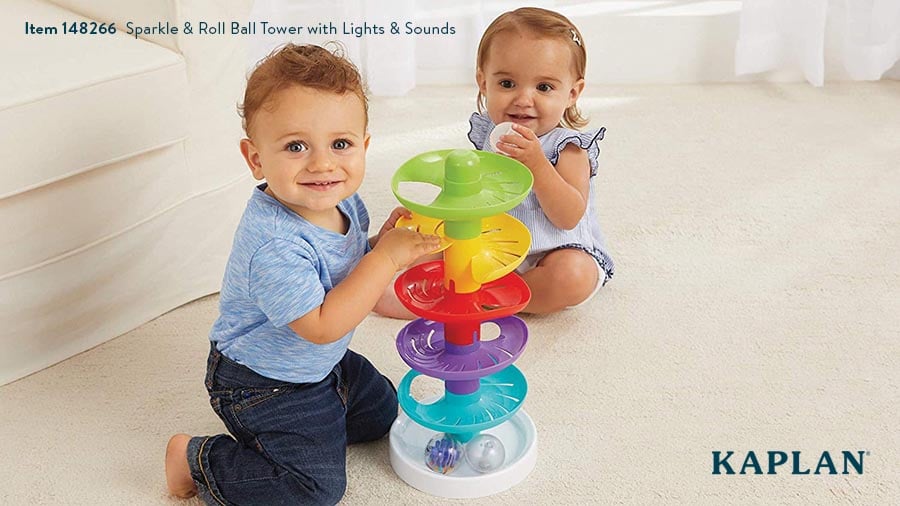 Infants are born curious and want to better understand the world around them and why certain events and actions happen. For example, they may make different noises to see which sounds will make their caregiver come closer. They may shake a toy to understand what it does or the sounds it makes in motion. Supporting the natural curiosities of infants encourages them to continue exploring and experimenting so they form healthy problem-solving skills for later in life.
Sparkle & Roll Ball Tower with Lights & Sounds
The Sparkle & Roll Ball Tower provides fun opportunities for infants to explore motion, sound, and light. They will anticipate where the colorful balls will land and the sounds they will make as they roll down six different ramps on the tower. The balls and ball tower consist of durable, BPA-free plastic that can withstand infant play and mouthing.
Tree Top Adventure Activity Center
The solid wood Tree Top Adventure Activity Center features four quadrants with various activities children can engage in. Older infants can use the edges to pull themselves to standing, helping to develop the large muscles in their legs, which they will later use for walking and running. This activity center won the Parents Magazine Best Toys of the Year 2014 and the Scholastic Parent & Child Gold Star Toys Award Winner 2014.
Flora Fawn Taggies™ Blanket & Lovey
A sweet-faced fawn adorns the Flora Fawn Taggies™ Blanket & Lovey, which includes 18 interactive looped ribbons. The different textures of the blanket and lovey provide tactile stimulation that helps infants soothe themselves during periods of high stress or overstimulation. As they rub the different materials, they will start to feel calm in their environment and less anxious in certain situations.
---
Active Play Toys for Infants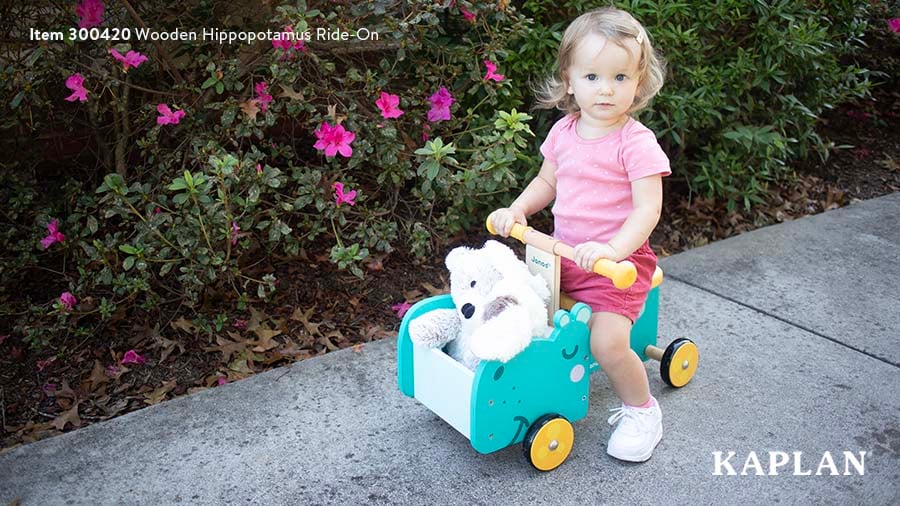 Infants have very little muscle control when they are born. However, muscle movements and muscle strength grow quickly as infants age. Giving infants access to open spaces, activities, and toys will help them gain the muscle strength to hold their heads up, crawl, walk, and eventually run.
BabyCavali White Wooden Rocking Horse with Removable Safety Guard
Do you have fond memories of playing on a rocking horse when you were a young child? The BabyCavali White Wooden Rocking Horse is a childhood favorite that helps infants work on their balance and coordination while strengthening their leg muscles. This rocking horse features a safety guard you can remove once your infant rocks confidently without support.
Wooden Hippopotamus Ride-On
With a storage box in front, children can take their favorite stuffed animals or toys on an adventure while riding on the Wooden Hippopotamus. This ride-on toy will help older infants learn to balance as they use the muscles in their legs to turn the wheels and propel themselves forward and backward. The yellow imitation leather seat easily wipes clean with mild soap and water if soiled.
Learn & Play 2-in-1 Activity Tunnel
The Learn & Play 2-in-1 Activity Tunnel will encourage crawling as young infants explore the peekaboo windows and spiral ball drop tower that plays silly music. Crawling improves body strength and joint mobility, which are crucial for later in life when children learn to walk, feed, and dress themselves. This activity tunnel measures 2.5 feet long and is collapsible for easy storage.
---
Comfort Toys for Infants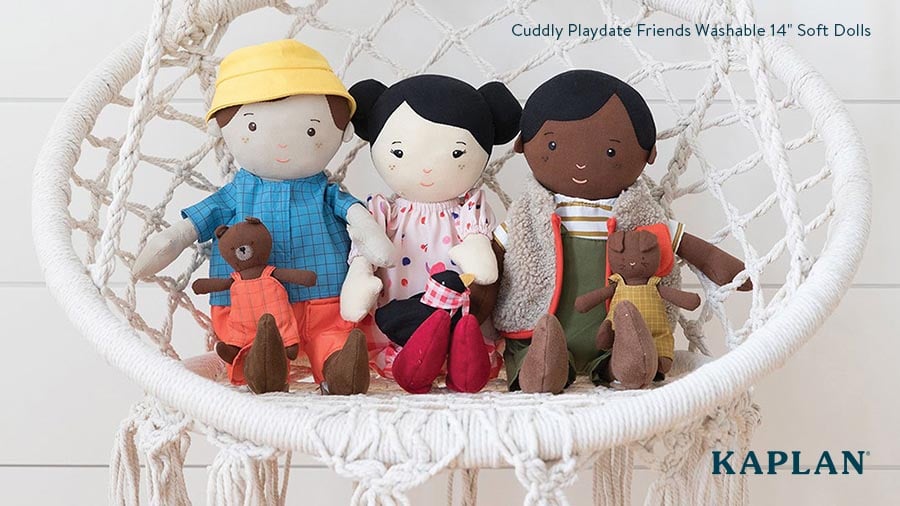 The brain begins to develop signals for emotional well-being soon after birth. Infants develop trust when they experience a warm, loving environment that meets their basic needs. This trust leads to a positive sense of self, impulse control, positive peer interactions, and other social/emotional skills.
Cuddly Playdate Friends Washable 14" Soft Dolls
Cuddly Playdate Friends are a great beginner doll for infants. They teach essential values such as caring, nurturing, and having compassion for others. The diversity of this line will also teach young infants how to respect other cultures and races. Toss the Cuddly Playdate Dolls in the washing machine to clean and disinfect them.
Warmies® Microwavable Plush 13" Marshmallow Bear
The Warmies® Marshmallow Bear makes the perfect cuddly companion for infants in all stages of growth and development. Warmies® feature a gentle lavender scent that provides natural calming relief for infants in high-stress situations, such as when they separate from their parents at bedtime. You can microwave your Warmies® for extra comfort or to soothe tummy aches and pains.
---
Books for Infants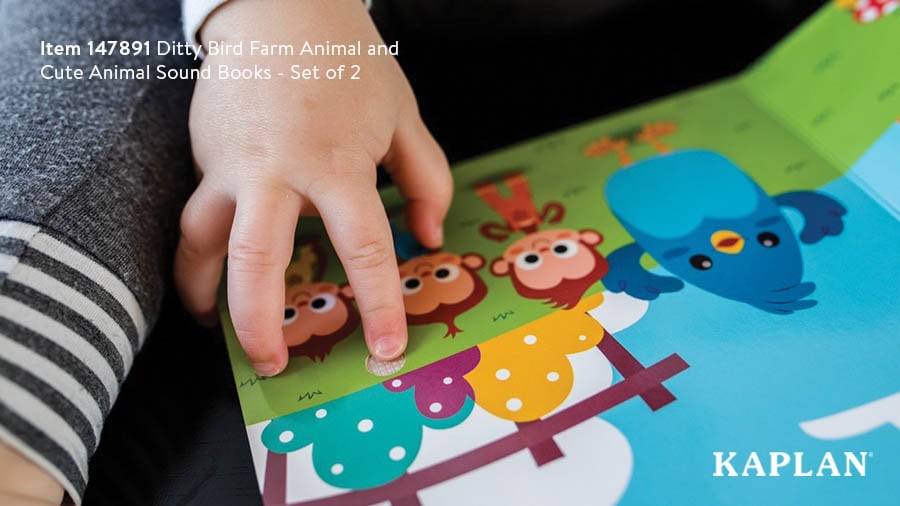 Infancy is a time when children acquire foundational language skills. Newborns and young infants primarily communicate with language gestures such as crying or facial expressions. As they get older, infants can express themselves using words. Exposing infants to language by reading books lays the foundation for literacy skills children will use as they start to speak and read.
Ditty Bird Farm Animal and Cute Animal Sound Books - Set of 2
The Ditty Bird Book Set is a fun way to introduce infants to early reading comprehension. These multisensory books follow Ditty Bird on a musical journey where he introduces children to five of his animal friends. As they flip through the pages, infants will discover textured illustrations of each animal friend and hear sounds corresponding to that animal.
Indestructibles® Baby Books - Set of 3
With a paper-like feel, the Indestructibles® Baby Books are chew-proof, rip-proof, and non-toxic. You can toss them in your dishwasher or washing machine to give them a nice, sanitizing clean. Infants will love the vibrant illustrations, which tell a story of babies playing peek-a-boo, visiting the beach, and going "night-night."
Indestructibles® Classic Nursery Rhymes Books - Set of 6
The Indestructibles® Classic Nursery Rhymes Books add a new spin on traditional nursery rhymes. Infants can chew, pull on, and throw these books without ripping or tearing the pages. Reading through these stories will introduce infants to the idea of storytelling and will help promote early social skills and boost language development.
---
Time to Start Shopping
This article gives you a few educational gift ideas for infants at all stages of development. Visit the Kaplan website to browse even more toys, books, games, and gifts that nurture positive play and growth for children of all ages.

We are always adding new toys and materials that help infants learn, play, and grow. To stay up-to-date on our latest product releases and ways to save money on gifts for children of all ages, click here to join our email newsletter.