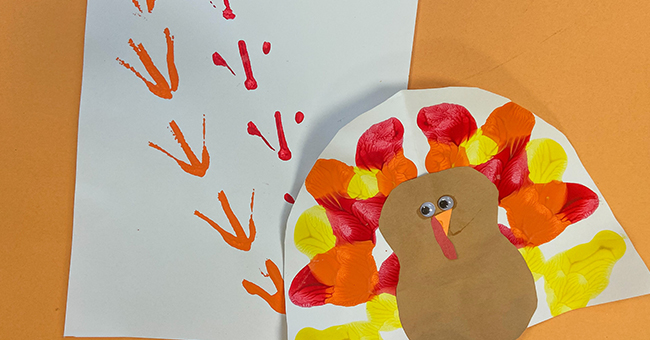 With Thanksgiving on the way, what better time to show our appreciation for the turkey in all of its gobbling glory! Celebrate the fall season through creative explorations in your classroom with these 2 Turkey Print activities!
What are the Turkey Prints?
These turkey prints are 2 fun arts and crafts activities that you can initiate in your classroom! The first is the "turkey trot" and the second is the "turkey smoosh." With the turkey trot, your children can have a fun time making turkey tracks in fall themed paint colors across a sheet of paper with their handmade turkey feet! With the turkey smoosh, you and your children can squirt paint on a sheet of paper, fold it in half, and unveil the beautiful design of the turkey's fan. You can then create the rest of the turkey out of construction paper to show off its tailfeathers! Arts and crafts are important for every classroom in order to give children the opportunity to express themselves in open-ended and imaginative ways. Be sure to include these opportunities in your classroom this fall!
Download our FREE printable below!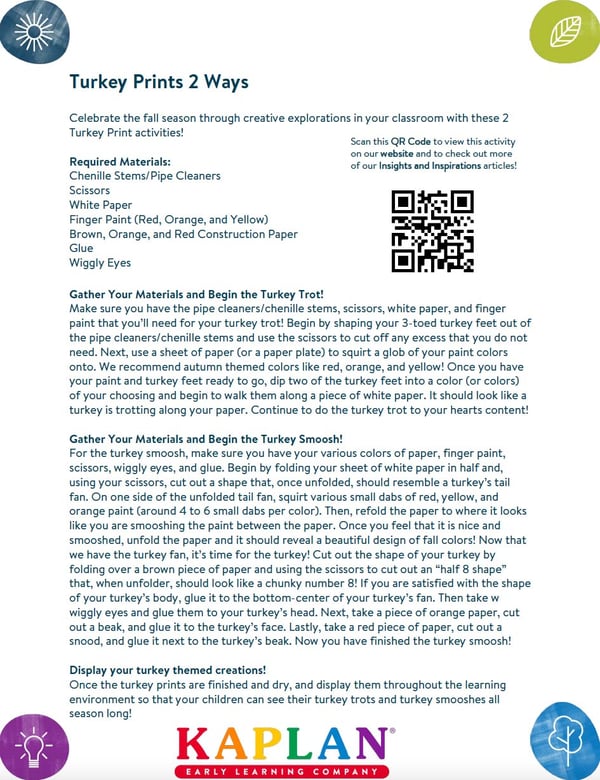 Required Materials
1
Gather Your Materials and Begin the Turkey Trot!
Make sure you have the pipe cleaners/chenille stems, scissors, white paper, and finger paint that you'll need for your turkey trot! Begin by shaping your 3-toed turkey feet out of the pipe cleaners/chenille stems and use the scissors to cut off any excess that you do not need. Next, use a sheet of paper (or a paper plate) to squirt a glob of your paint colors onto. We recommend autumn themed colors like red, orange, and yellow! Once you have your paint and turkey feet ready to go, dip two of the turkey feet into a color (or colors) of your choosing and begin to walk them along a piece of white paper. It should look like a turkey is trotting along your paper. Continue to do the turkey trot to your hearts content!
2
Gather Your Materials and Begin the Turkey Smoosh!
For the turkey smoosh, make sure you have your various colors of paper, finger paint, scissors, wiggly eyes, and glue. Begin by folding your sheet of white paper in half and, using your scissors, cut out a shape that, once unfolded, should resemble a turkey's tail fan. On one side of the unfolded tail fan, squirt various small dabs of red, yellow, and orange paint (around 4 to 6 small dabs per color). Then, refold the paper to where it looks like you are smooshing the paint between the paper. Once you feel that it is nice and smooshed, unfold the paper and it should reveal a beautiful design of fall colors! Now that we have the turkey fan, it's time for the turkey! Cut out the shape of your turkey by folding over a brown piece of paper and using the scissors to cut out an "half 8 shape" that, when unfolder, should look like a chunky number 8! If you are satisfied with the shape of your turkey's body, glue it to the bottom-center of your turkey's fan. Then take w wiggly eyes and glue them to your turkey's head. Next, take a piece of orange paper, cut out a beak, and glue it to the turkey's face. Lastly, take a red piece of paper, cut out a snood, and glue it next to the turkey's beak. Now you have finished the turkey smoosh!
3
Display Your Turkey Themed Creations!
Once the turkey prints are finished and dry, and display them throughout the learning environment so that your children can see their turkey trots and turkey smooshes all season long!
Fall into learning with fun seasonal activities and crafts! Browse our selection of classroom arts and crafts and related resources to support creative explorations with your children.