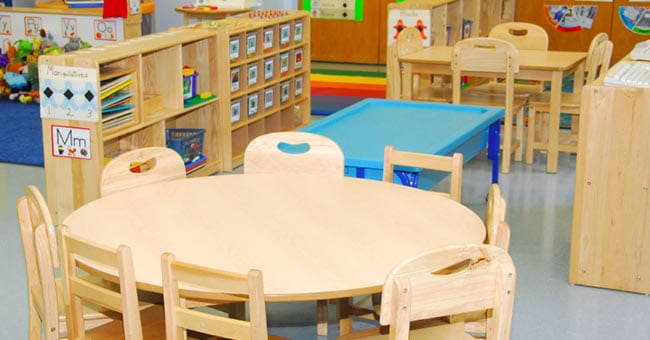 Whether you're a new teacher setting up your classroom for the first time or an experienced teacher looking to revamp your classroom space, you know how important it is to create a classroom layout that facilitates learning and positively influences the classroom environment. You also know (or are finding out) that planning an efficient classroom layout can be tricky, especially if you're working with a small space or are trying to fit in a variety of materials and learning areas.
To help you consider all of the factors that go into planning a great classroom layout, we've developed two resource guides for you to utilize. One guide focuses on planning preschool classrooms while the other looks at planning elementary classrooms—simply click on the guide relevant to you and use the provided tips and resources to start planning your classroom!
Planning Preschool Classroom Layouts
Preschool classrooms usually have center-based layouts since learning centers provide plenty of hands-on experiences to help children learn through play. This guide explains what factors will impact your preschool classroom's layout and offers layout suggestions for you to consider.
-How to Plan a Great Classroom Layout (Preschool Edition)-
Planning Elementary Classroom Layouts
Elementary classroom layouts depend largely on which grade level and what subjects you are responsible for teaching. The elementary guide will help you decide what needs to be included in your classroom, consider factors that will influence your layout, and suggest ways you can best utilize your floor space.
-How to Plan a Great Classroom Layout (Elementary Edition)-
If you have additional questions or would like more information, we have several other resources you'll find helpful as you work on planning your classroom layout. Be sure to check out all of the pages listed below under Additional Resources.