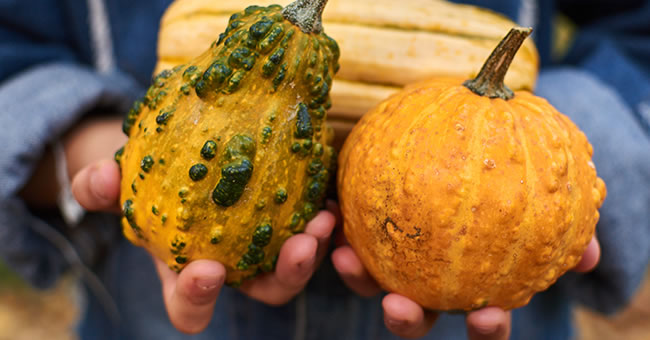 Children are full of wonder as the world around them changes each fall! Teaching children about the Fall Harvest is the perfect way to explore familiar concepts like changing seasons and fall colors, while introducing them to new ideas like Fall Harvest Festivals and the importance of harvesttime to cultures all around the world. The Fall Harvest is a unique opportunity to engage children in interdisciplinary learning as they explore traditions around the world, learn about their own communities, and form meaningful connections during this magical season!
Do you have any harvesttime traditions? Children will love putting their critical and creative thinking skills to use as they collect and share their own traditions with their classmates. Whether they celebrate Thanksgiving or partake in a yearly family tradition like apple picking, there are endless ways to relate student experiences to the Fall Harvest and reinforce the lesson behind this global practice: gratitude and community! Easily incorporated into fall lesson plans the Fall Harvest is the perfect way to inspire playful learning, encourage social-emotional development, and support multicultural exploration, all while cultivating a strong classroom community.
What Is The Fall Harvest?
Traditionally, the Fall Harvest is a time where people celebrate a successful and bountiful harvest of crops! Coming together, people give thanks for the crops they've gathered, share food and gifts, and celebrate a strong sense of community before they prepare for the winter season. Depending upon the climate and crops, Fall Harvest might not happen during fall at all, but the sentiment is the same: it's a time to share with one another and celebrate everyone's hard work.
The Fall Harvest has diverse roots in many global cultures and is celebrated in a variety of ways today. For example, did you know that in the United States and Canada the Fall Harvest takes on the form of Thanksgiving celebrations? And in Asia, the Chinese Mid-Autumn Festival is one of the most widely celebrated harvest festivals in the world! Although our traditions may be different because of where we live, each of these celebrations focuses on the same values of celebrating with friends and family, expressing gratitude for crops and food, and building meaningful connections within our communities.
Why Is Multicultural Learning Important?
Are you supporting diversity and multicultural learning in your classroom? Many teachers may be afraid of offending children and their families, causing them to ignore the diversity of their students and avoid addressing racial and cultural differences in the classroom. However, teaching children about different races, cultures, and traditions allows educators the opportunity to deliver more authentic lessons fit for a diverse group of students with various backgrounds and experiences. Addressing cultural differences also encourages children to treat people who are different than them with kindness and reinforces their own self-love.
Learning about different Fall Harvest traditions and celebrations around the world, encouraging students to share their own experiences, and reinforcing the importance of community and appreciation are all key parts of lessons on the Fall Harvest. By exploring celebrations around the world and within their own community and homes, children will learn that their cultural differences make them special and that the Fall Harvest is a wonderful celebration that brings people together in the spirit of gratitude—something we can all share no matter where we're from!
How Can I Use This In My Lesson Plan?
Learning about the many ways the Fall Harvest is celebrated around the world is the perfect foundation for numerous lesson plans and activities for all ages! For older children, researching what the Fall Harvest means for different cultures is a wonderful way to reinforce lessons on diversity. Together, create a class book or journal full of traditions your students enjoy as well as the global traditions they've discovered in their multicultural exploration! They'll love learning how their traditions compare to the celebrations other children around the world experience.
The Fall Harvest is also magical for younger children! Infants and toddlers are just discovering what makes fall special and different from the rest of the year. Inspire their sense of wonder by exploring colorful leaves and fall fruits and vegetables. While they might not understand the full meaning behind the Fall Harvest, they can still experience the sights, textures, and smells of fall by exploring leaves, pumpkins, and apples, and take part in a simple introduction to the importance of sharing and gratitude—a key part of early social-emotional development.
Explore these Fall Harvest-themed lesson plan ideas with your classroom!
Go On A Field Trip
Arrange a field trip to a local pumpkin patch, apple orchard, or farm! There, children will learn more about how crops are grown and harvested. Ask children to think about where their food comes from and why we should be thankful for the crops celebrated during the Fall Harvest. This is also the perfect opportunity for children to learn about their local communities and the community helpers in them, like the farmers and agricultural workers that grow our food.
Take Learning Outside
A budget-friendly alternative to taking a field trip with your students, heading outside to explore the sights and sounds of the fall season is a wonderful way to spark curiosity and reinforce lessons on what makes harvest time unique. Collect leaves to make harvest-themed placemats children can keep at their desk or take home. Support sensory explorations by allowing children to feel the textures of fall leaves and crops. Pick a special tree or spot outside you can easily see from your classroom and encourage children to observe and describe the changes that happen each day—the outdoor learning opportunities are endless!
Make Time For Mindfulness
Incorporate mindfulness into your Fall Harvest lessons by encouraging children to take a moment to reflect on their own harvest traditions, celebrations, and community. Set aside a special time and space for your students to think about what they are thankful for, reinforcing the Fall Harvest's focus on gratitude.