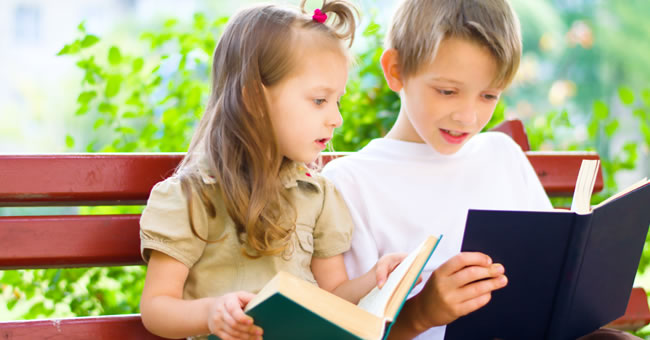 Students learn a lot about reading throughout the school year as they complete exercises and activities designed to strengthen their comprehension and reading skills. However, the summer months can slow down or even result in a loss of reading progression for many children. Parents, educators, and caregivers can work together to stop the summer reading slump by coming up with a plan that encourages students to read during the hot summer months. This is where the home-to-school connection is vital in helping keep children on track, giving them a good start to the new school year, and reducing the amount of time teachers have to spend reviewing previously-covered material at the beginning of the school year.
At Kaplan Early Learning Company, we understand the importance of summer reading for kids and strive to help build the home-to-school connection, which is why we offer a variety of children's books, free resources, and tools to help children progress in their reading skills.
What You Can Do
Reading is an important life skill children need to develop, but that shouldn't prevent children from learning to enjoy reading as well. There are a variety of booklists and resources available online to help children enjoy and stay interested in reading, so be sure to take advantage of the ones listed under our Free Resources tab. Here are a few basic summer reading tips we've come up with to help parents, educators, and caregivers encourage children to keep reading during the summer months.
6 Summer Reading Tips for Parents, Teachers, and Caregivers
1. Change How Students Perceive Summer Reading
Many schools and teachers require some form of summer reading and often hand out a specific list of books for children to read. This can make students dislike reading instead of enjoying it, which can ultimately cause children to become disinterested in reading altogether. Instead of handing out a required summer reading list, educators should allow students to choose their own books or try handing out a booklist that includes both academic and leisure titles. Changing the name of a required booklist to a more fun and relaxed title can also help keep children engaged in reading during the summer.
If children do end up with a required summer reading list, parents should try to find ways to make reading more fun. One idea is to read the same book as your children and then discuss the book with them or try to find a way to tie in a fun activity that relates to the book in some way. If children are required to read Treasure Island, for example, they could watch a film adaption of the book or participate in their own treasure hunt. As an educator, make sure children who have required summer reading also have access to books they can read for fun!
2. Offer a Variety of Reading Materials
One of the best ways to help children continue reading during the summer months is to encourage them to engage with a variety of reading materials. Magazines, board games, music lyrics, comic books, recipes, graphic novels, audiobooks, web articles, and eBooks are all great alternatives to reading traditional books. Poetry is also important for children to read during the summer months, because it can help teach young children the sounds and rhythms of language and can help older children learn how thoughts, ideas, and emotions can be shared with a few select words.
3. Be a Good Reading Role Model
If kids don't see their parents, teachers, and other people important in their lives reading for fun, they most likely won't place much importance on the value of reading. Teachers can talk to kids about some of their favorite books and make an effort to read their own book during class reading time. Parents can also make an effort to read in front of their kids when the TV is turned off or while they are waiting somewhere. Having a fun discussion about a book with other adults in front of children can also show kids that reading can be something they discuss with others.
4. Encourage Children to Participate in Summer Reading Programs
In today's world of digital downloads and online bookstores, many people forget that public and school libraries are a great resource. Most public libraries offer a summer reading program during the summer. Teachers should send out a reminder to parents to join one of the local reading programs, and parents should try to sign their kids up and attend any program events. Many of these programs have fun activities for kids to participate in with other participants. Contact your local library to see if they offer any summer programs, and be sure to check out some books while you're there!
School libraries can also be a great resource during the summer months. Some schools have special library days during the summer for kids to come check out books. One idea is for teachers to attend a few of those library days to meet with past or new students. This is also a good opportunity for kids to get used to a new school or meet their new teacher. Be sure to let parents know of any school library days during the summer or of any other special summer programs being offered.
5. Make Reading More Social
Showing kids that reading can be a social activity is another great way to encourage kids to read. Encourage kids to read books and talk about them with their friends or have them invite their friends along on special trips to the library or bookstore. Teachers can also set up a closed-group Facebook page for older students to share their thoughts about the books they read, and younger children will enjoy interacting with peers at summer reading programs. Book clubs for kids and teens are another great way to show kids that reading can help them be more social.
6. Schedule Time for Reading
If teachers schedule in 15 minutes a day for kids to read in class, students may be more likely to read 15 minutes at home during the summer months. This is especially true if parents also schedule 15 minutes of reading time at home each day. Parents should also encourage kids to try using different reading spots, such as in the park or on a porch swing, during the summer. Having a favorite reading spot and scheduled reading time can encourage children to keep reading and learning!