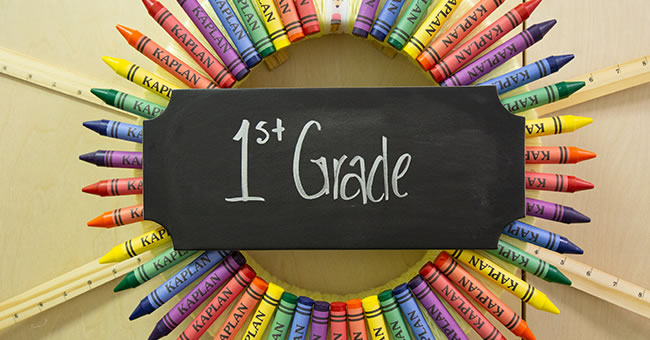 Looking for a fun craft to brighten up your classroom decorations? You can utilize leftover school supplies, such as crayons, yarn, and rulers, to create your own DIY School Supplies Wreath! This adorable and versatile wreath incorporates a small chalkboard sign into the design, so you can continuously change the message on your wreath to correspond with events happening at different times of the year.
Download our FREE printable below!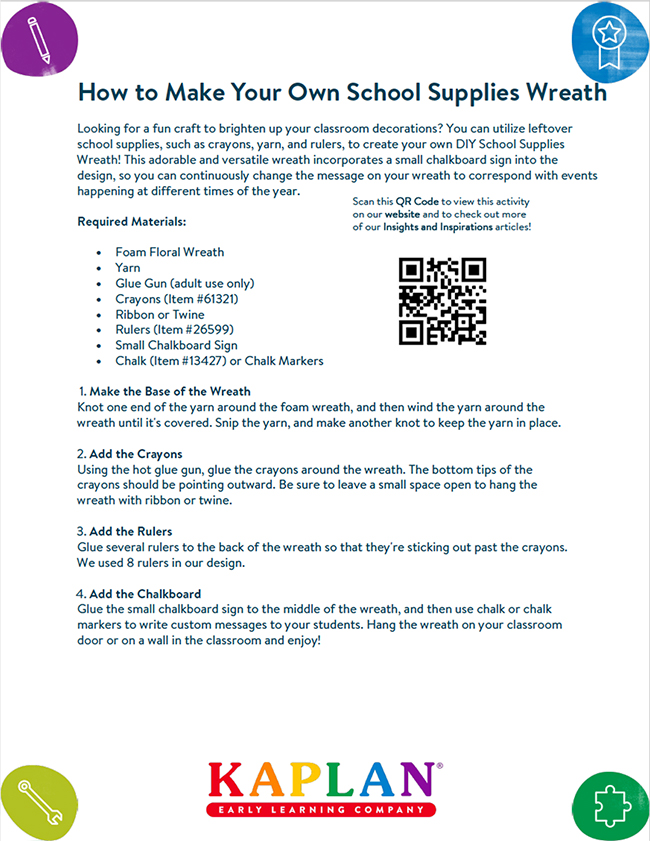 Required Materials:
Foam Floral Wreath
Glue Gun (adult use only)
Ribbon or Twine
Small Chalkboard Sign
1
Make the Base of the Wreath
Knot one end of the yarn around the foam wreath, and then wind the yarn around the wreath until it's covered. Snip the yarn, and make another knot to keep the yarn in place.
2
Add the Crayons
Using the hot glue gun, glue the crayons around the wreath. The bottom tips of the crayons should be pointing outward. Be sure to leave a small space open to hang the wreath with ribbon or twine.
3
Add the Rulers
Glue several rulers to the back of the wreath so that they're sticking out past the crayons. We used 8 rulers in our design.
4
Add the Chalkboard
Glue the small chalkboard sign to the middle of the wreath, and then use chalk or chalk markers to write custom messages to your students. Hang the wreath on your classroom door or on a wall in the classroom and enjoy!
Be sure to browse our free classroom setup resources for tips on arranging and decorating your classroom to welcome children and their families.