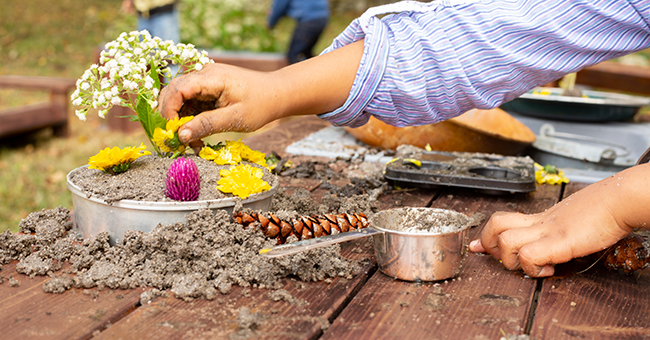 Explore the most important space for learning—the world outside your door—in this blog from playspace designer and author Rusty Keeler.
What is the most important place on the planet for children? Is it the Amazon Rain Forest? The Pacific Ocean? The Himalayan Mountains?
As adults, we may think of lofty places of great natural importance as the most important place for children to learn and grow, and yet, the most important place on the planet for young children is . . . right outside your door. That's right. The place that children visit every day is actually the most important place in the world. It is the place where children use their senses to explore the planet and experience the wonders of nature through amazing play and learning opportunities.
What do the children in your care experience when they step outside? Are they able to touch dirt? Smell flowers? Find worms? Plant seeds? Climb trees? All children deserve to squish mud and splash in puddles. All children need to smile at the sun and feel its warmth smiling back. Every child should be able to roll down hills, run, climb, build, use their big voices, and hide in tall grass. All children deserve to have their sense of wonder sparked by the possibilities of the planet.
But doesn't it take an extensive nature center or national park for children to make friends with the planet? No! All it takes is someone like you to decide to bring nature into your outdoor spaces and allow children to explore. Outside time is not just for playground equipment anymore. Educators everywhere are bringing it all outside and creating "outdoor classrooms," art studios, loose parts construction zones, music and movement areas, raised garden spaces, mud kitchens and so much more!
In fact, you can do nearly everything outside you can do inside. Think of your outdoor space as whole another environmental opportunity for the types of play and learning you support inside your classroom. Science can happen outside, as well as math and social skill development.
Plant bulbs that pop into flowers in spring.
Bring dirt, sand, and water into your yard. Sand areas let children dig to their heart's delight and water play can safely happen as it flows, spills, trickles and drips.
Plant shade trees and fruit trees and trees that burst into fragrant bloom.
Plant pumpkin seeds.
Allow corners of your outdoor space to grow wild.
Hang birdhouses and bird feeders.
Bring children outside to study nature first hand. Add magnifying glasses and shovels to your outdoor loose parts collection.
Because classes have been spending more time outside than before the COVID era, educators and caregivers have realized how wonderful it is to serve snacks outside. Lunchtime outside is grand, too! Believe it or not, many programs have even discovered the beauty of outside naps. I'd love to take a nap under a shady tree—count me in!
Today, educators all over the world are making beautiful changes to their outdoor learning environments by creating opportunities like these for children to play and explore in the natural world. School communities everywhere are working together to green their yards, create outdoor classrooms, and build natural playgrounds. You can too. Form a small committee, dream your space, assess and tap your local community resources, and plan a volunteer community "swarm build." With the help of families and friends (and folks with a backhoe or two!) you can transform your outdoor area into a beautiful, inviting space for children's play, learning, exploration, and creativity. As you beautify your school yard you are beautifying the world . . . and beautifying children's introductions to the planet.
And the children: they love being outside more, too. More time to holler, more time to play, more time to imagine, and more time to grow with nature and the great outdoors. Connect to the day, connect to the land, connect to the earth. The more time you spend outdoors and connect to these things too, the more opportunities you will have to connect to yourself and your core values for children's play and learning. Bring on the outdoors!
Dream Big. Start Small. Never Stop.
About the Author
Throughout his 28 years of experience, Rusty Keeler has worked with hundreds of communities, schools, parks, universities, and childcare leaders to dream, design, and construct beautiful outdoor environments for children. As an author, a frequent keynote speaker and presenter at conferences and colleges worldwide, and a pioneer in the movement to reconnect children to nature, Rusty believes that every child deserves the opportunity to play freely. You can find more from Rusty at his website, rustykeeler.com.
With his latest outdoor furniture collection, Nature to Play™ Rusty has designed a line that speaks the playful language of childhood. Children can get messy, learn, and grow in an authentic, muddy environment that is built to last.