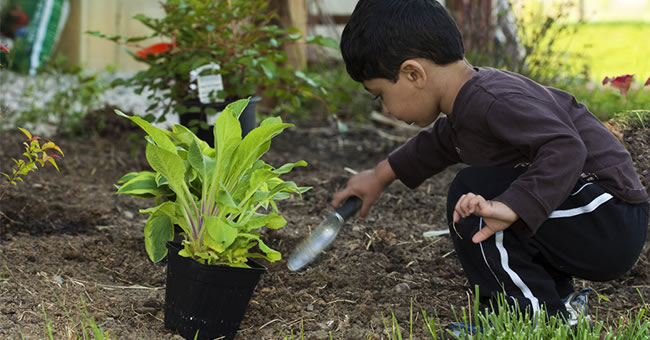 If you've ever spent time outdoors gardening, you know that gardening can help you de-stress and be more active. Planting flowers and vegetables and seeing them grow can also be very rewarding. These benefits and the multiple learning opportunities gardening provides are why school gardens and classroom gardening stations are becoming increasingly popular. Some parents and community members may argue that gardening is a waste of students' time, but incorporating gardening into your lesson plans can help children learn and grow in various ways.
As the authors of Let's Take It Outside! explain, gardening is a great way to engage children: "Plants are endlessly fascinating; they teach incomparable lessons about growth and change. Gardening is a natural activity for children. From making compost to planting a tree on the playground, children can be involved and engaged every step of the way." Here are a few other reasons incorporating gardening into your lesson plans can be beneficial to your overall teaching strategy:
Gardening is a sensory experience. Children have a variety of sensory experiences as they dig, plant, and maintain gardens. Feeling the texture of dirt, touching different plant leaves, and using a magnifying glass for an up close view of plants and other objects are all great examples of sensory experiences. Children can also taste the fruit and vegetables they plant and hear the sounds of nearby birds and insects.
Children can learn about nature and science through hands-on activities. The Center for Ecoliteracy describes gardens as "laboratories where students apply what they have learned in the classroom." Gardening gives children real-world experience with the nature and science topics they are learning about in class. It also gives them a chance to explore their surroundings and experiment with concepts by doing a variety of hands-on activities.
You can teach children about nutrition by planting a variety of fruits and vegetables. Some children in urban areas have limited knowledge of where their food comes from or what it looks like on the vine. Planting fruits and vegetables in a garden helps children learn about healthy foods, prepares them to take care of themselves as adults, and encourages them to try new foods.
Gardening is a great class activity. Children learn to work together while planting, watering, weeding, and taking care of plants. Gardening encourages collaboration and cooperation amongst students while also providing opportunities for teachers to incorporate topics from other subjects.
Gardening is a learning opportunity that kids of all ages can enjoy in some way. Making sure you regularly incorporate gardening into your lesson plans will help children better comprehend what they are learning and will give them the opportunity to experience what they are reading about in class.
Be sure to check out our plants and gardening materials for plants and garden totes and tools you can incorporate into your school garden.