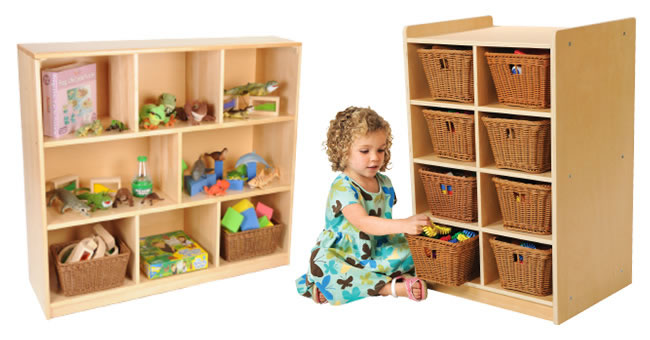 Are you trying to decide which type of furniture would best suit your classroom or child care center? Picking out furniture can be overwhelming with all of the different material, design, and finish options available. Child safety, durability, cost, and the furniture's overall look are also important factors that you have to consider before you make your final selection. Kaplan's maple and birch furniture lines (Premium Solid Maple and Carolina Line) are both popular choices for educational environments, but it's not always easy to decide between the two. To help you decide which would work best in your classroom, we've created a buying guide that lists and compares the features of both furniture lines.
Premium Solid Maple Furniture
Our maple furniture line is made of the cleanest, highest grade wood used globally in early childhood education, and the boards are hand selected for grain and pattern optimization.
Additional Features:
Made of 18mm FSC-certified solid North American premium maple with a satin UV polyurethane finish
Units offer beveled doors, pinch-free hinges, and chunky handles
Fully assembled
Lifetime warranty against manufacturing defects and craftsmanship
The metal-to-metal barrel bolt construction adds strength and durability to all of the beautiful pieces of furniture in the Premium Solid Maple line. Select shelving units also have multiple backing options: pass-thru, dry-erase, acrylic, or solid. Another great feature is the new, easy-to-use linking system for Premium Maple Kitchen Units that eliminates potential pinch points and prevents toys from falling between the units.
Carolina Line Furniture
Our birch furniture line is made of plywood, which makes it durable for transport and everyday classroom use.
Additional Features:
Premium birch plywood with an easy-clean UV-process finish
Fully rounded child-safe corners and edges
Fully assembled
Lifetime warranty against manufacturing defects and craftsmanship
The Carolina Line is a great economical choice if you're working with a slightly smaller budget or if you're looking for high-quality classroom furniture with an emphasis on durability, maintenance, and function. Both furniture lines are easy to clean, but keep in mind that the diluted bleach cleanser solution that many child care centers are required to use can eventually erode the finish of any furniture over time. It's best to clean furniture with a mild soap and water solution if there are not specific requirements set.
So, which would work best for your classroom?
Our maple and birch furniture lines are very similar in some ways, so it's hard to say if one is actually better than the other. Material, cost, and overall look are the biggest differences between the two. If you're looking for quality furniture that provides a more refined look, then Premium Solid Maple furniture would probably work best. If you're looking for a slightly more economic furniture alternative that still looks good and is well made, Carolina Line furniture would probably be the better option for you. Your individual situation and the factors that are most important to you will be the biggest influence on which furniture line you should choose.
If you need help picking out the right furniture for your classroom, be sure to contact your local Kaplan representative for more information.